General Motors Forward Collision Alert Technology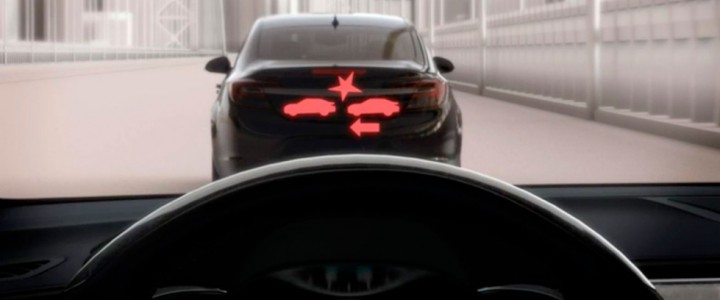 General Motors Forward Collision Alert Technology
Forward Collision Alert is a General Motors active safety technology that provides alerts to help the driver avoid crashing into a vehicle they are following, whether that vehicle is moving or has come to a stop, or lets the driver know if they are following a vehicle ahead of them too closely, known as the Tailgating Alert.
How It Works
Forward Collision Alert works when the vehicle is in Drive, or a Forward gear. Depending on the vehicle, the system uses:
Long-, mid- and short-range radar mounted either within the front grille or in the lower front fascia below the front grille, and/or
Camera mounted behind the windshield ahead of the inside rear view mirror
The performance of the system, such as vehicle detection range, inclement weather performance, and reaction to cut-in vehicles varies based on the type of system used.
The system provides the following indicators:
Green following icon when a vehicle is detected ahead
Amber following icon when your are following the vehicle ahead too closely ("Tailgating Alert")
Flashing red "Collision Alert" on the windshield and five seat pulses on both sides of the driver's Alert Seat (or eight high-pitched beeps), when you are approaching a vehicle ahead too quickly and may be just seconds away from a potential crash
Settings
The timing of the Tailgating Alert and Collision Alert depends on the Forward Collision Alert's timing setting, comprised of Far, Medium or Near. The driver can toggle through these settings using the steering wheel.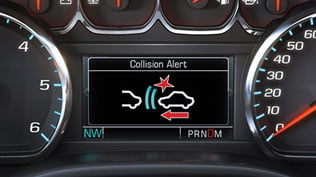 The system takes into account the following factors in determining the alert timing setting:
Distance to vehicle ahead
Vehicle speeds
Various other factors
For vehicles equipped with Adaptive Cruise Control, changing this setting also adjusts the gap between your vehicle and the following vehicle.
Turning off the Forward Collision Alert system is possible in one of the following two ways:
For vehicles equipped only with the camera system: using steering wheel controls for camera-only Forward Collision Alert systems
For radar-equipped vehicles: using the Vehicle Settings menu option