General Motors Adaptive Cruise Control Technology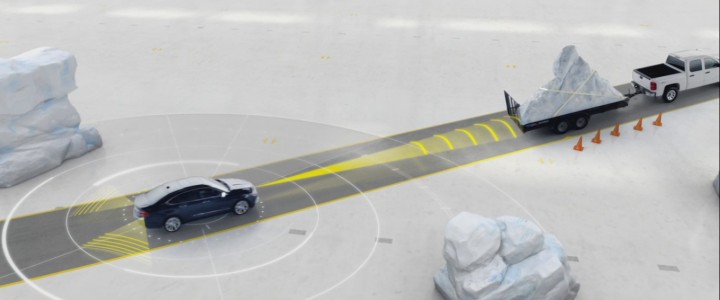 General Motors Adaptive Cruise Control Technology
Adaptive Cruise Control is a General Motors active safety technology that enhances regular Cruise Control by reducing the need for the driver to frequently brake and accelerate when following a vehicle ahead based on a driver-selected following gap.
The technology automatically accelerates and brakes the vehicle up to moderate levels to maintain a driver-selected following gap (distance); it works in most vehicles even under stop-and-go traffic conditions. Adaptive Cruise Control utilizes existing Forward Collision Alert sensors on the vehicle, including:
Long-, mid- and short-range radar mounted either within the front grille or in the lower front fascia below the front grille, and/or
Camera mounted behind the windshield ahead of the inside rear view mirror
Engaging Automatic Cruise Control is activated by enabling Cruise Control, setting the Cruise Speed and Following Gap (Far, Medium, Near). All three actions are accomplished by using buttons on the steering wheel. The Driver Information Center (DIC) displays a green icon when a vehicle is detected for following using Adaptive Cruise Control.
To note, cruise control can be activated when the vehicle is traveling above 15 or 18 mph (25 or 30 km/h), depending on the vehicle. In addition, changing the Following Gap also adjusts Forward Collision Alert timing to the same setting. If canceled, the driver can resume Adaptive Cruise Control from a stand-still by pressing the RES button or the accelerator.
When approaching a vehicle ahead too quickly for Adaptive Cruise Control to brake and avoid a collision, a flashing red "Collision Alert" will be issued.
If Adaptive Cruise Control turns itself off due to a malfunction or external condition, the vehicle will issue a chime along with a message in the Instrument Panel.