General Motors Safety Alert Seat
General Motors Safety Alert Seat
Safety Alert Seat is a General Motors active safety feature that vibrates the driver's seat bottom cushion if a crash risk is detected.
The technology was designed to provide customers an alternative to auditory alerts such as beeps, while also giving hearing-impaired drivers an opportunity to experience crash avoidance systems alerts. This is especially relevant when considering that about one in five Americans, or roughly 48 million people, suffer some degree of hearing loss, according to research from Johns Hopkins University.
"The best kind of safety protection we can offer are customer-focused features that help drivers avoid the crash altogether, and which are kept turned on for every trip," said GM Active Safety Technical Fellow Raymond J. Kiefer.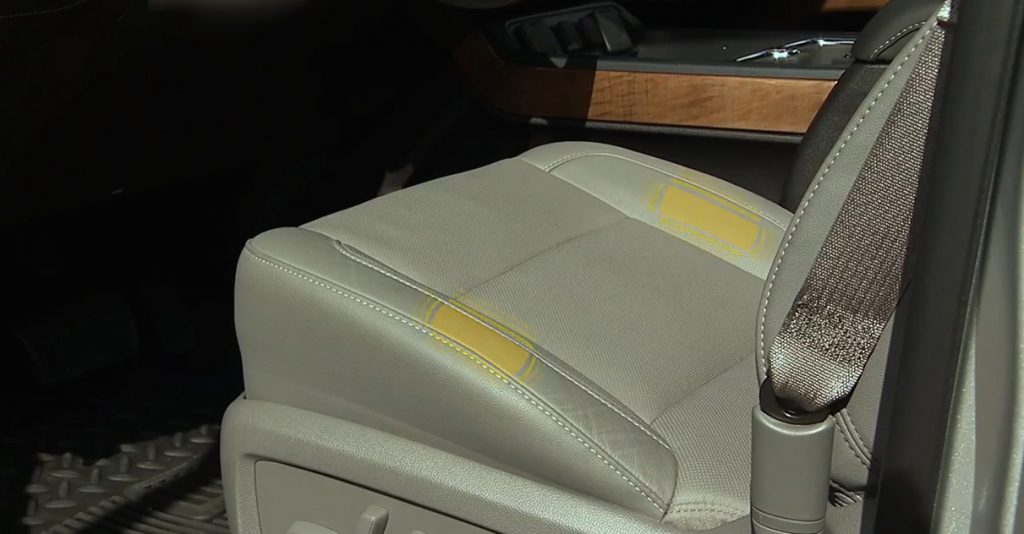 How It Works
Safety Alert seat works in conjunction with other collision-avoidance warning technologies in the vehicle. It uses haptics in the cushion of the driver's seat — a tactile feedback technology that re-creates the sense of touch by using left and/or right "tapping" vibration pulses — to direct the driver to the location of a crash threat. GM has stated that similar technology is used in space and military applications.
"Using the tactile sense to communicate crash threat direction can help cut through the clutter of visual and auditory sensory information that drivers routinely experience," said Kiefer.
Usage Scenarios
How Safety Alert Seat works in vehicles equipped with a lane departure warning system:
When the vehicle's camera detects the vehicle is leaving a lane without an active turn signal in that direction, small motors in the seat cushion generate a vibration pulse in the left or right seat bolster that directs the driver's attention to the side of the lane encroachment.
How Safety Alert Seat works in vehicles equipped with forward collision alert:
When the vehicle's system detects the driver may strike the vehicle ahead, both sides of the seat vibrate.
If they so prefer, drivers can select beeping alerts instead of seat vibrations.
"Safety technologies are only as effective as customers' willingness and ability to use them," said Kiefer. "If the Safety Alert Seat encourages our customers to receive crash-threat alerts or give hearing-impaired drivers an opportunity to experience such alerts, we think that's good for them as well as other motorists."
Availability
Safety Alert Seat initially debuted on select Cadillac and Buick vehicles. In the following years, it has made its way across other General Motors, including those from GMC and Chevrolet.