General Motors IntelliLux LED Lighting Technology
General Motors IntelliLux LED Lighting Technology
IntelliLux, sometimes referred to as IntelliLux LED matrix headlights, is a General Motors lighting technology that serves as the state-of-the-art in front lighting systems on GM's Opel-Vauxhall vehicles.
Introduction
The first-generation IntelliLux lights were originally introduced on the Opel Astra K in 2015. In the Astra, IntelliLux headlights consist of 16 LED segments — eight on each side of the vehicle — that automatically and constantly adapt the range and distribution of the light beam to every traffic situation.
Improvements
The second generation of the IntelliLux headlamps was introduced on the 2018 Opel Insignia Grand Sport. Delivering more refinement and sophistication, Insignia's IntelliLux feature additional functionality that further improves nighttime visibility.
Helping Opel lighting experts make the improvements on the Insignia is progress in the area of LED field: during the development of the Astra, LEDs had become even smaller and more powerful, allowing engineers to deliver significantly higher performance by installing twice as many LED segments (for a total of 16) in each of the new Insignia's headlights. By contrast, the Astra K has a total of 8 LED light segments on each side of the vehicle.
Thanks to the smoother transitions between the higher number of LED segments, the Insignia's light patterns can be more precisely adapted. As such, the adaptive IntelliLux LED matrix headlights of the new Insignia produce a larger amount of even brighter light.
"From the Astra we know how much customers appreciate the benefits of IntelliLux LED matrix headlights" said Ingolf Schneider, Engineering Group Manager of Exterior Lighting. "Now we are bringing the even more advanced second generation of this innovative technology onto the market in the all-new Insignia, with additional new functions that further improve visibility at night."
To improve visibility even further when driving through curves on full high beam, engineers added a new feature to the new Insignia's IntelliLux LED matrix headlights that increases the intensity at the inner matrix segments according to steering angle in order to increase the illumination of the curve.
Each IntelliLux LED headlight also features a high-beam spotlight that provides additional illumination at full high-beam for up to 400 meters, further improving the long-range visibility from the new Insignia.
Using IntelliLux
Despite their highly-advanced nature, the adaptive IntelliLux LED matrix headlights are simple to operate: as soon as the car exits urban areas, the IntelliLux LED headlights switch themselves on automatically and constantly adapt the range and distribution of the light beam to every traffic situation, whether driving in town, on country roads, on the highway, making a turn or zipping through a curve. Opel equates the lights' performance to turning "night into day", but without overwhelming other road users.
Monza Concept Preview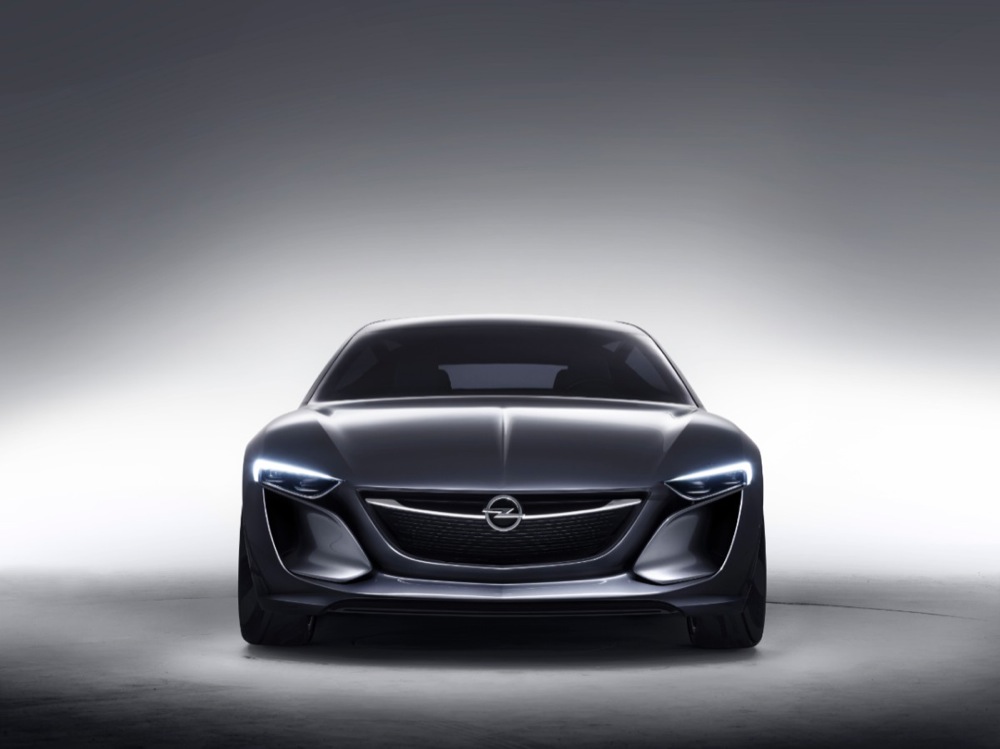 Opel previewed IntelliLux headlights with the Monza Concept at the 2013 International Motor Show Cars (IAA). At the time, Opel CEO Dr. Karl-Thomas Neumann announced that the Monza showed what could be expected of Opel cars in the future.