General Motors Adaptive Forward Lighting Technology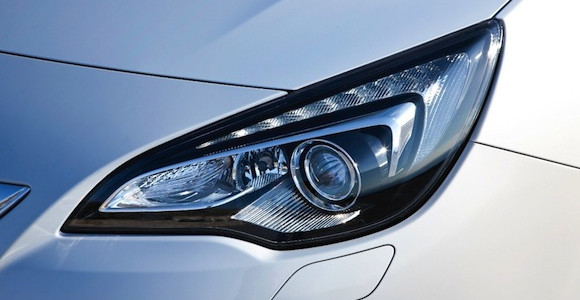 General Motors Adaptive Forward Lighting Technology
Adaptive Forward Lighting, or AFL, is a General Motors lighting technology that improves forward visibility by swiveling or rotating the headlamps in concert with the direction of the steering wheel.
Enabling Adaptive Forward Lighting
On vehicles equipped with AFL, enabling Adaptive Forward Lighting can be accomplished by toggling an on/off option in the vehicle's infotainment system.
How It Works
AFL swivels or rotates the front headlamps in concert with the direction of the steering wheel and, in turn, the car's forward direction. Heading into a curve or turning around a corner, the headlamps swivel up to 15 degrees at varying speeds, depending on the severity of the curve and the speed the vehicle is traveling.
The system works with both a vehicle's low beam and high beam lighting and incorporates a Bi-Xenon or High Intensity Discharge (HID) projector. This high-tech light source doubles light output, while decreasing energy consumption by 33 percent compared to a traditional halogen headlamp bulb (35 watts vs. 55 watts).
Purpose
The purpose of Adaptive Forward Lighting is to make driving easier and safer and less treacherous by improving lighting and visibility during nighttime and inclement weather. In addition, AFL helps improve the driver's ability to see things on the side – pedestrians, animals, etc. — before they become a hazard.
"The AFL technology provides the driver a much better view of the road ahead," said Shannen Borngesser, a GM exterior lighting engineer. "AFL assists the driver by increasing visibility, both on straight and winding roadways."
Vehicle Availability
Adaptive Forward Lighting is available across many General Motors vehicles, including those from Chevrolet, Buick, GMC, Opel, Vauxhall and Cadillac. Perform any of the below tasks to determine whether your vehicle is equipped with AFL:
Consult the window sticker
Consult the owner's manual
Check the Vehicle Settings menu in the vehicle's infotainment system for an option to enable or disable Adaptive Forward Lighting