General Motors Wireless Phone Charging Technology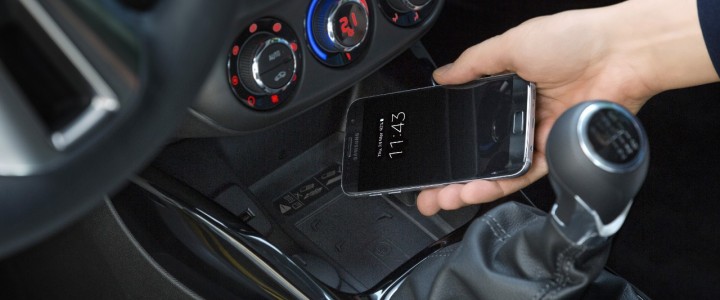 General Motors Wireless Phone Charging Technology
Wireless charging is a General Motors technology that enables the driver or vehicle occupants to charge their smartphone without a cable, thereby eliminating the need for charing cords in the vehicle.
How It Works
Depending on the vehicle, the inductive wireless charging system is located either in the vehicle's hidden storage compartment or on the top of the center console armrest. Simply place a compatible smartphone on the charging pad and the phone will begin to charge, while communicated with the vehicle for phone calls and music streaming using the Bluetooth wireless protocol.
PowerMat & Qi
GM's wireless charging feature supports both the Powermat and Qi wireless charging standards. Specifically, the system supports the following wireless charging specifications:
PMA 1.0 (Powermat)
WPC 1.0 (Qi)
WPC 1.1 (Qi)
By supporting the two major wireless charging systems, General Motors has ensured that its vehicles are future-proofed and does not lock customers into a single standard.
Vehicle Availability
2015 and newer Cadillac ATS Sedan and ATS Coupe
2015 and newer Cadillac CTS
Cadillac SRX
Cadillac XT5
Cadillac CT6
Cadillac Escalade
Chevrolet Tahoe
Chevrolet Suburban
GMC Yukon and GMC Yukon Denali
Opel Astra
Opel Insignia Grand Tourer
Pictures