General Motors Ultium Drive And Motor Technology
General Motors Ultium Drive And Motor Technology
The GM Ultium Drive family covers front-wheel drive, rear-wheel drive and all-wheel drive propulsion combinations, including high-performance and off-road capabilities. More specially, all five drive units are to be powered by one or more of three motors including a primary front-wheel drive motor, which can be configured for front- or rear-wheel drive, and an all-wheel drive assist motor. GM will lead the design and development of Ultium Drive's modular architecture, and all GM electric vehicles built on the Ultium platform will be powered by Ultium Drive and Ultium Battery technology.
"As with other propulsion systems that are complex, capital intensive and contain a great deal of intellectual property, we're always better off making them ourselves," said Adam Kwiatkowski, GM executive chief engineer, Global Electrical Propulsion. "GM's full lineup of EVs should benefit from the simultaneous engineering of Ultium Drive. Our commitment to increased vertical integration is expected to bring additional cost efficiency to the performance equation."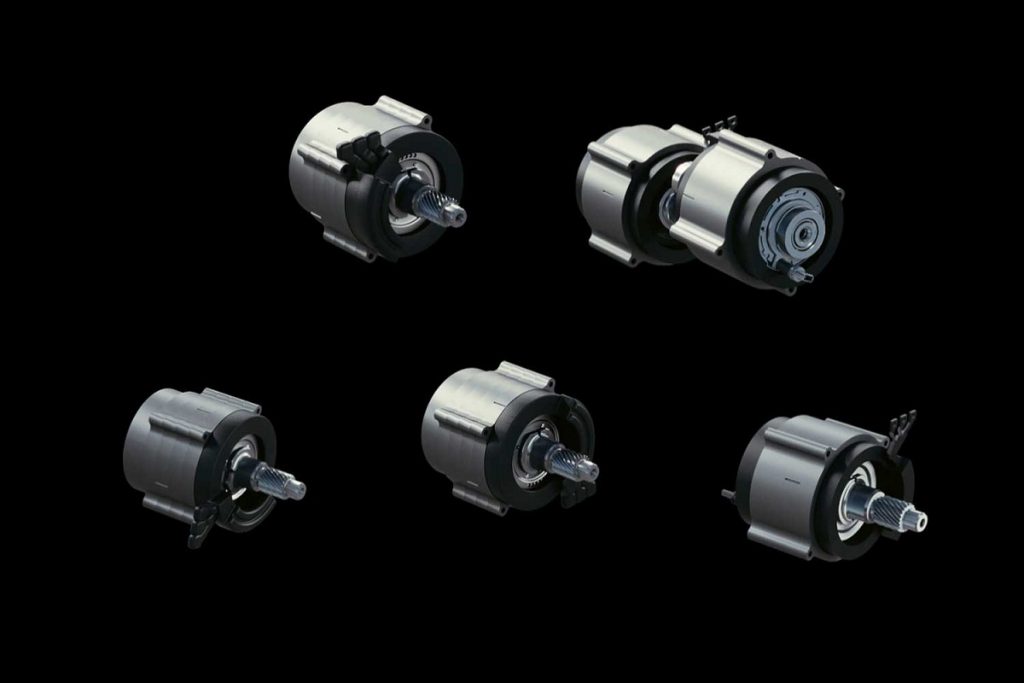 Most of the Ultium Drive components, including castings, gears and assemblies, will be built with globally sourced parts at GM's existing global propulsion facilities on shared, flexible assembly lines, allowing the company to more quickly ramp up its EV production, achieve economies of scale and adjust its production mix to match market demand.
Principles
Ultium Drive technology works in tandem with Ultium battery technology. As the names imply, the battery stores the energy used by the drive units and motors to propel the vehicle. Specifically, Ultium Drive combines electric motors and single-speed transmissions to apply power – generated by Ultium battery cells – to the wheels of GM's upcoming electric vehicles.
To clarify, one or more of three GM-designed motors (shown above) are contained within one of the five different drive units. The configuration of the motors and drive units is dependent on the vehicle application.
How It Works
As shown in the illustration below, the Ultium Drive motor sits inside the unit itself. With a traditional combustion engine, a crankshaft rotates and generates energy, which is then transmitted to the wheels via the transmission. Comparatively, GM's Ultium drive technology works very similarly, only the combustion engine is now a battery-powered motor that is housed within the casing – a casing that fittingly resembles the combination of an engine block with a transmission bell housing.
Taking this mechanical metaphor one step further, one could see an Ultium motor as a module-dense transmission with an electrified set of planetary gears that generate force. Alternatively, one could also think of it as an internal engine starter that never stops spinning. This is because Ultium Drive technology combines electric motors and single-speed transmissions to apply power to the front, rear, or all wheels, depending on the vehicle application. Ultium batter technology fits into the mix by creating the energy used to power the Ultium drive unit's motor(s).
Applications
As stated, Ultium drive technology will propel every new General Motors electric vehicle, as Ultium is flexible enough to build a wide range of EVs — including cars, trucks, and more — and is at the core of GM's future EV lineup. Notably, Cruise Origin will also be built on GM's Ultium battery platform, and was the first product revealed using GM's third generation EV platform and Ultium batteries.
The reveal of the Ultium-powered GMC Hummer followed, and production is expected to begin in Fall 2021 at GM's Detroit-Hamtramck assembly plant – now referred to as Factory ZERO – which is GM's first assembly plant to be 100 percent dedicated to EV production.
Confirmed Applications:
Engineering & Technology News
4

Thirteen wheels on offer with three no-charge options.

2

Previously unavailable since September.