General Motors Voltec Technology
General Motors Voltec Technology
General Motors Voltec technology is an electrified propulsion system that is technically categorized as a "plug-in hybrid" or PHEV, and debuted with the now-discontinued Chevy Volt. Notably, the system underwent a few changes between different vehicle applications, which include the first and second-generation Chevy Volt, Malibu Hybrid, Cadillac ELR, and CT6 PHEV.
It should also be noted that there are two generations of Voltec technology, with the second-gen system debuting with the 2016 Chevrolet Volt.
How It Works
Simply put, Voltec technology is a hybrid system that features the following components, depending on the generation:
First-Generation Voltec:
1.4-liter gasoline engine (84 horsepower)
17.1 kWh lithium ion battery
One electric motor and one generator (serial hybrid System)
One planetary gearset
Three clutches
Power inverter
Hydraulic control system
Second-Generation Voltec:
1.5-liter I4 gasoline engine (101 horsepower), other engine applications include:
18.4 kWh lithium ion battery
Two electric motors / generators (parallel hybrid system)
Two planetary gearsets
Two clutches
Chain-driven differential
Power inverter
Hydraulic control system
The first-gen system utilized a 1.4-liter engine, which made Ward's Top 10 Best Engines list, and 17.1 kWh battery as well as a single planetary gear set, and operated as a 'serial hybrid' system. In serial hybrid systems, the engine distributes energy to a single motor, which then passes the energy off to a second motor and consequently the wheels, or to the lithium ion battery itself.
The second-generation Voltec system transitioned from being serial hybrid to parallel hybrid, which trades off combined torque output capability for greater efficiency at highway speeds. In a parallel hybrid system, the combustion engine can send power to the wheels or to a generator which then distributes the power to an electric motor or back into the system's battery.
Compared to the first-gen Voltec, the 1.4-liter engine grew to 1.5-liters, and the battery grew from 17.1 to 18.4 kWh, resulting in a torque increase of 21 foot-pounds over the previous generation. The second-gen system also features a second planetary gear set, and is able to use both electric motors to propel the car.
Simply put, Voltec technology is a hybrid system that extends a battery's range by using a gasoline-powered, range-extending engine.
Benefits
The primary benefit to using Voltec technology is an increase in efficiency. When it debuted for the 2011 model year, the Chevrolet Volt was able to travel 35 miles using a full charge, providing a completely gas-free and tailpipe emissions-free journey. Then, when the Volt's battery runs low, its gas-powered engine/generator seamlessly engages to extend the driving range another 344 miles on a full tank. This ability to not be restricted to the battery's capability distinguished the Volt from other electric-only vehicles at the time, which could not be operated unless recharging was immediately available – such as during a power interruption or on a long-distance trip.
Additionally, energy efficiency is increased as more miles can be driven per plug-in charge, since the gasoline engine is putting energy back into the battery.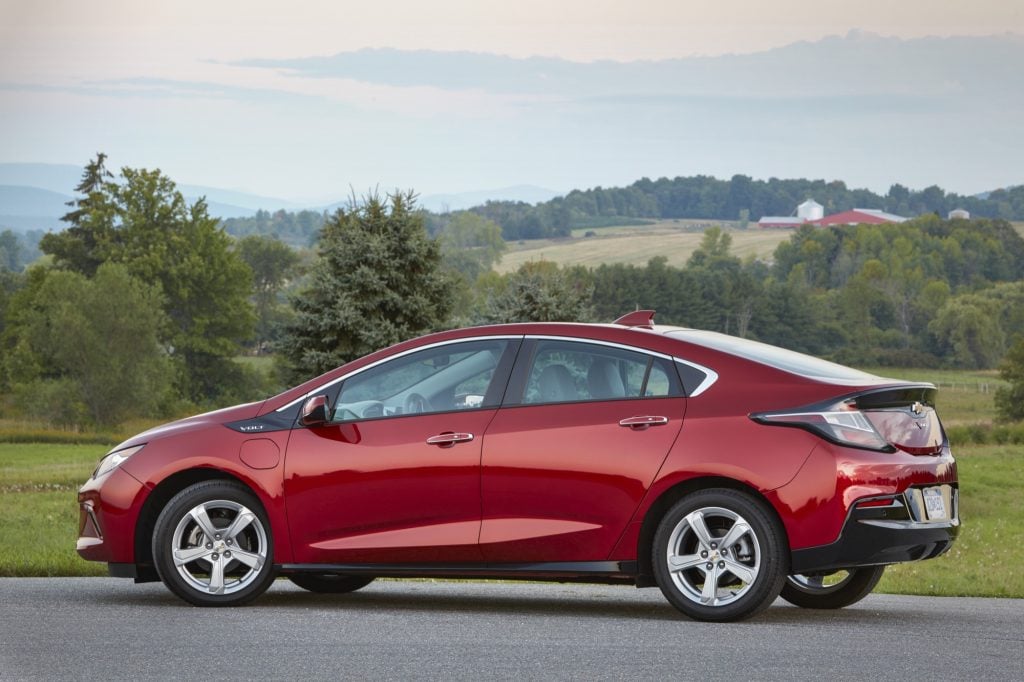 Applications
GM's Voltec technology is offered on the following vehicles:
GM Voltec Technology Vehicle Applications

| Year | Make | Model | Powertrain Specs | Horsepower (hp / kW) | Torque (lb-ft / Nm) |
| --- | --- | --- | --- | --- | --- |
| 2011 – 2015 | Chevrolet | Volt | 1.4L I4 Gas + 17.1 kWh Battery | 149 / 111 | 273 / 368 |
| 2016 – 2019 | Chevrolet | Volt | 1.5L I4 Gas + 18.4 kWh Battery | 149 / 111 | 294 / 398 |
| 2016 | Chevrolet | Malibu Hybrid | 1.8L I4 Gas + 18.4 kWh Battery | 182 / 136 | 277 / 375 |
| 2014 | Cadillac | ELR | 1.4L I4 Gas + 17.1 kWh Battery | 207 / 154 | 295 / 400 |
| 2016 | Cadillac | ELR | 1.4L I4 Gas + 17.1 kWh Battery | 233 / 173 | 373 / 443 |
| 2016 | Cadillac | CT6 PHEV | 2.0L LTG I4 Gas + 18.4 kWH Battery | 335 / 250 | 432 / 586 |
The following concept vehicles were also designed with GM Voltec Technology:
Cadillac Converj
Cadillac Provoq
Opel Flextreme
Opel Flextreme GT/E
Opel Monza Concept
Engineering & Technology News
12

With no injuries or fatalities, however.

6

Offering savings and more.