General Motors Capless Fuel Filler Technology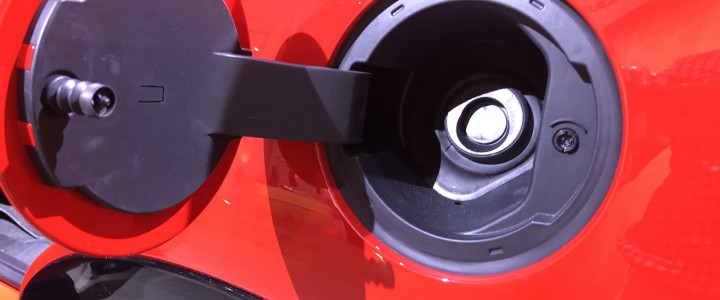 General Motors Capless Fuel Filler Technology
Capless Fuel Fill is a General Motors convenience technology that makes fueling a vehicle more convenient.
How It Works
Vehicles equipped with the GM Capless Fuel Filler system do not have traditional twist-off gas caps. Instead, these vehicles have a set of two doors, each locking fuel in with a rubber seal around its edge.
When a fuel nozzle is inserted, the nozzle pushes these doors, which are designed to assure the system will remain airtight through years of use.
How To Use It
How to use Capless Fuel Filler at the pump:
Turn off the vehicle's engine and leave cell phones inside the vehicle
Open the fuel door
Insert the fuel nozzle slowly and wait for any hissing noise to stop prior to pumping fuel
Drivers should stay with the vehicle while refueling
Overfilling the fuel tank by more than three clicks of a standard fill nozzle may cause performance issues, fuel spills or potential fuel fires
Wait a few seconds after refueling is complete before removing the nozzle and closing the fuel door
How to use capless fuel filler with a portable gas can:
Locate the capless funnel adapter from inside the vehicle (typically found in the trunk of a car, truck or SUV and under the rear seat in a pickup truck)
Insert and latch the funnel into the capless fuel system
Remove and clean the funnel adapter and return it to the storage location
Benefits
The GM Capless Fuel Filler delivers the following benefits:
No fuel cap to use
Helps keep hands free of dirt and fuel
Helps prevent disruptions to the closed fuel system and "check engine" service visits
No dangling fuel cap to scratch painted surfaces while fueling and no caps to potentially forget when driving off without closing it
Mechanisms in the fuel filler neck make it nearly impossible to siphon more than a few gallons of gas
A vapor recovery system built into the fuel filler means fewer fumes escape to pollute the air
Vehicle Availability
GM Capless Fuel Filler Availability
Model
Availability
Introductory Model Year
Notes
Chevrolet
Bolt EV
Not applicable - EV charger
Volt
No (for gasoline tank)
Spark
No
Sonic
No
Cruze
No
Malibu
Yes
Impala
No
SS Sedan
No
Camaro
Yes
2016
Corvette
Yes
2014
Colorado
Yes
gasoline models only; requires pickup box
Silverado 1500
Yes
2017
gasoline models only; requires pickup box
Silverado HD
Yes
2017
gasoline models only; requires pickup box
Trax
No
Equinox
Yes
2018
gasoline models only
Blazer
Yes
2019
Traverse
Yes
2018
Tahoe
Yes
2016
Suburban
Yes
2016
Express
No
Low Cab Forward
No
Silverado Medium Duty
No
Cadillac
ATS
No
CTS
Yes
2015
CT6
Yes
2016
XTS
Yes
2013
XT4
Yes
2019
XT5
Yes
2017
Escalade / Escalade ESV
Yes
2016
SRX
No
Buick
Regal
Yes
2018
LaCrosse
Yes
2017
Encore
Yes
2018
Envision
Yes
2018
Enclave
Yes
2018
Cascada
No
GMC
Terrain
Y
2017
gasoline models only
Acadia
Yes
2017
Yukon / Yukon XL
Yes
2016
Canyon
Yes
2015
gasoline models only; requires pickup box
Sierra 1500
Yes
2017
gasoline models only
Sierra HD
Yes
2017
gasoline models only
Savana
No
No