General Motors Cabin Air Ionizer Technology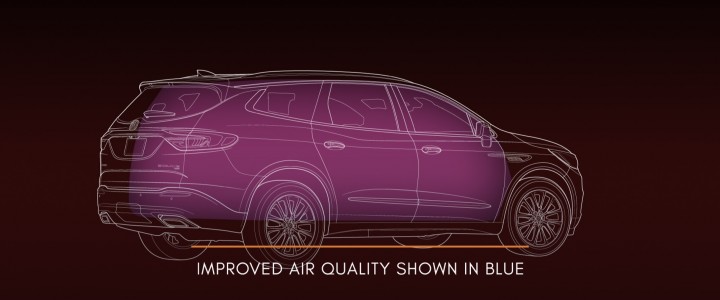 General Motors Cabin Air Ionizer Technology
The Cabin Air Ionizer is a GM convenience technology that aims to provide higher air quality for drivers and occupants of its vehicles.
Purpose
The purpose of the cabin air ionizer is to provide higher air quality in the vehicle compared to vehicles without the feature. Specifically, the feature delivers cleaner and fresher air, eliminates odors and provides higher air quality.
It helps address external and internal odors and reduce bacteria, viruses, dust, debris and pollen, while also helping improve driver alertness.
How It Works
The air ionizer works by producing negatively charged particles that attract air-borne contaminants and break down their structure, cleaning the cabin air.
The GM air ionizer requires no maintenance or filter replacement.
Vehicle Availability
Air ionizer feature made its debut on the 2018 Buick Enclave, which was all-new for the 2018 model year. The feature typically is assigned RPO code KEM within the GM production system. The feature is now standard or available on various GM vehicles.
GM Air Ionizer Feature
Model
Model Year Introduced
Buick
Cascada
Not yet available
Verano
Never introduced; model discontinued
Regal
2019
LaCrosse
2019
Encore
2018
Envision
2018
Enclave
2018
Cadillac
SRX
Never introduced; model discontinued
XT4
2019
XT5
Not yet available
Escalade
Not yet available
ATS
Never introduced; model discontinued
CTS
Never introduced; model discontinued
CT6
2016
XTS
Never introduced; model discontinued
ELR
Never introduced; model discontinued
GMC
Terrain
Not yet available
Acadia
Not yet available
Yukon/Yukon XL
Not yet available
Canyon
Not yet available
Sierra LD
Not yet available
Sierra HD
Not yet available
Savana
Not yet available
Chevrolet
Spark
Not yet available
Sonic
Not yet available
Cruze
Not yet available
Volt
Not yet available
Malibu
Not yet available
Impala
Not yet available
SS Sedan
Never introduced; model discontinued
Camaro
Not yet available
Corvette
Not yet available
Bolt EV
Not yet available
Trax
Not yet available
Equinox
Not yet available
Traverse
Not yet available
Tahoe
Not yet available
Suburban
Not yet available
Colorado
Not yet available
Silverado LD
Not yet available
Silverado HD
Not yet available
Silverado MD
Not yet available
Express
Not yet available
Low Cab Forward
Not yet available
City Express
Never introduced; model discontinued