General Motors Quadrasteer Technology
General Motors Quadrasteer Technology
Quadrasteer, sometimes referred to as QS4 or Four Wheel Steer, is a General Motors chassis technology that steers all four wheels of a vehicle, thereby contributing to greater agility at low speeds.
Benefits
Quadrasteer benefits can be realized while parking and towing.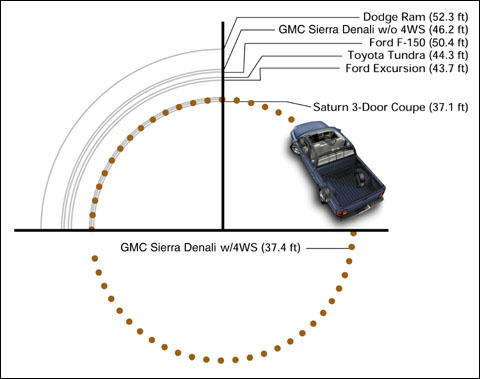 Compared to vehicles without Quadrasteer, vehicles with the feature have a smaller turning radius. This can be very handy for big vehicles such as pickup trucks and SUVs when parking in small spaces. In addition, a smaller turning circle is particularly useful for those who tow boats, fifth wheels, or other large equipment, as it enables easier maneuverability when towing and parking.
Drawbacks
The Quadrasteer system adds about 285 pounds of additional weight to the truck but gives back this amount and more in additional towing and hauling capabilities over the C3. The rear axle's weight rating increases by 250 pounds to 4000 pounds and maximum GCWR (gross combined weight rating) climbs from 14000 to 16000 pounds. Trailering capacity has increased from 8700 pounds to 10000 pounds. The wider rear axle also provides more stability when towing.
How It Works
Quadrasteer electronically controls the rear wheels at different speeds and under various load conditions to create agility and maneuverability, particularly when towing or parking.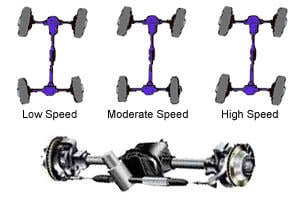 The Quadrasteer steer-by-wire rear axle is controlled by two sophisticated microprocessors, enabling the system to behave differently depending on vehicle speed and driving mode:
At speeds up to 40-45 mph, the system turns the wheels in the opposite (negative) direction of the forward wheels to a maximum of 15 degrees, or 12 degrees in tow mode. Though 12 degrees might not seem like a lot, it is very effective: in four-wheel steer mode, the 37.4-foot turning radius on the Sierra Denali's is:

Only three inches greater than that of a three door Saturn coupe
Almost 10 feet smaller than the 2001 Sierra C3

At speeds of around 40-45 mph, the rear wheels track neutrally
At speeds over 45 mph, the system turns the rear wheels in concern (positively) in the direction of the front wheels to increase stability and control.
If at any time the two microprocessors "disagree" over the steering information they have received any what action to take, the system automatically shuts down and reverts back to traditional two-wheel steering.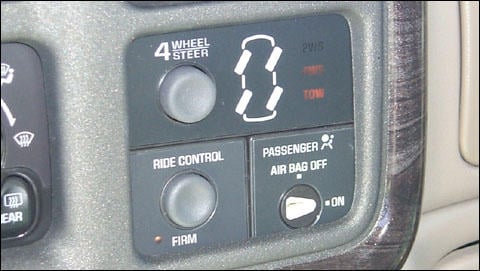 The system is operated via a control panel on the dash. The driver can push the button in order to change steering modes, including:
2-wheel steer (2WS):
4-wheel steer (4WS) mode: in this mode, the rear wheels turn up to the maximum allowable amount below 40-45 mph, and transition to turn in the same direction as the front wheels above this speed
4-wheel steer tow (4WS TOW) mode: meant for towing, this mode reduces the amount of rear wheel steer at lower speeds but increases it at higher speeds when the wheels turn in the same direction
Sam Mancuso, the GMC Sierra Brand Manager, proudly proclaims, "The Sierra Denali is the most capable ½-ton pickup truck available in its class. There is nothing else like it from Ford, Dodge or Toyota."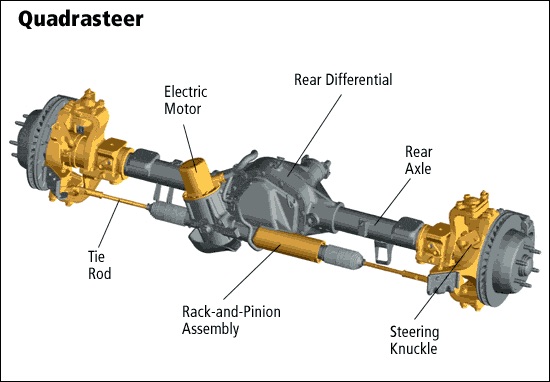 Price
Upon launch, Quadrasteer was priced as a $5,600 option. With time, its price was reduced to about $2,000 and then $1,000.
Development
Quadrasteer was developed by Delphi Corporation when it was still owned by General Motors. The system's rear axle is based on the Dana 60 axle.
Production
Dana Corporation produced the Quadrasteer axle while Delphi completed the final assembly. Delphi then delivered the final unit to GM's plants, where it was installed in vehicles on the assembly line.
Vehicle Availability
Quadrasteer was available as an option on GM's full-size pickup trucks and SUVs for the 2002-2005 model years, including:
GMC Sierra Denali
Chevrolet Silverado
GMC Sierra
Chevrolet Suburban
GMC Yukon XL