General Motors Magnetic Ride Control Technology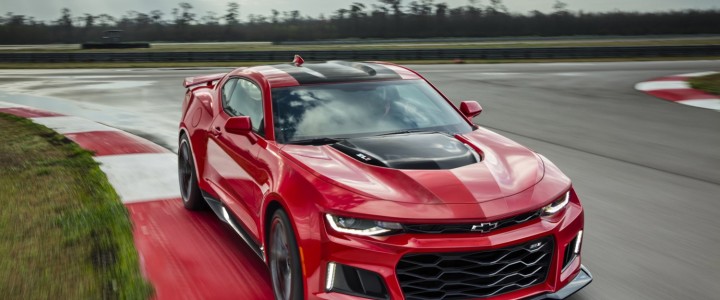 General Motors Magnetic Ride Control Technology
Magnetic Ride Control (MRC or MagneRide) is a General Motors chassis and suspension technology that adapts and adjusts the shock absorbers of a vehicle in real-time in response to changes in terrain in order to deliver optimal shock damping for the best possible driving experience.
How It Works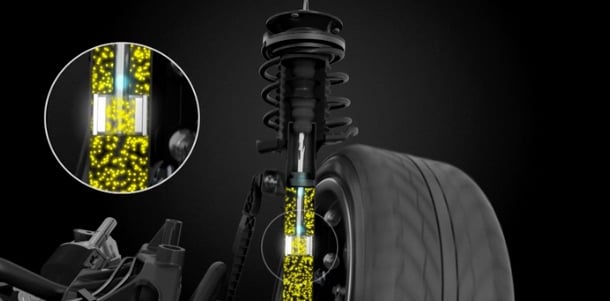 Magnetic Ride Control is unique in that it does not use mechanical valves or small moving parts that are prone to wear. Instead, a Magnetic Ride Control shock absorber uses the following components:
A monotube damper filled with magnetorheological fluid located at each wheel of a vehicle
A set of sensors
An electronic control unit (ECU) responsible for coordinating the entire system
Dampers
The MRC dampers are filled with magnetorheological fluid that is a mixture of easily-magnetized iron particles in a synthetic hydrocarbon oil. For the third generation of the technology, each monotube damper contains a piston with two electromagnetic coils and two small fluid passages through the piston. The electromagnets are capable of creating a variable magnetic field across the fluid passages.
When the magnets are off, the fluid travels through the passages freely; when the magnets are activated, the iron particles in the fluid create a fibrous structure through the passages in the same direction of the magnetic field. The strength of the bonds between the magnetized iron particles causes the viscosity of the fluid to increase, resulting in a stiffer suspension. Altering the strength of the current results in an instantaneous change in force of the piston.
If the sensors sense any body roll, they communicate the information to the ECU, which in turn compensates by changing the strength of the current to the appropriate dampers.
Benefits
The primary benefits of Magnetic Ride Control are:
Highly precise
Extremely fast response
Low-velocity damping control
Ability to "draw" force-velocity curve
The end result is excellent chassis responsiveness, poise, and control that doesn't sacrifice everyday ride quality or comfort.
The electronically-controlled shock absorbers use a fluid infused with magnetized particles that respond to different driving conditions and speeds. Combined with the system's sensors, Magnetic Ride Control is so precise that it reads road conditions every five milliseconds, thereby responding and reacting to each corner or bump in the road and automatically adjusting shock absorbers ten times faster than the blink of an eye.
Adjustability
Usually, vehicles with Magnetic Ride Control have a setting that allows drivers to change the stiffness of the suspension system from Tour (soft suspension setting) to Sport (stiff suspension setting) and Track/Race (even stiffer suspension setting).
Vehicle Applications
GM Vehicles
Cadillac
2002-2003 Cadillac Seville STS was the first vehicle to use the Delphi MagneRide technology, replacing CVRSS
Cadillac ATS

Available with 2.0L Turbo engine
Standard with 3.6L engine
Standard on ATS-V

Cadillac CTS

2014-2019: available on Luxury (with V-Sport package), standard on Premium Luxury, V-Sport, V

Cadillac Escalade / Escalade ESV:

2015-2020: standard on all models
2021: optional on Premium Luxury, standard on Sport, Premium Luxury Platinum, Sport Platinum

Cadillac CT4

Standard only on CT4-V RWD, deleted on AWD models
Standard on CT4-V Blackwing

Cadillac CT5

Standard on CT5-V RWD and AWD
Standard on CT5-V Blackwing

Cadillac CT6

Standard on Premium Luxury, Platinum, CT6-V

Cadillac ELR

Standard on 2014 model year
Standard on 2016 model year

Cadillac SRX

Standard with Performance or Premium from 2004-2009 model years

Cadillac DTS

Standard with standard with Performance or Premium trim level on 2006-2011 model years

Cadillac STS

Standard with Northstar V8 and 1SG option package on 2005–2011 model years
Chevrolet
Chevrolet Corvette C5

Standard on 2003 50th anniversary model and optional on 2003-2004 model years

Chevrolet Corvette C6

Optional on coupe starting with 2005 model year
Optional on hardtop Z06 starting with 2012 model year
Standard on ZR1

Chevrolet Corvette C7

Optional on Z51 package
Standard on Grand Sport
Standard on Z06

Chevrolet Corvette C8

2020: available on all Stingray models with Z51 package
2021: available on all Stingray models as standalone option

Chevrolet Camaro

Standard on Camaro ZL1 from 2012-2023; replaced with DSSV dampers on ZL1 1LE
Available on Camaro SS from 2012 – 2023

Chevrolet SS: standard
Chevrolet Silverado 1500

Available from 2017 model year on High Country

Chevrolet Suburban

2015-2020: available on LTZ
2021 and newer: available on Z71, standard on Premier and High Country

Chevrolet Tahoe

2015-2020: available on LTZ
2021 and newer: available on Z71, standard on Premier and High Country
Buick
Buick Lucerne

CXS trim level
Lucerne Super trim level
GMC
2014-2018 GMC Sierra
GMC Yukon / Yukon XL

2015-2020: standard on Denali
2021 and newer: standard on AT4 and Denali
Holden/HSV
HSV Senator
HSV GTS
HSV W427
Non-GM Vehicles
Ford Mustang Shelby GT350 (2015 model year and newer, branded as MagneRide)
Ferrari 599
Ferrari F12berlinetta
Ferrari California
Ferrari FF
Ferrari 458 Italia
La Ferrari
Lamborghini Aventador
Audi TT
Audi S3
Audi R8
Acura MDX
Acura ZDX
Land Rover Range Rover Evoque
Land Rover Discovery Sport
History
Development
Magnetic Ride Control was initially developed as MagneRide by Delphi Automotive Corporation, an automotive supplier founded by General Motors in 1994 as the Automotive Components Group (ACG).
In 1995, ACG was renamed to Delphi Automotive Systems and subsequently spun off as a fully-independent publicly-held corporation in 1999. After filing for Chapter 11 bankruptcy protection in 2005, Delphi was subsequently purchased by Beijing West Industries, which currently owns the company.
Generations
MagneRide is currently in its third generation, with the first iteration of the technology having debuted on the 2002 Cadillac STS Seville.
Compared to the first two generations, the third-gen MagneRide system includes enhanced seals and bearings to extend the system's application to heavier vehicles such as pickup trucks and SUVs, with the most notable improvements being to the ECU and coils.
A legal requirement for lead-free ECUs prompted the control unit of the third-generation MagneRide system to be redesigned from the ground up. The all-new ECU has three times the computing capacity of the second-generation system, ten times the amount of memory, and more precise tuning.
While the first- and second-gen MagneRide systems used a single coil within one damper, the third-gen system uses two smaller coils wound in opposite directions. The change was made to eliminate a short delay lasting 20 ms in the reaction time of the dampers caused by a phenomenon with the single electromagnetic coil that took place from the time the ECU cut the current to the time the damper lost its magnetic field. This was caused by a temporary electric current in the electromagnet known as the eddy current. The change to a two-coil system resulted in the suspension system being able to respond faster.
Usage
MagneRide was first used by General Motors in the 2002 Cadillac Seville STS. Currently, it is used throughout GM's model portfolio either as an option or as standard equipment on various Cadillac, Buick, Chevrolet, and GMC vehicles. Other automakers including Ferrari, Audi, Land Rover, and Ford are also using the technology.