General Motors Active Aero Shutters Technology
General Motors Active Aero Shutters Technology
Active Aero Shutters are a General Motors active aerodynamics technology that improve the aerodynamic performance and maximize aerodynamic efficiency of a vehicle in order to deliver better fuel economy.
How It Works
Electronically-controlled Active Aero Shutters are positioned in a vehicle's front fascia, either at the vehicle's lower grille opening (forming the lower aero shutters), the upper grille opening (forming the upper aero shutters), or the upper and lower grille openings (forming the upper and lower aero shutters). The vehicle's computer system determines when to open or close them based on various conditions.
GM says that the onboard computer system that controls the active air shutters is programmed to keep them closed as often as possible to reduce aerodynamic drag.
The position of the shutters is based on a multitude of factors, but the basic premise behind their operation is as follows:
Shutters open in instances when cooling airflow to the engine is needed, like when towing, climbing a steep grade, or in other situations that powertrain temperatures rise above certain threshold conditions.
Shutters close on the highway when engine cooling needs are reduced, thereby reducing aerodynamic drag and maximizing aerodynamic efficiency by pushing more air around the vehicle.
Many active grille shutter systems are programmed to change position based on the vehicle's traveling speeds, but GM's aerodynamic shutters have a proprietary algorithm that monitors several variables in real time – including engine load, vehicle speeds and ambient temperature – to determine if the shutters should be opened or closed.
There's also an "ice mode" that activates when ambient temperatures fall below freezing. By working in conjunction with onboard sensors and a thermometer that monitors outside air temperature, ice mode prevents movement of the aero shutters until ambient temperatures rise above the freezing mark or until powertrain temperature has reached a healthy operating temperature.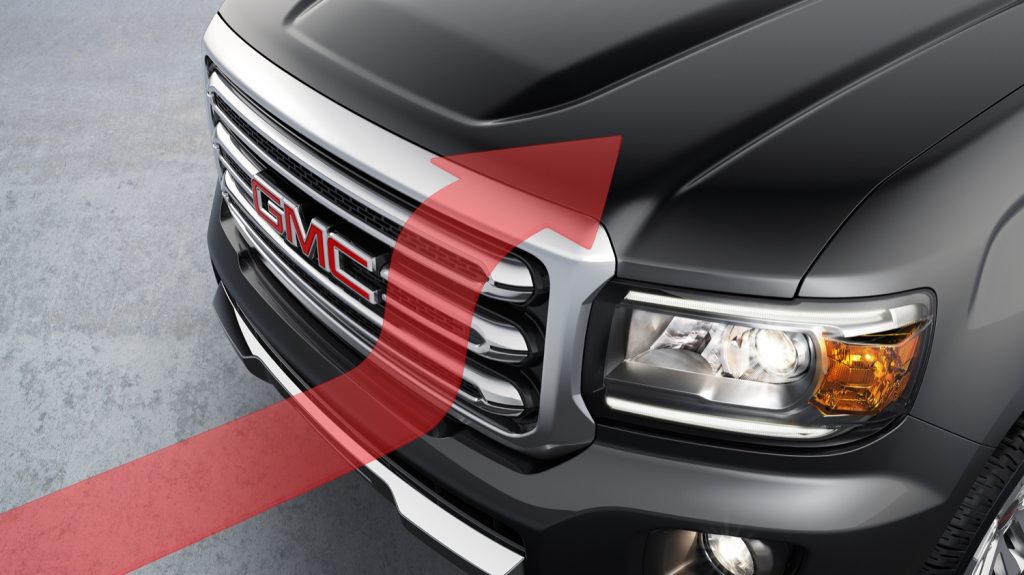 Vehicle Applications
Active aero shutters are occasionally assigned RPO code VTI. They are present on the following models, either as lower only, upper only, or both in the upper and lower grilles:
Chevrolet
2014 – 2016 Spark EV
2010 – 2015 Cruze Eco
2016 – present Volt
2011 – 2015 Malibu
2014 – present Impala
2018 – present Equinox
2019 – present Blazer
2018 – present Traverse
2015 – present Tahoe
2015 – present Suburban
2015 – present Colorado
2017 – present Silverado 1500
2020 – present Silverado 2500HD (expected)
2020 – present Silverado 3500HD (expected)
Cadillac
2013 – 2019 ATS
2014 – 2019 CTS
2016 – present CT6
2017 – present XT5
2015 – present Escalade
Buick
2012 – present LaCrosse
2016 – present Envision
2018 – present Enclave
GMC
2018 – present Terrain
2017 – present Acadia
2015 – present Yukon
2015 – present Yukon XL
2015 – present Canyon
2017 – present Sierra 1500
2020 – present Sierra 2500HD (expected)
2020 – present Sierra 3500HD (expected)
Generations
Active aero shutters were initially introduced only on a vehicle's lower grille. Shortly thereafter, their use was expanded for both the lower and upper grilles.
Other Names
Active aero shutters are also referred to as:
Active air shutters
Active aero louvres
Active air louvres
Electronically-controlled air shutters
Electronically-controlled aero shutters