General Motors TriPower Engine Technology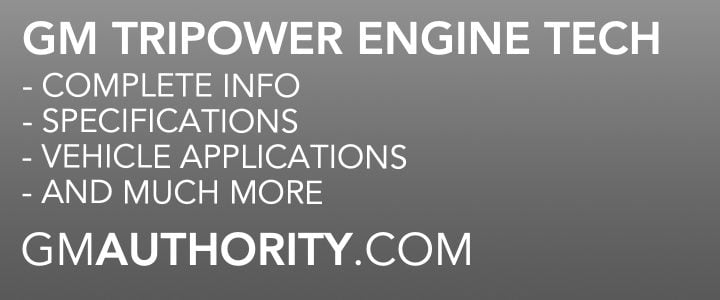 General Motors TriPower Engine Technology
TriPower is a General Motors engine technology that aims to deliver optimized operating modes for different engine speeds and loads.
Principles
The principle behind TriPower technology is to make the most of the engine's available power at all speeds, in turn delivering performance that is satisfying and confident throughout the engine's entire operating range.
How It Works
An innovative take on the double-overhead-cam (DOHC) valvetrain is at the heart of the balanced performance of the TriPower engine technology, enabling different valve lift heights as well as Active Fuel Management (cylinder deactivation) across the RPM band.
Depending on driving conditions, the system's electro-mechanical variable camshaft effectively allows the engine to operate with the following three different camshaft profiles:
High valve lift for maximum power.
Low valve lift for a greater balance of power and efficiency.
Active Fuel Management that disables two of the cylinders in light load conditions to further conserve fuel.
Those three models complement the engine's variable valve timing system to deliver optimized operating modes for different engine speeds and loads.
The camshaft design alters the lift of the intake and exhaust valves. As the engine load and driver's input change, electromagnetic actuators allow a movable shaft containing different cam lobes to shift imperceptibly between high-lift and low-lift profiles.
Lift is the distance the valve travels from its seat when opened, and duration is the amount of time the valve remains open. Higher lift and longer duration allow more air to flow into the combustion chamber, so the system's high-lift lobe profile enhances performance at higher rpm, while the low-lift profile optimizes efficiency at low- and mid-range speeds.
At the time of their release, GM's LSY and L3B engines represented the most advanced valvetrain on GM engines.
"With a broad, flat torque curve and quick throttle response, it punches above its weight, delivering surprising performance and efficiency," said Tom Sutter, chief engineer for GM's turbo-charged 2.7L L3B engine.
In fact, the unique valvetrain of the L3B is a key reason the engine's peak torque is available at only 1,500 rpm.
Benefits
TriPower engine technology enables one engine to behave like different engines for low- and high-rpm performance.
Applications
GM TriPower technology is currently used on the following GM engines:
Related Technologies
GM engines with TriPower tech are typically also equipped with Active Thermal Management.