General Motors No Lift Shift Technology
General Motors No Lift Shift Technology
No Lift Shift (NLS) is a General Motors propulsion technology for cars with manual transmissions that allows the driver to keep the gas pedal to the floor while upshifting. To do so, NLS manages torque during wide-open-throttle acceleration to allow for a "flat-footed" upshift. In order to properly execute a no-lift shift, the driver must keep the gas pedal full depressed and shift at the appropriate RPM.
How It Works
No Lift Shift aims to aid the driver in executing the quickest, yet smoothest upshift by managing the engine's speed. As explained by GM's Al Oppenheimer himself, the engine management system keeps the throttle open for both boosted and non-boosted applications when passing through the Engine Over-speed Protection during a shift.
In Engineering terms, when triggered, there is an immediate torque control, with fuel and spark, for a set time. Then, the software uses a predictive control which uses the throttle to control torque. This allows the driver to take advantage of fast torque control for a short period of time without heating up or damaging the catalyst over time.
Al also clarifies that there are both enable RPM's and target RPM's for each transmission, which are different for each engine application. Additionally, for vehicles with a mode selector, there is no difference between Tour/Sport/Track/Snow-Ice mode or PTM mode when performing the quick shifts.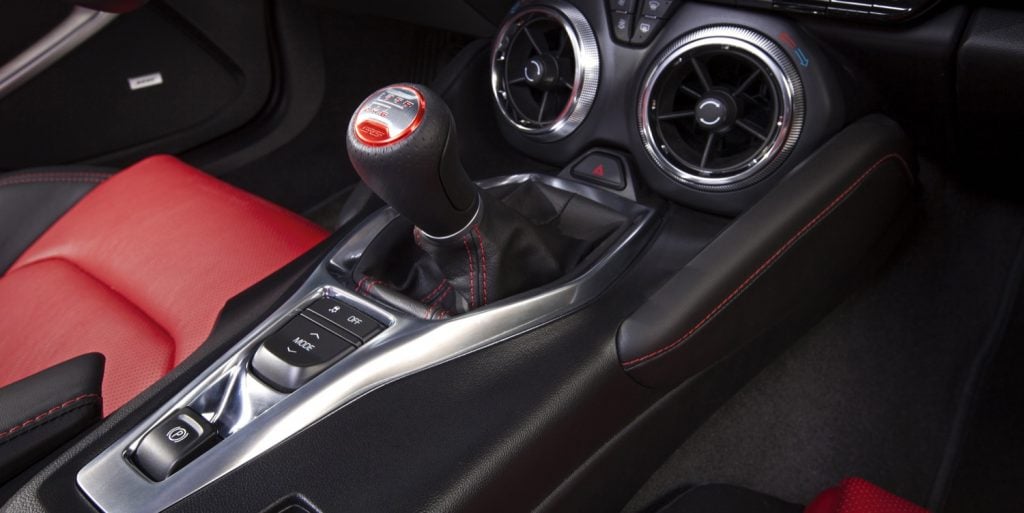 Benefits
As mentioned, a driver is aiming to be both smooth and quick when upshifting as optimally as possible. By helping to regulate engine speed, the system removes one of the many variables behind flat-foot driving. This is particularly convenient at the track, where a rough shift could unsettle the chassis. For novice drivers, the tech also acts as a safety net for their investment.
In addition to being a driver's aid, GM's No Lift Shift technology also takes some of the load off of the mechanical hardware, and should extend the life of the drivetrain due to less shock, especially the transmission.
It's also worth noting that, in certain applications, the system also maintains boost in boost, which propels the vehicle into the next gear with as much momentum as possible.
Applications
Notably, the "Enable" and "Target" RPM is different for each engine application, and even within an application, such as the Camaro SS and SS 1LE for instance. Speaking of the Camaro, it's also worth pointing out that models equipped with 2.0-liter LTG I4 or 3.6-liter LGX V6 engines were excluded for the 2016 model year.
No Lift Shift is standard on the following General Motors vehicles:
No Lift Shift Technology Vehicle Applications
Year
Make
Model
Engine
Manual Transmission
Power (hp / kW @ RPM)
Torque (lb-ft / Nm @ RPM)
2014-2019
Chevrolet
Corvette
6.2-liter LT1 V8"
Tremec TR-6070 7-Speed
455 / 339.3 @ 6000
460 / 621 @ 4600
2014-2019
Chevrolet
Corvette Z51, Corvette Grand Sport
6.2-liter LT1 V8
Tremec TR-6070 7-Speed
460 / 343 @ 6000
465 / 627.8 @ 4600
2015-2019
Chevrolet
Corvette Z06
6.2-liter LT4 V8"
Tremec TR-6070 7-Speed
650 / 485 @ 6400
650 / 881 @ 3600
2016-2022
Chevrolet
Camaro SS
6.2-liter LT1 V8
Tremec TR-6060
455 / 339 @ 6000
460 / 624 @ 4400
2017-2022
Chevrolet
Camaro
2.0-liter LTG I4
Tremec TR-6060
2017-2022
Chevrolet
Camaro
3.6-liter LGX V6
Tremec TR-6060
335 / 250 @ 6800
284 / 383.4 @5300
2017-2022
Chevrolet
Camaro ZL1
6.2-liter LT4 V8
Tremec TR-6060
650 / 485 @ 6400
650 / 881 @ 3600
2016-2019
Cadillac
ATS-V
3.6-liter LF4 V6
Tremec TR-6060
464 / 343.3 @ 5850
445 / 603.3 @ 3500
GM Engineering Technology News
0

Silver and red makes for a nice combo.

5

A drastic increase compared to the 2023 model year.