General Motors Active Fuel Management Cylinder Deactivation Technology
General Motors Active Fuel Management Cylinder Deactivation Technology
Active Fuel Management (AFM), otherwise known as Cylinder Deactivation is a General Motors engine technology that shuts down half of the engine's cylinders in light driving conditions to improve fuel economy.
Principles
The philosophy behind Active Fuel Management is to increase fuel economy while not reducing performance or resorting to force-inducted smaller engines.
A basic premise of AFM is that most of the time, vehicle owners have more power than they need. Many consumers choose V-8 engines for driving performance or towing and hauling, yet during everyday driving, that powerful engine operates at a fraction of its capability. This reduces engine efficiency, which means less than optimal fuel economy.
Active Fuel Management saves fuel by using only half of the engine's cylinders during some driving situations – such as highway cruising — and then seamlessly reactivates the other cylinders when a driver demands more power for acceleration, climbing a grade or hauling.
"Rather than adding turbochargers or multi-valve cylinder heads to increase the power of smaller engines, we chose to keep the proven capability of our larger V-8 truck engines, and save fuel by switching off half of the cylinders when they aren't needed," says Jordan Lee, GM global chief engineer for small block engines.
How It Works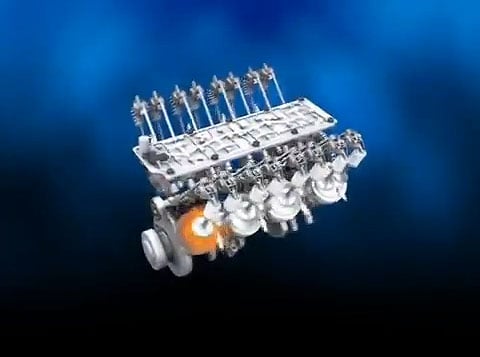 AFM uses a combination of simple hydraulic valves and sophisticated software to switch off the cylinders when the driver doesn't need full power. When more power is needed, the system seamlessly reengages the additional cylinders.
"With recent increases in computing power, we can combine sophisticated digital design, powerful control strategies, and simple, robust mechanical systems to bring real benefits with no added cost to our customers," said Lee.  "Think of the difference between a cassette recorder and an iPod MP3 player – more moving parts are not always better."
In light driving conditions, AFM deactivates four of the engine's eight cylinders (on eight cylinder engines) and three of the engine's cylinders (on six cylinder engines), and then reactivate them seamlessly on demand.
Under Active Fuel Management, when only a fraction of the available power is needed to keep the vehicle moving, the fuel delivery to four of the eight cylinders is switched off and a solenoid system collapses the valve lifters to reduce the pumping losses and improve fuel efficiency.
Active Fuel Management technology is cost-effective for customers, too, because the only new components required for the system are:
Special valve lifters for the cylinders that are deactivated
Lifter oil
Manifold assembly
Advanced engine control module
Benefits
The primary benefit of Cylinder Deactivation/AFM is higher fuel economy without downsizing engines. The technology can improve fuel economy by up to 12 percent without sacrificing performance.
Naming
Active Fuel Management was first introduced as of Displacement on Demand (DoD) and was subsequently renamed to Active Fuel Management. It can also be referred to as Cylinder Deactivation.
Current Engine Applications
Dynamic Fuel Management is currently available on the following General Motors engines:
GM Small Block Gen IV engine family:

5.3L V-8 Vortec 5300
3.9L V-6 LZ8
5.3L V-8 LS4
6.2L V-8 L99

First-generation GM EcoTec3 engine family:
Second-generation GM High-Feature V6 DOHC engine family:
First-generation High-Feature V8 DOHC engine family:
Current Vehicle Applications
Successor
The successor technology to Active Fuel Management is Dynamic Fuel Management, which can vary