GM Super Cruise
GM Super Cruise is a semi-autonomous driver assistance feature that allows its driver to remove their hands from the steering wheel during extended periods of highway driving.
According to the NHSTA's Automated Vehicles for Safety document, General Motors Super Cruise is qualified as a Level 2 type of autonomous technology, which means it is not a fully autonomous system, but rather serves as a driver assistance feature. Super Cruise technology first day viewed in Cadillac vehicles. In addition, in January 2020 Cadillac announced an enhanced version of the Super Cruise system that will allow for hands-free lane changes.
NHSTA states that there are a total of five levels of automation, with Level 5 considered to be a fully automated automobile, requiring little to no driver intervention. Level 2 automated systems, like Super Cruise, are defined as follows:
"Vehicle has combined automated functions, like acceleration and steering, but the driver must remain engaged with the driving task and monitor the environment at all times."
Features And Technology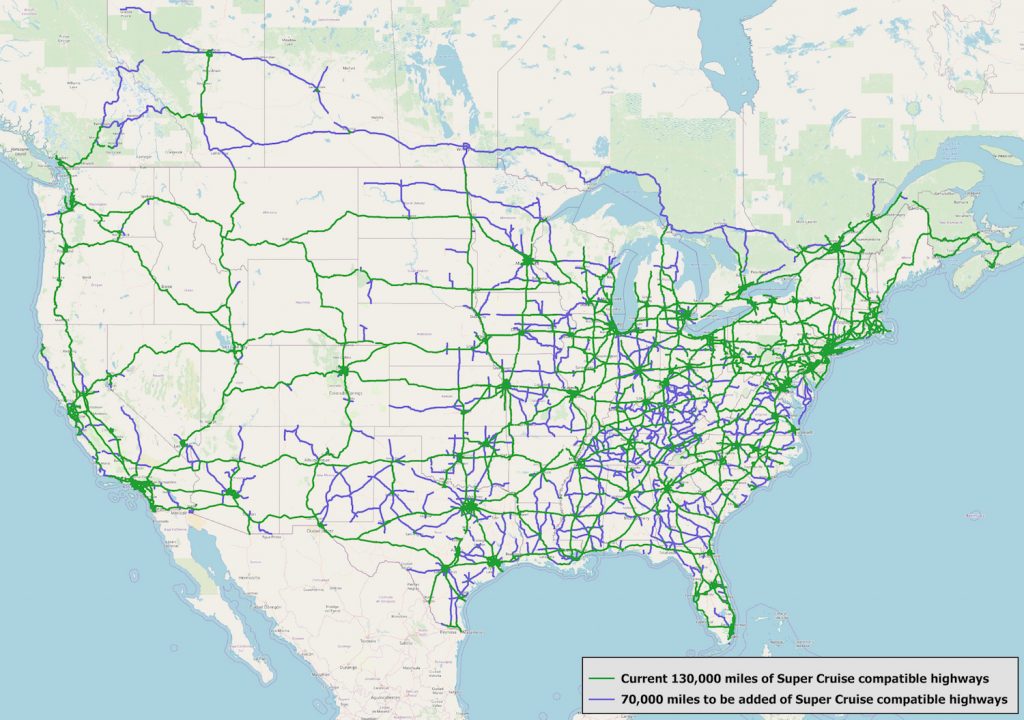 Super Cruise uses cameras, LiDar mapping, GPS information and radar sensors to automatically steer and brake during highway driving. The technology is capable of full-speed range adaptive cruise control and lane centering. Super Cruise requires an active OnStar service plan with emergency services to be fully operational.
When launched, GM Super Cruise technology was available on more than 130,000 miles of limited-access freeways in the U.S. and Canada. As we write this, the system has mapped up to 200,000 miles of North American roads due to a 70,000 mile expansion. General Motors promises to update Super Cruise's road-maps yearly.
To note, Super Cruise is not a fully-autonomous driving system, and stills requires drivers to watch the road ahead and make inputs when needed.
Timeline
April 2013: General Motors announces it is developing an autonomous driving technology called Super Cruise.
October 2013: Popular Mechanics honors Super Cruise, despite the technology not being on the market.
2014-2015: rumors suggest that GM is planning to launch Super Cruise in the 2016-2017 time frame on the Cadillac CT6 large prestige-luxury sedan.
August 2015: Cem Saraydar, Director of GM's Electrical and Control Systems Research Lab explains that Super Cruise will differ from current semi-autonomous systems because it will allow drivers to fully take their hands off the wheel and feet off the pedals.
June 2016: General Motors files an application to register "Super Cruise" as a trademark with the United States Patent and Trademark Office (USPTO).
July 2016: General Motors comments on Super Cruise delay, says that it will be launched "when it is ready"
August 2016: General Motors files a design trademark with the USPTO believed to have been for the Super Cruise logo.
September 2017: the first Super Cruise system is installed in the 2018 Cadillac CT6.
June 2019: GM and Cadillac expand availability of Super Cruise to an additional 70,000 miles of compatible, divided highways in the United States and Canada. This expansion will Super Cruise available on more than 200,000 total miles of compatible highways by the fourth quarter of 2019.
January 2020: an enhanced version of the Super Cruise driver assistance system is announced, and will be introduced starting on the 2021 Cadillac CT5 and CT4 and followed by the all-new 2021 Cadillac Escalade. Among the enhancements will be automated lane change functionality, which will allow the hands-free system to change lanes on compatible highways when requested by the driver and certain conditions are met.
Availability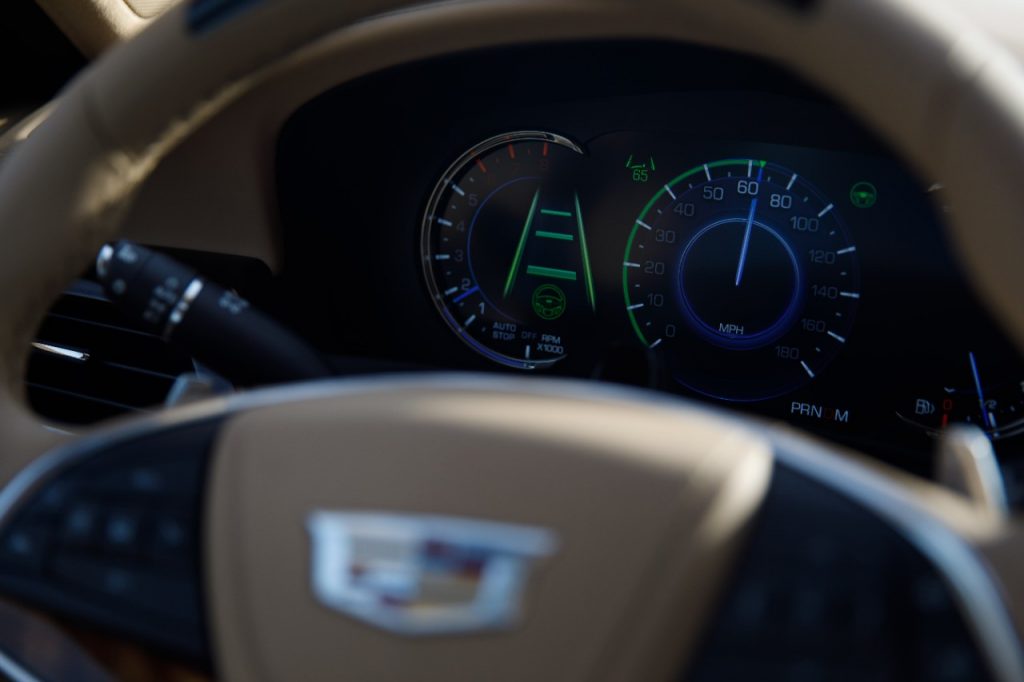 General Motors Super Cruise was first released to the public on the 2018 Cadillac CT6 during the third quarter of 2017. The system will then become available in the Cadillac CT5, followed by the Cadillac CT4 sedan and the 2021 Cadillac Escalade SUV. The Cadillac CT6 on which the system originally debuted was discontinued in February 2020.
Thereafter, Super Cruise will be offered on 22 GM vehicles by 2023.
Operation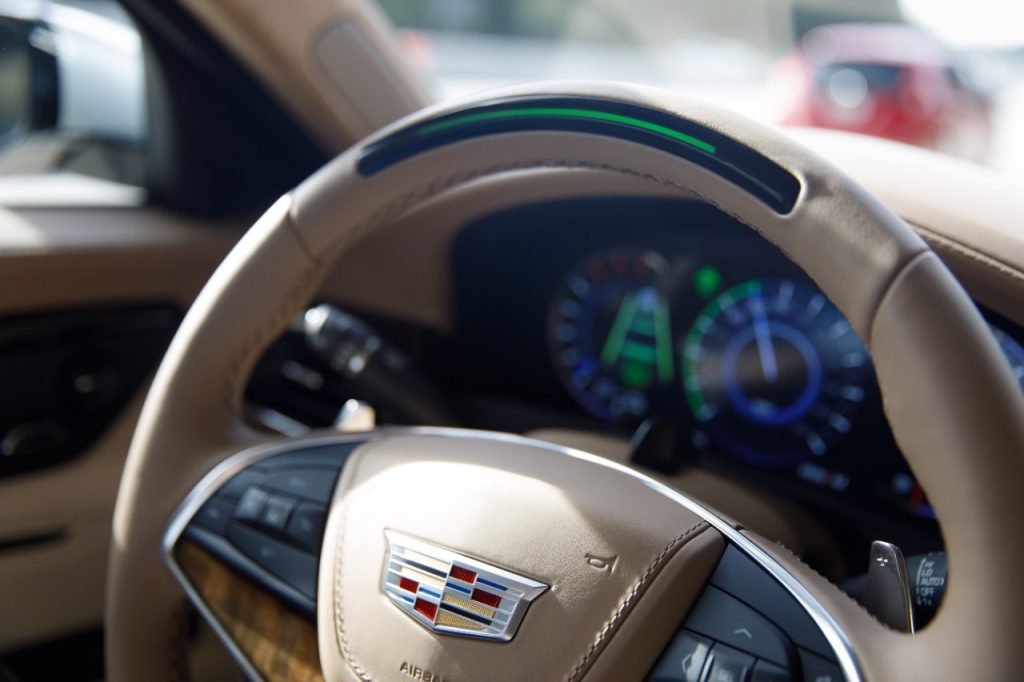 Super Cruise driver assistance technology operates in a very similar fashion as a standard adaptive cruise control system. Once Super Cruise determines that the situation is ideal, a thin green LED will appear on the upper section of the vehicle's steering wheel, signaling to the driver that it is safe to take their hands off the wheel. An enhanced version of the technology will enable the hands-free system to make lane changes.
The system will continuously check back with the driver, periodically prompting them to regain control of the car for safety measure. When Super Cruise is not ready to operate, the thin LED indicator located on the upper section of the steering wheel will turn red.
Successor
Super Cruise will be succeeded by the GM Ultra Cruise system.
News Coverage
Follow GM Authority's coverage of Super Cruise at this link: GM Super Cruise news.