myBuick Mobile App
myBuick is a mobile app that provides remote vehicle access and information for Buick vehicles.
Remote Access Features
Remote vehicle start *
Door lock/unlock
Activate horn and lights
Send directions to vehicle
Locate vehicle
Manage vehicle's Wi-Fi hotspot
View vehicle diagnostics information
* For vehicles equipped with remote vehicle starter system
Information Features
Locate and set preferred dealer
Request roadside assistance
Set parking reminders
Access vehicle's owner's manual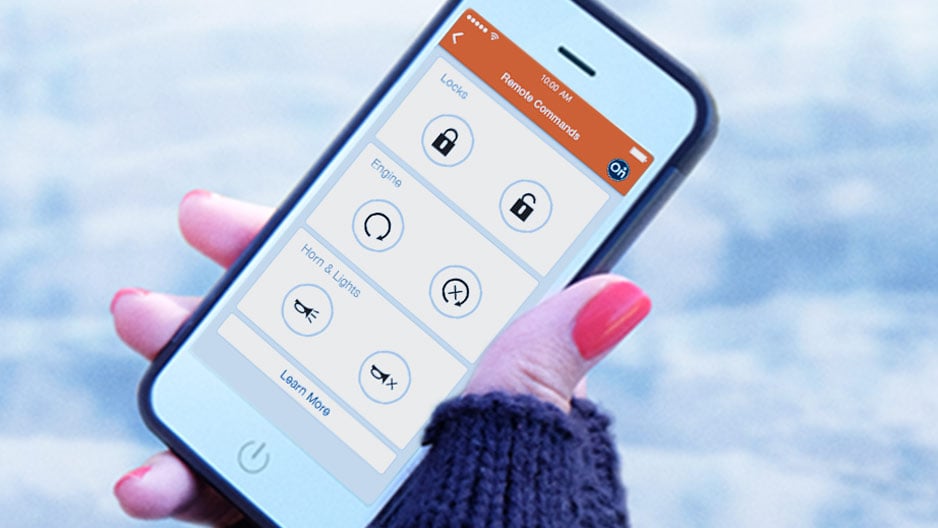 Device Compatibility
myBuick is available for the following platforms:
Apple iOS on the Apple AppStore
Google Android on Google Play
Vehicle Compatibility
The myBuick app works with model year 2010 and newer Buick vehicles.
Compatibility of vehicle remote features vary as per the below table.
Remote start requires the vehicle to be factory-equipped with remote start and automatic transmission.
Vehicle Compatibility By Model Year
2010 Model Year
* OnStar is an available feature.
2011 Model Year
Enclave
LaCrosse
Lucerne
Regal *
* OnStar is an available feature.
2012 Model Year
Enclave
LaCrosse
Regal
Verano
2013 Model Year
Enclave
Encore
LaCrosse
Regal
Verano
2014 Model Year
Enclave
Encore
LaCrosse
Regal
Verano
2015 Model Year
Enclave
Encore
LaCrosse
Regal
Verano
2016 Model Year
Cascada
Enclave
Encore
Envision
LaCrosse
Regal
Verano
2017 Model Year
Cascada
Enclave
Encore
Envision
LaCrosse
Regal
Verano
How Vehicle Access Features Work
The vehicle access features of myBuick require an active OnStar plan — whether it's the free Basic Plan or one of the paid subscriptions. It also requires the user to download the app, create an OnStar user ID and password, and log into myBuick. Once all that's done, here's how it works:
Running on a mobile device, such as a smartphone or tablet, the app connects to the OnStar data center using the Internet — either through a cellular network (like 3G or 4G) or through Wi-Fi.
When a user requests a remote command (such as remote start), the app sends a signal to OnStar data centers (again, via the Internet)
The data center then sends a response, which is sent to the vehicle (such as the request for remote start) over the Internet using a cellular connection. The cellular carriers vary by geography:

In the U.S., the carrier is Verizon Wireless on vehicles without 4G and AT&T on 4G-equipped vehicles.
In China, the carrier is China Telecom.

Upon receiving the command from the data center, the vehicle executes it and then responds using its built-in OnStar cellular connection, sending a signal to the data center over the Internet. For instance: it has successfully executed the remote start command.
Upon receiving the reply from the vehicle, the data center then sends a final reply, which is dispatched to the vehicle as well as the user's device. At this point, the device shows a successful "Your Vehicle Is Now Running" or unsuccessful "Unable to start vehicle" message.
This same process is replicated for other commands, such as door lock/unlock, horn, lights, and vehicle information (such as tire pressure, gas mileage, range, etc). OnStar tells us that subsequent requests are faster than the first, since the connection to the vehicle is already open and active.
myBuick Version 1
Version 1 of the myBuick app was released in October 2010. Its functionality did not include any vehicle access features like remote door unlock or remote start. At that time, these were handled exclusively by the OnStar RemoteLink app.
myBuick version 1.0 features included:
Call Roadside Assistance
Parking reminder
Schedule service
Locate a dealer
Browse vehicle offers
Browse excerpts of the owner's manual
See a list of in-vehicle indicators and lights
An icon for OnStar RemoteLink, known as OnStar MyLink at the time of the release of the myBuick app, launched the standalone OnStar app.
myBuick Version 3
In 2016, the myBuick app received a complete redesign as part of Version 3. The new app delivers an entirely new user interface and integrates vehicle access features previously available only in the OnStar RemoteLink app.
News
Follow GM Authority's coverage of myBuick app here: myBuick news.