GM Ultifi
GM Ultifi is an end-to-end software platform that wirelessly delivers software to improve the vehicle ownership experience and deliver new features. Using over-the-air (OTA) technology, Ultifi is designed to deliver software updates, apps and other services to vehicles wirelessly.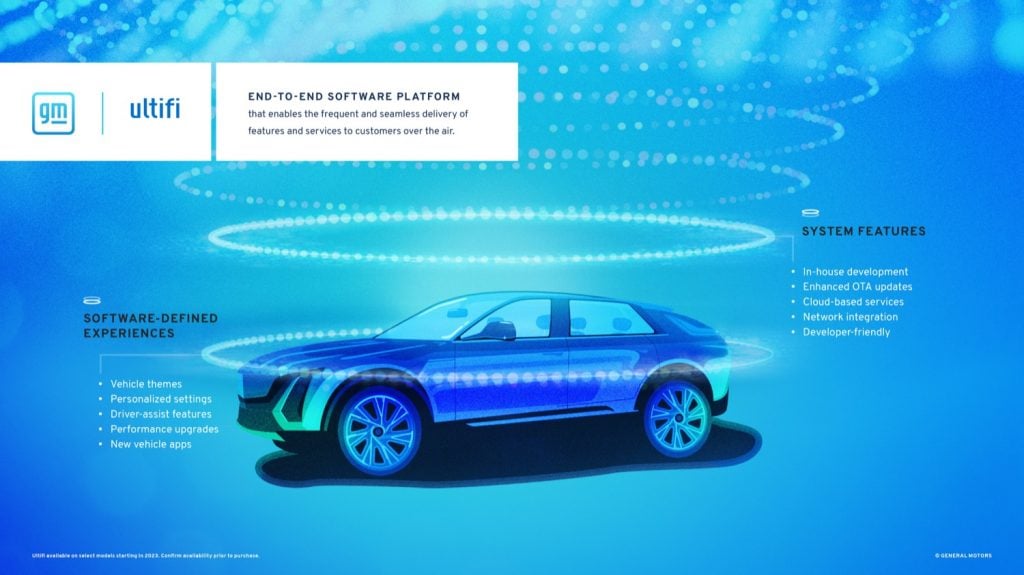 How It Works
GM Ultifi is built on the Vehicle Intelligence Platform (VIP), the automaker's most advanced electrical architecture. VIP enables vehicles to receive OTA updates thanks to having the necessary bandwidth, powerful cybersecurity and quick processing power. Using a separate software layer that acts as a hub for vehicle systems, Ultifi can facilitate improved development and fast deployment of software and apps OTA to millions of vehicles without the need to visit a dealer or service center.
Designed in-house by GM engineers, Ultifi has been designed with third-party developers in mind. It runs on Linux and the Red Hat in-vehicle operating system, allowing GM to grant access to external developers to create apps and programs for customers.
In many ways, GM Ultifi will deliver an ownership experience similar to that of a smartphone: owners will lease or purchase their vehicle, and will then have the ability to add features, sometimes for an additional fee. Drawing a parallel to the smartphone world, it's similar to leasing or purchasing a handheld device, and then downloading apps, some of which are paid, to customize or enhance the ownership experience.
Customers with authenticated Ultifi accounts can seamlessly transfer settings to other GM vehicles that feature the system.
Features & Apps
Potential services and features that can be delivered by Ultifi include:
Max Power Mode, which would recalibrate electric vehicles for quicker acceleration
Choose Your Own Adventure Mode, which would creates a scavenger hunt to discover unique locations such as shops, restaurants and landmarks
Planetarium Mode, which uses a vehicle's GPS to project nearby constellations onto vehicle screens
In the future, GM Ultifi software could be extended to practical vehicle applications, such as heated and cooled seats. Internal cameras could also be used for facial recognition to start the vehicle. Route planning and GPS functions could be used to implement "Teen Driver Mode" to adjust settings for extra caution in school zones, or to communicate with smart home systems en route to deactivate security systems, turn on the home's lights, or adjust the thermostat before the vehicle owner arrives home.
Ultifi could also integrate with cloud connectivity by extending vehicle-to-everything (V2X) applications to help drivers avoid congestion and warn them of changing road conditions due to weather.
Some of these features and updates provided by Ultifi will likely be paid, and may require the customer to opt into a subscription service. GM says that Ultifi will help open up $20 billion to $25 billion in annual software and services revenues by 2030.
Pricing
Pricing for GM Ultifi features and services has not yet been released, though they are expected to vary from vehicle to vehicle, and from feature to feature.
Vehicle Availability
The Ultifi platform is expected to hit the road with "select next-generation products" by 2023, including vehicles powered by internal-combustion engines as well as GM's upcoming range of battery electric vehicles.
Announcement
The GM Ultifi technology was announced in November 2020. "While Ultium underpins our upcoming EV hardware, Ultifi underpins our customer experience commitment for those EVs," explained the head of GM EV growth operations, Travis Hester.
Ultifi News
10

More features for current-gen pickup's second model year.

50

Some subscriptions are vastly more popular than others.