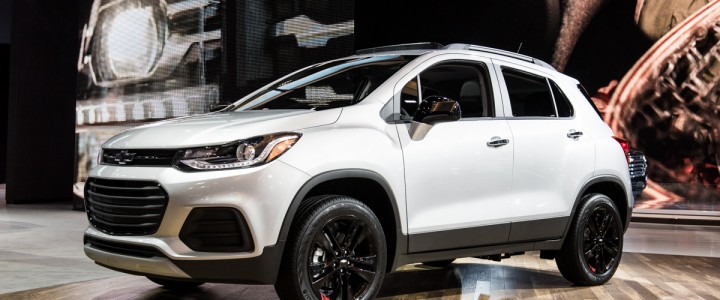 Future Chevrolet Trax
We expect the next-generation Chevrolet Trax, also known as the Chevrolet Tracker in some markets, to reach the market around the 2020-2021 model years. Until then, we expect the current, first-generation Trax to receive minor changes, updates, and improvements.
Following is speculative and unconfirmed information about the future Chevrolet Trax. This page is a continuous work-in-progress and will be updated on a regular basis as we await official details from General Motors and Chevrolet.
If you notice any inaccuracies about the information provided, or have edits to suggest, please let us know here.
Overview
Expectations
Following are our expectations of the future Chevy Trax:
Body Styles
We expect the upcoming future Chevrolet Trax to continue being available as a subcompact crossover utility vehicle (CUV).
Price
We expect that the starting price of the next Chevy Trax will remain roughly at the levels of the current model, which has a starting price of $21,000.
Platform
We expect the next-gen Trax to ride on GM's G2XX platform shared with future GM subcompact cars and crossovers, including:
Powertrain
We expect the next Chevy Trax to be powered by the turbocharged 1.4L LE2 engine mated to a nine-speed automatic transmission.
Front-wheel-drive will be standard while all-wheel drive will remain optional.
Production
It is currently unclear where GM will produce the future Chevy Trax. The first-generation model was assembled at two factories:
With an increasing popularity of crossover utility vehicles, it's possible that the automaker will move production of the North American-market Trax to North America, with the GM Lake Orion factory being a prime candidate.
Competitors
The future Chevrolet Trax will compete against the following vehicles in the mainstream crossover subcompact space (B-Segment):
Before The All-New Model
Before the all-new future Chevy Trax reaches the market, we expect the current first-generation Chevrolet Trax to receive minor changes, updates, and improvements. See information about the current Trax by using the following links:
Discussion
Discuss the next-generation Chevrolet Trax in our Chevrolet forum.
News
Follow our coverage of Chevy Trax news.