2019 Chevrolet Traverse Changes, Updates, New Features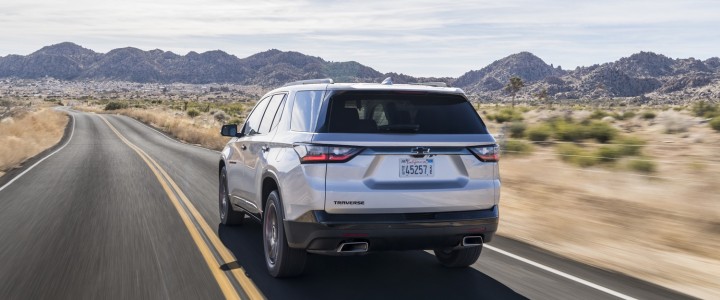 2019 Chevrolet Traverse Changes, Updates, New Features
The 2019 Chevrolet Traverse gets several updates and changes for the second model year of the second-generation model.
Following are the changes, updates and new features for the 2019 Chevy Traverse:
Exterior:

Deletion of 18″ Bright Silver machined face painted aluminum wheels
Addition of a redesigned Premier badge on liftgate
Addition of new LPO-level bright roof-rack cross rails for Premier (1LZ) and High Country (2LZ) models as part of LPO-level "Hit The Road Package"

On the 2018 Traverse, the roof-rack cross rails were black on the Premier and High Country trims.
For the 2019 Traverse, the LPO-Level black roof-rack cross rails are only available on LT, RS and Redline Edition models

Interior:

Replacement of heated steering wheel with automatic heated steering wheel, which automatically turns on when selectable automatic activation enabled

Equipment-level changes:

18″ Bright Silver machined face painted aluminum wheels are replaced with 18″ Bright Silver painted aluminum wheels as standard on 2FL and 1LT
Cargo Package no longer includes LPO-level integrated cargo liner, which will now be included in Floor Liner Package
Premium Carpet Mat Package is now only available on High Country (2LZ); was available on LS, LT and 1LZ for 2018 Traverse
The updates and changes described here are specific to the U.S. market and may be different for other markets.
2019 Chevrolet Traverse Changes, Updates, New Features by RPO Code
Following is the official change list for the 2019 Chevrolet Traverse directly from General Motors, by RPO code:
Deletions
(RT1) 18″ Bright Silver machined face painted aluminum wheels
(UVD) Heated steering wheel
Changes
Exterior "Premier" badge design change on liftgate
(PXJ) 18″ Bright Silver painted aluminum wheels are now standard on 2FL and 1LT (replaces [RT1] 18″ Bright Silver machined face painted aluminum wheels)
(PDG) LPO, Cargo Package no longer includes (CAV) LPO, integrated cargo liner ([CAV] will now be included in [PDF] Floor Liner Package)
(PCV) LPO, Premium Carpet Mat Package is now only available on 2LZ High Country (was available on LS, LT and 1LZ in 2018 model year)
(PCX) LPO, 'Hit The Road Package now includes (VQP) Bright roof-rack cross rails, LPO on 1LZ Premier and 2LZ High Country (replacing [VLL] Black roof-rack cross rails, LPO)
(VLL) LPO, Black roof-rack cross rails are now only available on LT, RS and (WBL) Redline Edition (replaced by (VQP) LPO, Bright roof-rack cross rails on 1LZ Premier and 2LZ High Country)
New Features
(KI3) Automatic heated steering wheel (automatically turns on when selectable automatic activation enabled)
(VQP) LPO, Bright roof-rack cross rails for 1LZ Premier and 2LZ High Country only
Chevrolet Traverse Pictures