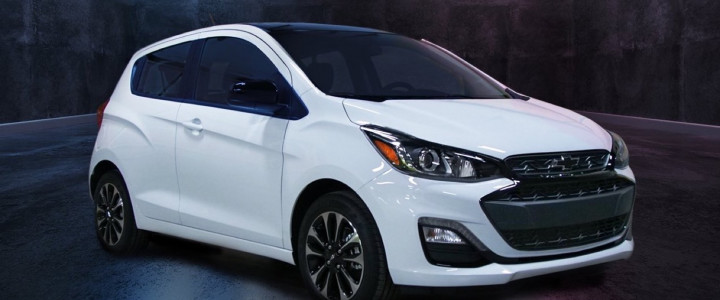 2020 Chevrolet Spark
The Chevrolet Spark sees no changes or updates for the 2020 model year. Notably, the Spark received a a refresh (otherwise known as a mid-cycle enhancement, MCE or facelift) for the 2019 model year.
Update: the new 2020 Chevrolet Spark Special Edition model will arrive spring 2020.
Changes, Updates, New Features
As stated, the 2020 Chevrolet Spark did not initially receive any updates or changes after last year's mid-cycle refresh. However, a new Special Edition model has since been introduced, which includes exterior enhancements for LT models.
For the latest features, see the complete list of 2019 Chevy Spark changes and updates.
Body Styles
The 2020 Chevy Spark continues to be offered as a four-door hatchback in the mini car (A segment). There are, however, variances within the same body style between the regular model (LS, LT trim levels) and the Spark ACTIV.
The Spark ACTIV features unique front and rear fascias with accents influenced by off-road skid plates, as well as a unique wheel design and a revised suspension that increases the ride height by 0.4-inch (10 mm).
Powertrain
The 2020 Chevrolet Spark is offered with the following engine and transmission choices:
| Engine | Fuel | Aspiration | Transmission | Horsepower @ RPM | Torque @ RPM | Axle |
| --- | --- | --- | --- | --- | --- | --- |
| 1.4L LV7 I4 | Gasoline | Naturally Aspirated | CVT (MR8) | 96 @ 6200 | 94 @ 4400 | 3.76 |
| 1.4L LV7 I4 | Gasoline | Naturally Aspirated | 5-Speed Manual (MR7) | 96 @ 6200 | 94 @ 4400 | 3.91 |
Platform
Like all second-generation units of the Chevrolet Spark, the 2020 Spark continues to ride on GM's Gamma 2 platform shared with the following vehicles:
Production
The 2020 Chevy Spark is assembled by GM Korea at the GM Changwon factory in Changwon, Gyeongsangnam-do, Korea (South Korea).
Availability
The 2020 Chevy Spark follows the regular GM model year rollover sequence, and launches in the third quarter of the 2019 calendar year.
Beyond 2020
We expect that the second-generation Chevrolet Spark will at least remain in its current form, except for a few minor updates, for the 2020 and 2021 model years, as we do not expect the all-new, future Chevy Spark to launch until the 2022-2023 model years, potentially as a crossover-like vehicle.
Discussion
Discuss the Chevy Spark in our Chevrolet forum.
News
Follow our coverage of Chevrolet Spark news.