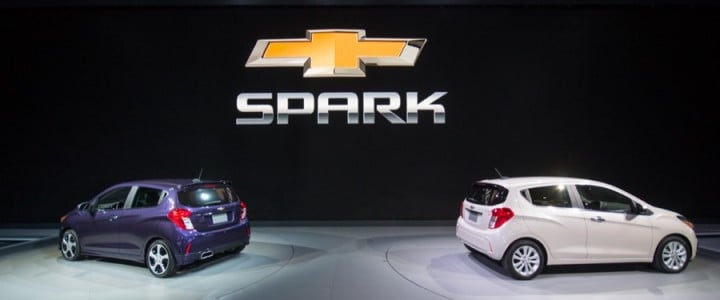 2016 Chevrolet Spark
Chevrolet completely overhauls (redesigns and re-engineers) the Spark city car for the 2016 model year, delivering an all-new vehicle with higher levels of safety, efficiency, technology and refinement that haven't been seen in the city/mini car segment before.
"Chevrolet is fast becoming one of the world's most important mini- and small-car manufacturers, offering customers around the globe a new road to the refinement, efficiency and connectivity features that resonate with them," says Alan Batey, president, GM North America.
Overview
The 2016 Spark represents an all-new, second generation of the Chevy Spark nameplate. While the first-generation Spark was a very competitive and capable mini/city car, the second-generation model improves on its predecessor.
The new Spark has a sleeker appearance, thanks to a slightly longer wheelbase, and an overall height that's about 1.6 inches (40 mm) lower than its predecessor. The lower profile reduces aerodynamic drag to help improve efficiency and interior changes maintain the Spark's generous headroom.
The 2016 Chevy Spark is also built on an all-new, stronger and more robust architecture that serves as the foundation for its more sophisticated driving experience. The stronger body structure enables engineers to tune ride and handling more precisely, for greater feelings of control and refinement, while fostering a quieter ride.
New phone integration technology displays content from Apple iPhone 5 or later models on the multicolor screen through the Apple CarPlay features; supported apps for the systems include phone, messages, maps, music and compatible third-party apps. Android users can take advantage of Android Auto.
"At its core, the new Spark is still the fun, agile urban car that made the first-generation model so popular, but it delivers that fun driving experience with greater sophistication," said Sam Basile, executive chief engineer. "And while it's a truly global car, it is targeted for more developed vehicle markets, allowing engineers to focus more precisely on the materials and technologies that resonate with customers in those markets."
Additional new and enhanced vehicle features include:
All-new Ecotec 1.4L I-4 engine with manual and continuously variable (CVT) transmissions – delivering a GM-estimated 40 mpg on the highway with the available CVT
New available safety features including Lane Departure Warning and Forward Collision Alert
Next-generation Chevrolet MyLink with 7-inch-diagonal color touch screen
Advanced dot-matrix LCD instrument cluster display
Comprehensive lineup of accessory packages for unprecedented personalization options
Instantly-recognizable face of a contemporary global Chevrolet distinguished by a sleeker proportion and more sophisticated aesthetics
The Spark is sold in more than 40 markets around the world. Global sales have topped 1 million units.
Exterior
The lower roof height of the 2016 Spark reduces the characteristic upright look of many mini-cars, while a "shrink-wrapped" body – with the wheels pushed to the edges of the fenders – contribute to a more substantial, firmly-planted, and confident presence.
An evolution of Chevrolet's signature dual-port grille is flanked by large, elliptical headlamps that sweep back into the front fenders. The headlamps have a highly detailed appearance that contribute to the Spark's more sophisticated design.
"In short, the Spark has grown up," says Michael Simcoe, GMIO vice president of design. "It retains a youthful flair, but it's a more refined design that reflects the maturation of the global mini-car market and customers' desires for richly styled and highly contented choices."
A palette of bold exterior colors remains, with three new colors – Toasted Marshmallow, Kalamata and Splash – added to the mix, depending on the market.
Body Styles
The 2016 Chevrolet Spark is available as a five-door hatchback. 
A more rugged variant called Beat Activ was announced in early 2016, along with a four-door sedan variant called Essentia. To note, the Spark is sold as the Chevrolet Beat in India.
Interior
Inside, designers matched the lowered roof height by adjusting the hip-point dimensions for the seats, maintaining the ample headroom of the previous model and offering comparable spaciousness with a more engaging driving position.
"In addition to maintaining the Spark's signature roominess, the new seating position contributes to its more sophisticated driving experience," Simcoe says. "You have a greater feeling of sitting in the seats rather than on them."
There's also a more sophisticated look and feel to the interior, thanks to upgraded materials and greater attention to detail, including everything from the higher-quality fabrics to higher-density seat foam that enhance comfort and durability.
In-Vehicle Technology
The cabin of the 2016 Spark is not only of a higher quality, but it also is a more contemporary environment thanks to an all-new instrument panel design – with an advanced LCD display – and a prominent "center stack" for the infotainment and climate system controls. The Spark's signature color-matched instrument panel décors are updated with this new model and the previously-round air outlets are now trapezoidal, adding to the more contemporary design.
The Spark's all-new MyLink radio features a capacitive-touch color display, with a simple and intuitive icon-based interface similar to what most customers are used to with their smartphone and other electronic devices. And like a smartphone, the capacitive-touch display allows them to swipe, pinch and perform other similar gestures for quick, easy operation.
New volume control and other physical buttons reduce complexity and enhance the system's intuitiveness.
New for the 2016 Spark, Chevrolet's new MyLink infotainment system with a 7-inch-diagonal color touchscreen gives owners a smart and simple way to access Android Auto and Apple CarPlay. Each system builds off of the features smartphone users rely on most, with many controlled via voice commands through a button on the steering wheel. That helps drivers spend more time with eyes on the road and hands on the wheel.
Android Auto is built around Google Maps, Google Now and the ability to talk to Google, as well as a growing audio and messaging app ecosystem that includes WhatsApp, Skype, Google Play Music, Spotify, and podcast players. A full list of supported apps is available at Android.com/auto.
Apple CarPlay puts iPhone features on the vehicle's display in a smart, simple manner, allowing drivers to make calls, send and receive messages and listen to music right from the touchscreen or by voice via Siri. Apple CarPlay-supported apps include Phone, Messages, Maps, Music and compatible third-party apps.
Using either application is simple. A "Projection" icon on the MyLink screen is visible when a phone is not connected and changes to indicate CarPlay or Android Auto when a compatible phone is connected via a USB. Android Auto requires a phone running the Android Lollipop 5.0 operating system or above, while Apple CarPlay requires an iPhone 5 or later.
Powertrain
Engine
The 2016 Spark is powered by GM's-new 1.4-liter, four-cylinder engine (production code LV7) that is part of GM's new, global family of Ecotec small-displacement engines. It offers an estimated 98 horsepower (73 kW) – a 16-percent increase over the previous model.
Engineered to deliver strong performance with excellent efficiency, the new Ecotec engine family represents a clean-sheet design and engineering process, leveraging the diverse experience of GM's global resources.
"The new Ecotec architecture represents the most advanced and efficient family of small-car gas engines in GM's history," said Tom Sutter, global chief engineer. "Along with performance and efficiency targets, we've also aimed for segment-challenging refinement with low noise and vibration – and we've hit the bulls-eye."
Spark's new 1.4L features an aluminum cylinder block and head, which helps reduce the vehicle's overall mass to enhance performance and efficiency. The cylinder head also incorporates an integrated exhaust manifold, which further reduces weight – an attribute that contributes to increased vehicle efficiency and a more favorable front-to-rear weight balance, for a more responsive driving experience.
Engine efficiency is also enhanced through reduced friction, including low-friction piston rings, a low-friction camshaft drive and a low-friction oil pump.
Transmissions
The 2016 Chevy Spark offers a choice of two transmissions:
5-speed manual (production code MR7) is standard
Continuously Variable Transmission (CVT) (production code MR8) is available
Drivetrain
Like all units of the second-generation Spark, the 2016 Chevy Spark is available exclusively in front-wheel-drive.
Spark EV
The first-generation Spark EV will continue being available for the 2016 model year. However, we second-generation Spark will not receive an electric variant. Instead, that segment will be filled by the 2017 Chevrolet Bolt EV.
Fuel Economy
The 2016 Chevy Spark has an EPA-estimated fuel economy of:
Manual transmission: 30 MPG city and 41 MPG highway
CVT transmission: 31 MPG city and 41 MPG highway
Safety
The 2016 Chevrolet Spark builds on the previous model's reputation for delivering excellent passenger safety in the mini-car segment. In fact, in the United States, the 2015 Spark was named a Top Safety Pick by the Insurance Institute of Highway Safety.
A stronger body structure is at the core of the new Spark's safety prowess. It's complemented by a wider array of passive and active safety features. Ten standard air bags include driver/front passenger knee air bags, roof rail side air bags and seat-mounted thorax/pelvic air bags. A rollover sensing and protection system is also offered.
Additionally, new active safety features can help drivers avoid collisions through camera-based technology that provides alerts to possible collision threats, including Forward Collision Alert and Lane Departure Warning.
A rear-vision camera system is standard and rear park assist is offered.
Manufacturing
The 2016 Chevrolet Spark is produced with globally-sourced parts at GM's award-winning Changwon, South Korea, assembly facility.
Competition
Globally, the next-gen Spark will compete in the mainstream city car/mini car/A-Class segment against the:
New Ford Ka
Volkswagen Up!
Seat Mii
Fiat 500
Smart ForTwo
Scion iQ
Pricing & Trim Levels
2016 Chevy Spark trim levels and starting prices for the United States market are as follows:
| Model Year | Brand | Model | Trim Level | Starting MSRP (USD) |
| --- | --- | --- | --- | --- |
| 2016 | Chevrolet | Spark | LS Manual | $13,535 |
| 2016 | Chevrolet | Spark | LS Automatic | $14,635 |
| 2016 | Chevrolet | Spark | 1LT Manual | $15,560 |
| 2016 | Chevrolet | Spark | 1LT Automatic | $16,660 |
| 2016 | Chevrolet | Spark | 2LT Manual | $17,060 |
| 2016 | Chevrolet | Spark | 2LT Automatic | $18,160 |
Starting MSRPs include a destination freight charge of $875.
Availability
The 2016 Chevy Spark launched in North America in the fourth quarter 2015, followed by other global markets served by the Chevrolet brand.
Platform
The 2016 Chevrolet Spark uses GM's new G2XX platform, which is the successor to GM's Gamma 2 platform.
G2XX is shared with the following vehicles:
Opel Karl
Vauxhall Viva
Second-generation Chevrolet Sonic/Aveo
Naming
In most markets where Chevrolet does business, it sells this vehicle under the Spark moniker. However, there are two vital exceptions to this rule.
Holden Barina Spark
Since General Motors does now market the Chevrolet brand in Australia or New Zealand, it markets its mainstream vehicles under the Holden brand. Holden introduced the Chevy Spark as the Holden Barina Spark in Australia and New Zealand in 2013, and we expect that the second-generation Chevrolet Spark will continue being sold in the region under the Holden Barina Spark nameplate.
Chevrolet Beat
In India, General Motors decided to retain the Spark name for the Daewoo Latiz. As such, the vehicle that is sold as the Spark around the world is sold under the Chevrolet Beat nameplate.
Specs
Overview
| | |
| --- | --- |
| Models: | Spark LS and LT |
| Body style / driveline: | five-door, four-passenger, front-engine; front-wheel drive |
| Construction: | body-frame integral |
| EPA vehicle class: | mini-car |
| Manufacturing location: | Changwon, South Korea |
| Key competitors: | Fiat 500, Smart fortwo, Scion iQ |
2016 Chevrolet Spark Engine
| | |
| --- | --- |
| Engine: | Ecotec 1.4L DOHC I4 |
| Type: | transverse-mounted, four-cylinder dual-overhead-cam with variable valve timing |
| Displacement (in / cc): | 85 / 1399 |
| Bore & stroke (in / mm): | 2.91 x 3.20 / 74 x 81.3 |
| Block material: | die-cast aluminum |
| Cylinder head material: | aluminum |
| Valvetrain: | overhead camshafts, four valves per cylinder |
| Fuel delivery: | multi-port fuel injection |
| Ignition system: | coil-on-plug with long-life (100,000-mile) spark plugs |
| Compression ratio: | 10.6:1 |
| Horsepower (hp / kW @ rpm): | 98 / 73 (estimated) |
| Torque (lb-ft / Nm @ rpm): | 94 / 128 (estimated) |
| Recommended fuel: | regular unleaded |
| Emissions controls: | close-coupled catalytic converter |
| Estimated fuel economy highway (mpg): | 40 (estimated with CVT) |
2016 Chevrolet Spark Transmissions
Automatic Transmission (optional)

| | |
| --- | --- |
| Transmission: | 2-step CVT |
| Gear ratio (:1): | |
| Ratio coverage: | 7.3 |
| Pulley ratio: | 2.20 ~ 0.55 |
| Final gear ratio: | 3.75 |
| Planetary gear ratio – first gear: | 1.82 |
| Planetary gear ratio – second gear: | 1.00 |
| Planetary gear ratio – reverse gear: | 1.71 |
| Through low ratio: | 15.05 |
Manual Transmission

| | |
| --- | --- |
| Transmission: | 5-speed manual |
| Gear ratios (:1) | |
| First: | 3.63 |
| Second: | 1.86 |
| Third: | 1.19 |
| Fourth: | 0.95 |
| Fifth: | 0.76 |
| Reverse: | 3.38 |
| Final drive: | 3.90 |
2016 Chevrolet Spark Chassis & Suspension
| | |
| --- | --- |
| Front: | MacPherson strut-type with side-load compensated strut modules and direct-acting stabilizer bar |
| Rear: | compound crank (torsion beam) with springs and shock absorbers |
| Steering type: | rack-and-pinion with column-mounted electric power assist |
| Steering ratio: | 16:1 |
| Steering wheel turns, lock-to-lock (14-inch wheels): | 2.8 |
| Steering wheel turns, lock-to-lock (15 and 16-inch wheels): | 2.6 |
| Turning circle, curb-to-curb (14-inch wheels) (ft / m): | 31.2 / 9.5 |
| Turning circle, curb-to-curb (15- and 16-inch wheels) (ft / m): | 34.5 / 10.5 |
2016 Chevrolet Spark Brakes
| | |
| --- | --- |
| Front type: | vented disc |
| Rear type: | drum |
| Front rotor diameter (in / mm): | 9.3 / 236 |
| Rear rotor diameter (in / mm): | 7.9 / 200 |
| Anti-lock braking system (ABS): | four-channel with brake assist |
2016 Chevrolet Spark Wheels & Tires
| | |
| --- | --- |
| Wheel size and type: | 15-inch steel or aluminum |
| Tire size: | P185/55R15 |
| Tire type: | all-season |
2016 Chevrolet Spark Exterior Dimensions
| | |
| --- | --- |
| Wheelbase (in / mm): | 93.9 / 2385 |
| Overall length (in / mm): | 143.1 / 3636 |
| Overall width (in / mm): | 62.8 / 1595 |
| Overall height (in / mm): | 58.4 / 1483 |
| Front track (in / mm): | 54.5 / 1384 |
| Rear track (in / mm): | 54.5 / 1384 |
2016 Chevrolet Spark Interior Dimensions
| | |
| --- | --- |
| Seating capacity: | 2 / 2 |
| Front headroom (in / mm): | 39 / 990 |
| Rear headroom (in / mm): | 37 / 940 |
| Front legroom (in / mm): | 41.7 / 1060 |
| Rear legroom (in / mm): | 33 / 839 |
| Front shoulder room (in / mm): | 50.8 / 1291 |
| Rear shoulder room (in / mm): | 49.8 / 1264 |
| Front hip room (in / mm): | 48.2 / 1224 |
| Rear hip room (in / mm): | 48 / 1220 |
| Cargo volume with rear seats up (cu ft / L): | 11.1 / 313 |
| Cargo volume with rear seats folded (cu ft / L): | 27.2 / 771 |
2016 Chevrolet Spark Capacities
| | |
| --- | --- |
| EPA passenger volume (cu ft / L): | 83 / 2351 |
| Fuel tank (gal / L): | 9 / 35 |
| Engine oil (qt / L): | 4.2 / 4.5 |
| Cooling system (qt / L): | 4.1 / 4.4 |
| Curb weight base with manual transmission and LS trim level (lb / kg): | 2246 / 1019 |
| Curb weight base with CVT and LT trim level (lb / kg): | 2312 / 1049 |