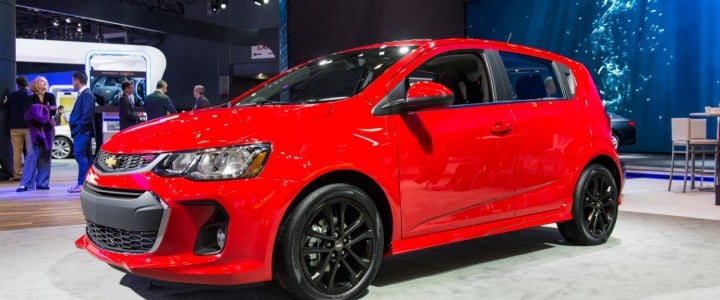 2019 Chevrolet Sonic
The Chevrolet Sonic receives a few minor changes and updates for the 2019 model year.
Changes, Updates, New Features
Exterior:

Deletion of two exterior colors:

Ivy Metallic
Arctic Blue Metallic

Addition of one new exterior color:

Powertrain:

Deletion of 1.8L LUW I4 engine (also known as 1.8L LWE I4 for some markets due to emissions)
Deletion of 5-speed manual transmission and associated 3.94 axle/final drive ratio
Deletion of 6-speed automatic transmission and associated 3.47 axle/final drive ratio

Technology:

Keyless open system gets a new RPO code (ATH changes to AVJ)
Remote vehicle starter system no longer standard on LT Sedan Auto, becomes part of Convenience Package

Packages:

Deletion of Fun and Sun with RS Package
Deletion of Fun and Sun without RS
Body Styles
The 2019 Chevy Sonic continues to be offered as a subcompact four-door sedan and hatchback.
Platform
Like all first-generation units of the Chevrolet Sonic, the 2019 Sonic continues to ride on GM's Gamma 2 platform shared with the following vehicles:
Production
The 2019 Chevy Sonic is assembled by GM USA at the GM Lake Orion factory in Lake Orion, Michigan, USA.
Availability
The 2019 Chevy Sonic follows the regular GM model year rollover sequence, and launches in the third quarter of the 2018 calendar year.
Beyond 2019
We expect that 2019 or 2020 model years to be the last years of production for the first-generation Chevy Sonic, and that an all-new, future Chevy Sonic will launch in the 2021 model year. In addition, it's possible that Chevy will discontinue the Sonic after the first generation.
Discussion
Discuss the 2019 Chevy Sonic in our Chevrolet forum.
News
Follow our coverage of Chevrolet Sonic news.
2019 Chevrolet Sonic Pages