2021 Chevrolet Silverado Medium Duty Conventional Truck
2021 Chevrolet Silverado Medium Duty Conventional Truck
The Chevrolet Silverado Medium Duty line – which includes 4500, 5500, and 6500 models- was introduced for the 2019 model year in collaboration with Navistar. For the 2021 model year, the Silverado Medium Duty gets a few minor changes and updates.
2021 Chevrolet Silverado MD Quick Facts

| | |
| --- | --- |
| Assembly Location | Navistar Plant, Springfield, Ohio |
| Body Style(s) | Regular Cab or Crew Cab |
| Layout | Front-Engined, Longitudinal |
| Engine(s) | 6.6L Duramax L5D V8 |
| Transmission(s) | 6-Speed Auto |
| Drive Wheels | Rear-Wheel-Drive, Four-Wheel-Drive |
| Availability | U.S.A., Canada, Mexico |
| Predecessor | 2020 Chevrolet Silverado MD |
| Successor | 2022 Chevrolet Silverado MD |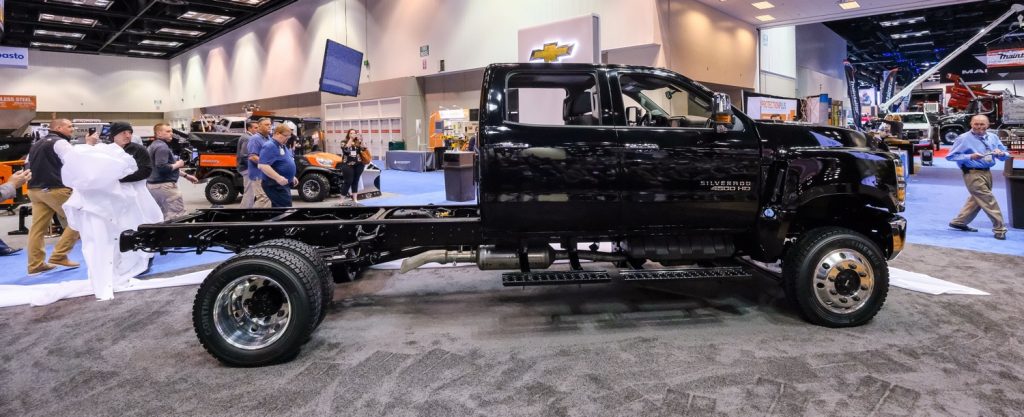 Changes, Updates, New Features
Mechanical
Addition of StabiliTrak, which is standard on all models
Neutral-at-Stop is now standard
Addition of FuelSense 2.0 transmission shift control calibration
Upfitter switch kit is now standard
Exhaust brake is now standard
Addition of an Open rear axle, non-locking rear as a standard feature
Addition of Axle, limited slip, Dana Spicer as an available option
See detailed 2021 Chevrolet Silverado Medium Duty changes, updates and new features here: 2021 Chevrolet Silverado Medium Duty change log.
The updates and changes described here are specific to the U.S. market and may differ for other markets.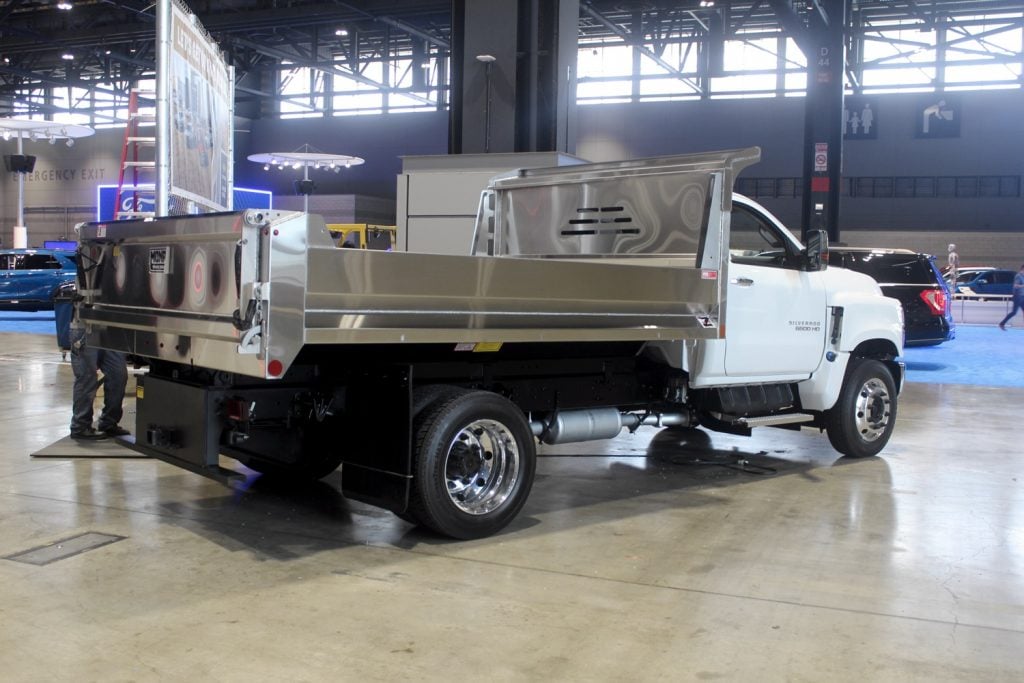 Body Styles
The 2021 Silverado Medium Duty continues to be offered as conventional truck with an engine/hood-forward design and is still available with several cab and box configurations:
Regular Cab Dual Rear Wheel

2WD (CC56403)
4×4 (CK56403)

Crew Cab Dual Rear Wheel

2WD (CC56043)
4×4 (CK56043)
Models
The Chevrolet Medium Duty truck is available in Regular Cab and Crew Cab configurations in various wheelbases and GVWRs.
The 4500HD, 5500HD, and 6500HD are all available as either Work Truck (1WT) or LT (1LT) models.
Powertrain
The 2021 Chevrolet Silverado MD is offered with the following engine and transmission choices:
| Engine | Fuel | Aspiration | Transmission | Horsepower @ RPM | Torque @ RPM | Available Gear Ratios |
| --- | --- | --- | --- | --- | --- | --- |
| 6.6L Duramax L5D V8 | Diesel | Turbocharged | 6-Speed Automatic | 350 @ 2700 | 700 @ 1600 | 4.10, 4.30, 4.56, 4.88 |
Platform
Chevrolet Silverado MD pickup trucks utilize a platform that was jointly developed by Navistar and General Motors.
To clarify, the Silverado 4500, 5500, and 6500 do not ride on the T1 platform or K2 platform, which are utilized by third and fourth-generation Silverado 1500, 2500, and 3500 models, respectively.
Production
The 2021 Silverado Medium Duty pickups is assembled at the Navistar plant in Springfield, Ohio.
Availability
The 2021 Silverado should become available by the end of Q3 2020.
Beyond 2021
We expect the Silverado Medium Duty pickup trucks to remain in production for the foreseeable future, with mild updates and enhancements along the way. The Chevrolet Express and GMC Savana are great examples of this, as they have remained more or less unchanged for the past decade.
Discussion
Discuss the 2021 Chevrolet Silverado Medium Duty in our Chevrolet forum.
Chevrolet Silverado Medium Duty Pictures
Silverado Medium Duty News
7

It's the same model that was the most popular in 2020.

6

The commercial truck has been a solid performer for the Bow Tie brand.
2021 Chevrolet Silverado Medium Duty Conventional Truck Pages