2019 Chevrolet Silverado 6500HD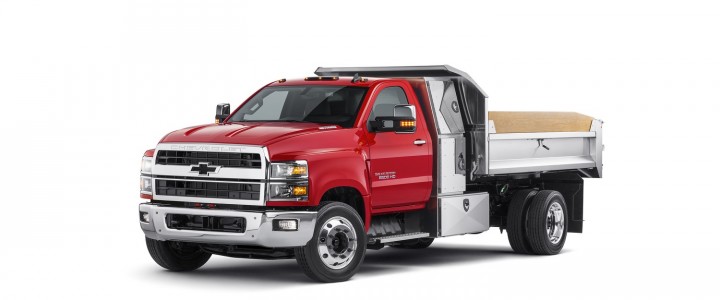 2019 Chevrolet Silverado 6500HD
The Chevrolet Silverado 6500 HD is a Class 6 conventional medium duty truck in calendar year 2018 as a 2019 model year vehicle.
| | |
| --- | --- |
| Debut calendar year: | late 2018 |
| Debut model year: | 2019 |
| Name: | Chevrolet Silverado 6500HD |
| Class: | Medium Duty Conventional Class 6 |
| Predecessor: | Chevrolet Kodiak |
| Engine: | GM Duramax Turbo-Diesel |
| Transmission: | Allison Transmission |
| Production: | Navistar plant in Springfield, Ohio, USA |
Pre-Release Details
In March 2017, Chevrolet announced plans to introduce a "flagship, medium duty truck". In the announcement, Chevy confirmed that the upcoming Medium Duty truck will:
Utilize a Duramax turbo-diesel engine
Utilize an Allison transmission
Launch in calendar year 2018
Be co-developed with Navistar, which operates the International Trucks brand
Not be related to the Chevrolet Low Cab Forward medium duty trucks sourced from Isuzu
At the time, no name was assigned for the vehicle.
The announcement also confirmed that GM would supply commercial components and engines while Navistar would provide its "expertise in rolling chassis configurations and manufacturing capabilities". Based on the statement, it would appear that the upcoming Chevrolet Medium Duty truck will use a GM-sourced powertrain and other components, while Navistar will be responsible for developing other parts of the vehicle as well as manufacturing it.
In September 2017, Chevrolet announced more information about the Medium Duty truck, including that the vehicle will:
Actually consist of two vehicles
Slot in the Class 4 and Class 5 medium duty segments and be called Silverado 4500 and Silverado 5500; interestingly, Chevrolet did not make mention of a Silverado 6500 Class 6 truck
Be "powerful, highly maneuverable, and among the easiest trucks on the market to upfit with specialized bodies, such as dump bodies, rollbacks, freight boxes and more"
Be available in Regular Cab and Crew Cab models with 4×2 and 4×4 capability
Be available in a wide range of GVWRs and wheelbases
Offer optional OnStar with 4G LTE connectivity that is being embraced by fleet management companies to help improve safety and productivity thanks to tools like OnStar Commercial Link
The Chevrolet press release also stated that the truck will "stand out because we've designed [them] around how customers work."
In January 2018, Chevrolet made a third announcement surrounding the upcoming Silverado Medium Duty Trucks, stating that:
The new all-new Silverado Medium Duty chassis cab truck will be revealed at the 2018 Work Truck Show taking place March 6-9 in Indianapolis, Indiana
The 2019 Silverado Medium Duty trucks are expected to go into production in late 2018
The brand also began referring to the truck as "Silverado 4500HD" and "Silverado 5500HD", while while making no mention of the Silverado 6500HD Class 6 truck. By comparison, Chevrolet referred to the truck simply as "Silverado 4500" and "Silverado 5500" in its aforementioned September announcement. Since then, GM Authority has confirmed that the official name of the truck will, in fact, be "Silverado 6500HD", as well as "Silverado 4500HD" and "Silverado 5500HD".
Chevrolet also released the following teaser image of the truck, which we subsequently enhanced to reveal more of the front end.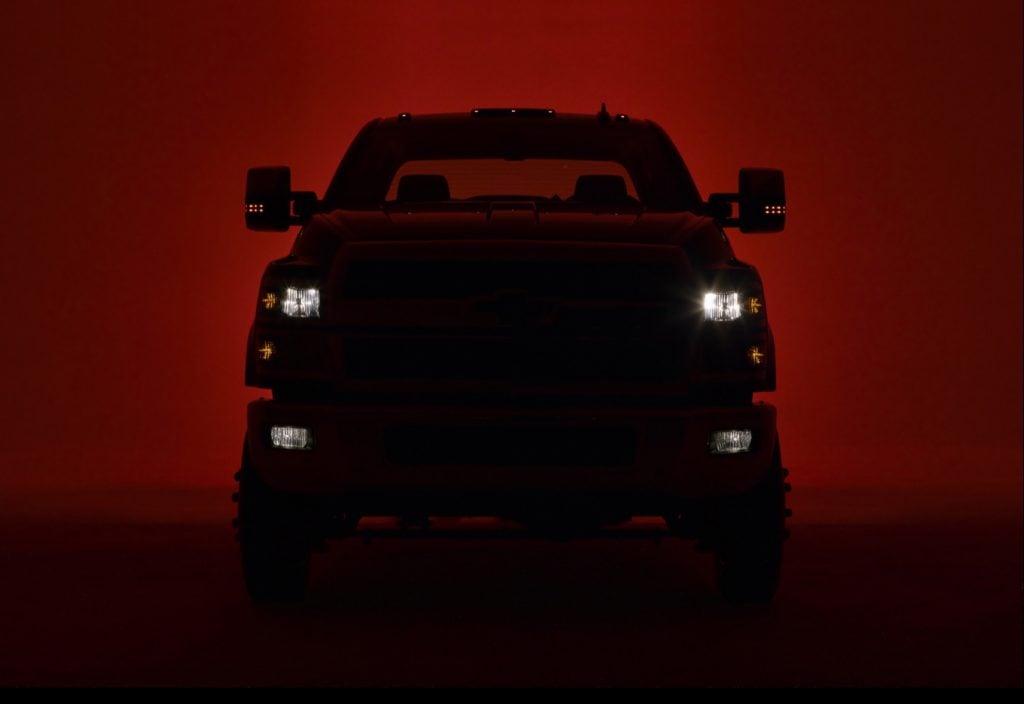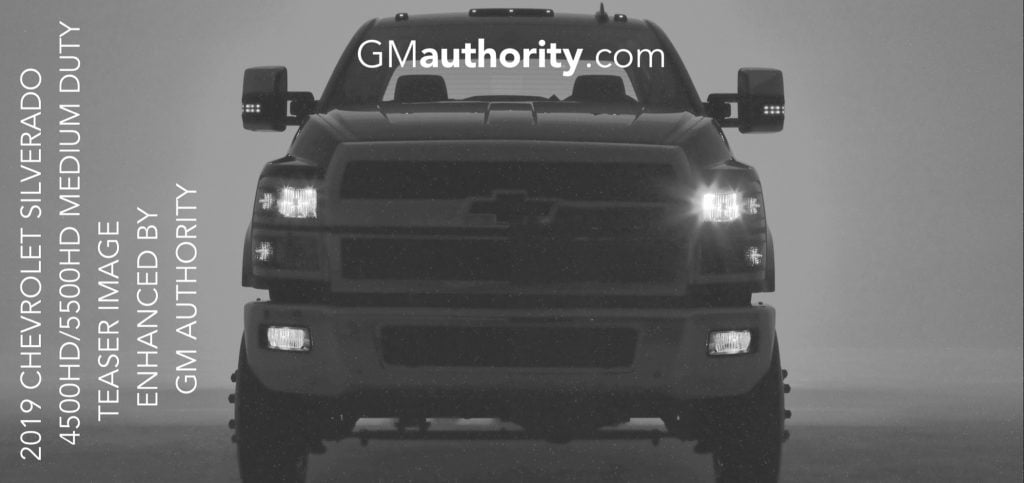 Finally the following quote from U.S. vice president of General Motors Fleet, Ed peper, provided more information on the truck that was not known before:
"The Silverado 4500HD/5500HD trucks are the flagship of our full-line commercial truck portfolio and we've designed them to be among the best in the industry in maneuverability, serviceability, visibility, quietness and comfort, diesel fuel economy and more. At GM Fleet, we are determined to deliver on our three pillars: Great Products, Innovative Business Solutions and an Exceptional Customer Experience, and I'm confident that with these new trucks, we'll exceed the expectations of not only our fleet customers, but the drivers and upfitters as well."
Availability
Chevrolet has confirmed that the upcoming Silverado Medium Duty conventional trucks "will launch in late 2018". As such, the vehicles will be designated model year 2019.
Models
The Silverado 6500HD Medium Duty truck will be offered as a conventional truck with an engine/hood-forward design and be available in Regular Cab and Crew Cab configurations in various wheelbases.
It will be joined by the 2019 Silverado 5500HD and 2019 Silverado 4500HD.
Capability
The 2019 Silverado 6500HD will have a GVWR (Gross Vehicle Weight rating) of 22,900 pounds.
Powertrain
The 2019 Silverado 6500HD will be powered by a 6.6L Duramax diesel engine making 350 horsepower and 700 pound-feet of torque mated to a choice of Allison transmissions with a Power Take Off (PTO option). We have confirmed with Chevy that the Duramax engine is a variant of the Duramax L5P called L5D.
The 2019 Silverado 6500 will be available in 2WD and 4WD drivetrains.
"When you consider all of the flexibility, capability and durability we have engineered into the Silverado, along with the proven power of Allison transmissions and the Duramax diesel engine, we have a medium duty truck line that will appeal to both Chevrolet loyalists and competitive owners alike," said John Schwegman, director of Commercial Product and Medium Duty at GM Fleet.
Pricing
Pricing for the 2019 Chevy Silverado 6500HD has not yet been announced, though we expect a base price in the $60,000 range.
GMC Variant
Though it has yet to be confirmed whether or not GM's GMC brand will get a variant of the 2019 Chevrolet Silverado 6500, we believe that the answer is no.
Navistar Variant
Since GM jointly developed the upcoming 2019 Chevrolet Silverado 6500HD with Navistar, Navistar's International Trucks brand will also sell its own version of the truck.
Manufacturing
The 2019 Chevy Silverado 6500 Medium Duty truck will be manufactured by Navistar at its Springfield, Ohio, USA factory.
Uses
Conventional Medium Duty trucks serve as platforms for a wide variety of mostly commercial applications, such as traditional pickup trucks, emergency services, towing, dump truck, flatbed truck and cargo box truck. Some medium duty trucks are also used as a platform for school and commercial buses.
News
Follow our coverage of:
Discussion
Discuss the 2019 Chevrolet Silverado 6500 Medium Duty Truck in our Chevrolet forum.
More Information & Reporting