2019 Chevrolet Silverado Medium Duty Trucks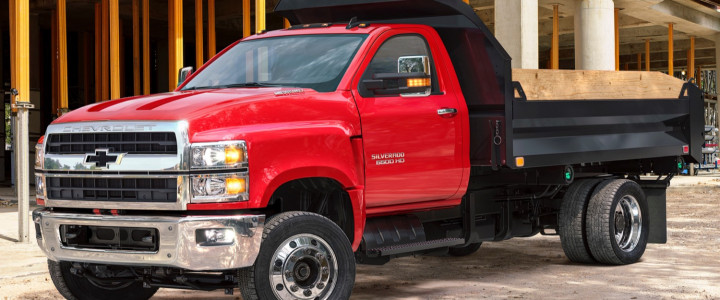 2019 Chevrolet Silverado Medium Duty Trucks
Chevrolet launched two conventional medium duty trucks as 2019 model year vehicles during the 2018 calendar year. The trucks slot in the Conventional Medium Duty Class 4 and Conventional Medium Duty Class 5 segments, thereby succeeding the Chevrolet Kodiak that was discontinued in 2009.
"Chevy's designers and engineers were obsessed with making this Silverado the most customer-focused medium duty truck of any major competitor," said Ed Peper, U.S. vice president, GM Fleet. "By customer-focused, I mean work-ready trucks that are easy to upfit, easy to drive, easy to service and easy to own."
The input of fleet managers, truck drivers, upfitters, technicians and Chevrolet dealers drove the development of the new Silverados.
"It's not just numbers on a spec sheet that make us different and better," said John Schwegman, director of Commercial Product and Medium Duty at GM Fleet. "These new Silverados are designed to solve the most common upfit and ownership challenges fleets have with many of today's medium duty trucks."
Body Styles
The Silverado 4500 and 5500 Medium Duty truck is offered as a conventional truck with a engine/hood-forward design and is available in the following cab and box configurations:
Regular Cab Dual Rear Wheel

2WD (CC56403)
4×4 (CK56403)

Crew Cab Dual Rear Wheel

2WD (CC56043)
4×4 (CK56043)
It's worth noting that conventional Medium Duty trucks serve as platforms for a wide variety of mostly commercial applications, such as traditional pickup trucks, emergency services, towing, dump truck, flatbed truck and cargo box truck. Some medium duty trucks are also used as a platform for school and commercial buses, and some of the strongest interest has come from the housing and highway construction, landscaping and utility industries.
Color Options
The all-new 2019 Chevrolet Silverado Medium Duty offers a total of seven exterior colors. The Silverado MD also offers two interior color options and two different seat trims.
The 2019 Silverado MD exterior color options:
7 Exterior Colors:

Deep Ocean Blue Metallic

Havana Brown Metallic

Red Hot

Silver Ice Metallic

Summit White

Black

Graphite Metallic

2 Interior Colors:

Jet Black

Dark Ash with Jet Black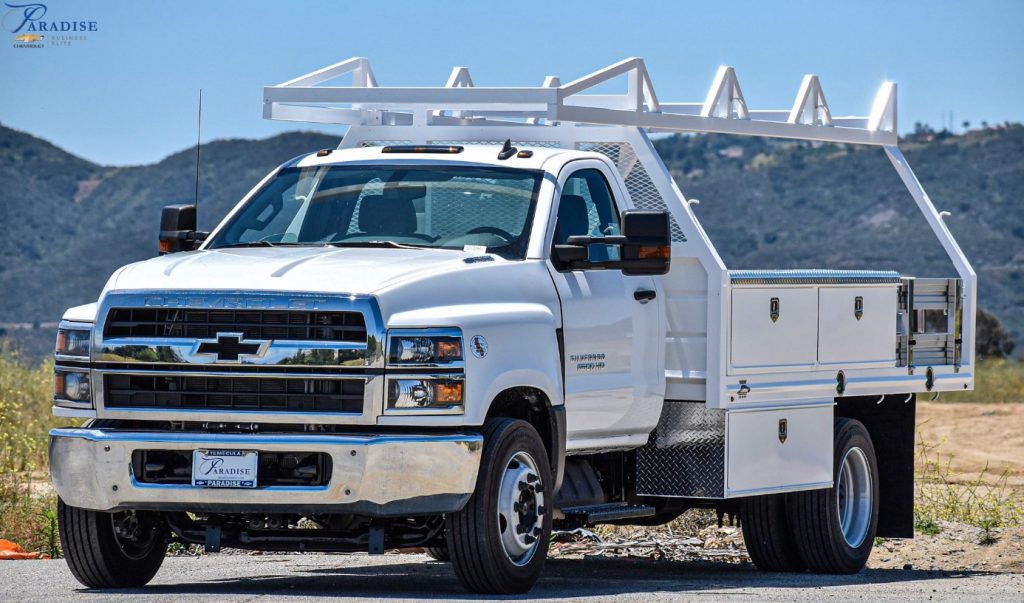 Exterior Design Highlights
On the outside, the Silverado MD offers a DuraBed, the most functional bed of any pickup with best-in-class cargo volume in every bed length, plus a segment-leading 12 fixed tie-downs.
As mentioned, one of the Silverado MD's main appeals is its versatility. "Bucket truck builders, fleet managers and many other customers told us they face a dilemma when their GVWR needs exceed 19,500 lbs.," said John Schwegman, director of Commercial Product and Medium Duty at GM Fleet. "Some pay for expensive aluminum bodies to save weight so they can stay with a Class 5 chassis. Others may spend $10,000 or more to purchase a larger truck with much more GVWR than they need. The Silverado 6500HD gives them capability and protects their bottom line. It's a great solution."
The frame is designed with one-piece straight rails with no rivets or brackets on top to interfere with the mounting of custom-made bodies. There are no obstacles to work around helping to save time and money during the upfit process. Additionally, the truck is designed to be easy to service, with a clamshell hood and a wheel cut of up to 50 degrees that can give technicians better engine access than trucks with conventional hoods.
Chevy also offers more frame lengths compared with key competitors, which can help customers specify the exact truck to suit their needs.
Interior Design Highlights
The Bow Tie brand claims its Silverado is the most connected commercial truck available, thanks to options that include OnStar and Commercial Link, a built-in 4GLTE Wi-Fi hotspot (paid data plan required), wireless cellphone charging, Bluetooth and support for Apple CarPlay and Android Auto.
Powertrain
The 2020 Chevrolet Silverado MD is offered with the following engine and transmission choices:
Platform
The Chevrolet Silverado MD pickup trucks utilize a platform that was jointly developed by Navistar and General Motors.
To clarify, the Silverado 4500, 5500, and 6500 do not ride on the T1 platform or K2 platform, which are utilized by third and fourth-generation Silverado 1500, 2500, and 3500 models, respectively.
Production
The 2020 Silverado Medium Duty pickup truck is assembled at the Navistar plant in Springfield, Ohio.
Availability
The Chevrolet Silverado Medium Duty conventional trucks were designated model year 2019 and were available in late in the 2018 calendar year.
Pricing
Chevrolet announced that the manufacturer suggested retail prices for the 2019 Chevy Silverado 4500 and 5500 Medium Duty trucks start at $48,465, which includes a $1,495 destination charge, but excludes taxes, title and additional dealer fees.
Gallery
Discussion
Discuss the 2020 Chevrolet Silverado Medium Duty in our Chevrolet forum.
2019 Chevrolet Silverado Medium Duty Trucks Pages