2017 Chevrolet Silverado HD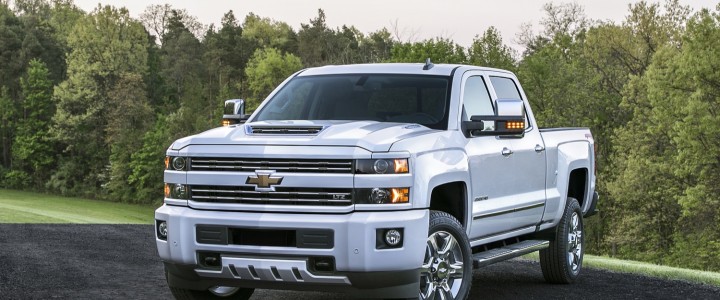 2017 Chevrolet Silverado HD
The Chevrolet Silverado HD line of full-size Heavy Duty pickup trucks gets several updates and changes for the 2017 model year, the most notable of which is a new 6.6L Duramax V-8 L5P engine.
Updates And Changes
Powertrain
The rumors were true: the 2017 Silverado HD family gets an all-new 6.6L Duramax Turbo-Diesel V-8 engine. Assigned RPO code L5P, the new B20-compatible Duramax is mated to the Allison 1000 6-speed automatic transmission (MW7) and is available across all trim levels of the 2017 Silverado Heavy Duty. Power and torque figures for the L5P have not been officially announced, but we peg them to be in the realm of 450 horsepower and 960 pound-feet. Helping the new turbo-diesel engine breathe is an all-new air induction system, visible thanks to a new hood scoop.
The base engine in the 2017 Silverado HD remains the 6.0L Vortec L96 V-8 gasoline motor. It's still E85-compatible, meaning that it's capable of running on unleaded or up to 85 percent ethanol. Like in the previous 2016 Silverado HD, it continues to make 360 horsepower (268.4 kW) at 5400 RPM and 380 pound-feet of torque (515 Nm) at 4200 RPM. The L96 continues to be matched with GM's 6-speed MYD automatic, electronically-controlled heavy duty transmission with overdrive and tow/haul mode. The gearbox also includes Cruise Grade Braking and Powertrain Grade Braking. To note, 2017 Silverado HD models with the gasoline engine do not get the new functional hood scoop.
Exterior
Other exterior changes include the deletion of three new colors and the addition of two new ones:
Deleted Colors
Slate Grey Metallic
Autumn Bronze Metallic
Tungston Metallic
New Colors
Graphite Metallic
Pepperdust Metallic
Rounding out the exterior changes is a set of new 20-inch 6-spoke polished aluminum wheels. Lastly, capless fuel fill is introduced for models with the L96 V-8 gasoline engine, as capped fuel fill remains on models with the L5P Duramax 6.6L Turbo Diesel V-8 engine and pickup box delete.
Interior
Inside, the 2017 Chevy Silverado HD adds Teen Driver mode and a new Jet Black Medium Ash Gray color combination available on the High Country (3LZ) trim.
Speaking of trim levels, the 2017 Silverado HD continues to be offered in four trim levels:
Work Truck (1WT)
LT (1LT)
LTZ (1LZ)
High Country (3LZ)
Trim Levels And Equipment Packages
But there are some changes to the equipment within the trims as well as to the truck's various standalone equipment packages:
High Country Premium Package is deleted
The LT trim level gains the rear vision camera as standard equipment, causing it to be removed from the LT Convenience Package as well as the Texas Edition and All Star Edition
LTZ Plus Package adds the heated steering wheel feature
A new LPO-level (dealer-installed) Chrome Essentials Package is added, and includes:

Chrome recovery hooks
6-inch rectangular chrome tubular assist steps
It requires the Crew Cab or Double Cab model and is available only on the LT (1LT) trim level

For those interested, the Chrome recovery hooks are available as a standalone LPO option on all trim levels

A new Alaskan Edition package is added and includes:

18-inch black aluminum wheels
LT275/65R18E 123/120Q maximum traction blackwall Goodyear Wrangler DuraTrac tires
Snow Plow Prep Package
Smoked Amber roof marker lamps
Spray-on bed liner
Unique decal package

The RPO code of the heated and vented seats changes from KB6 to KQV
2017 Sierra HD Similarity
We should also note that the 2017 Silverado HD changes and updates are quite similar to those for the 2017 Sierra HD.
Official RPO-Level Changes & Updates
Following is the list of RPO-level changes to the 2016 Silverado HD:
Deletions
(G1C) Slate Grey Metallic
(G1F) Autumn Bronze Metallic
(GXG) Tungston Metallic
(PDT) High country Premium Package
New Features
(GPA) Graphite Metallic
(GMU) Pepperdust Metallic
Capless fuel fill
(TDM) Teen Driver mode
New center vent hood with Diesel engine
New Interior trim (HQZ) Jet Black Medium Ash Gray available on 3LZ
(Q7R) 20″ 6-spoke polished aluminum wheels
(L5P) Duramax 6.6L Turbo Diesel V8 engine
(ANQ) Alaskan Edition
(PDV) LPO, Chrome Essentials Package
Changes
(KB6) heated and vented seats change RPO code to (KQV)
Capped fuel fill is included with (ZW9) pickup box delete and (L5P) Duramax 6.6L Turbo Diesel V8 engine
(UVC) Rear vision camera is standard on LT trim and removed from:

(PCM) LT Convenience Package
(PDA) Texas Edition
(PDU) All Star Edition

(PDF) LTZ Plus Package added (UVD) heated steering wheel
New Air Induction System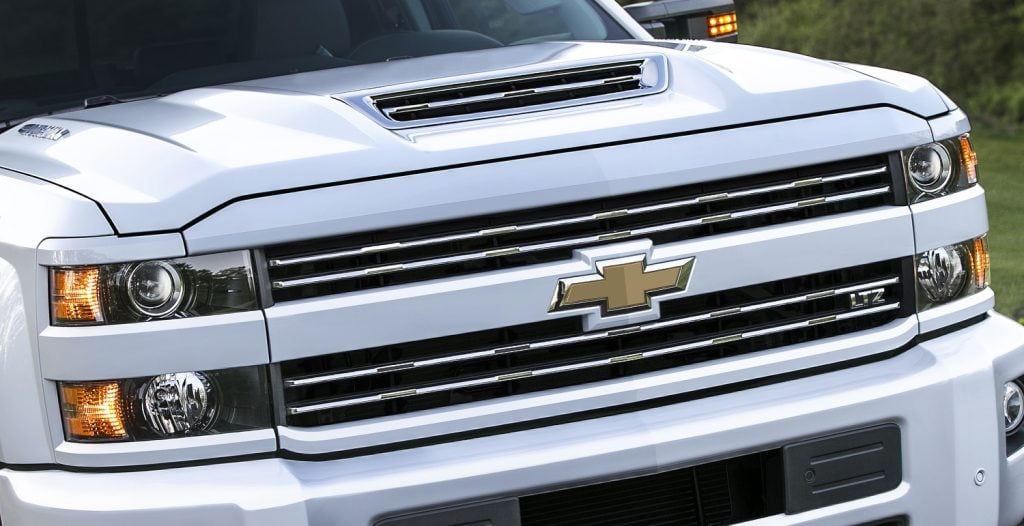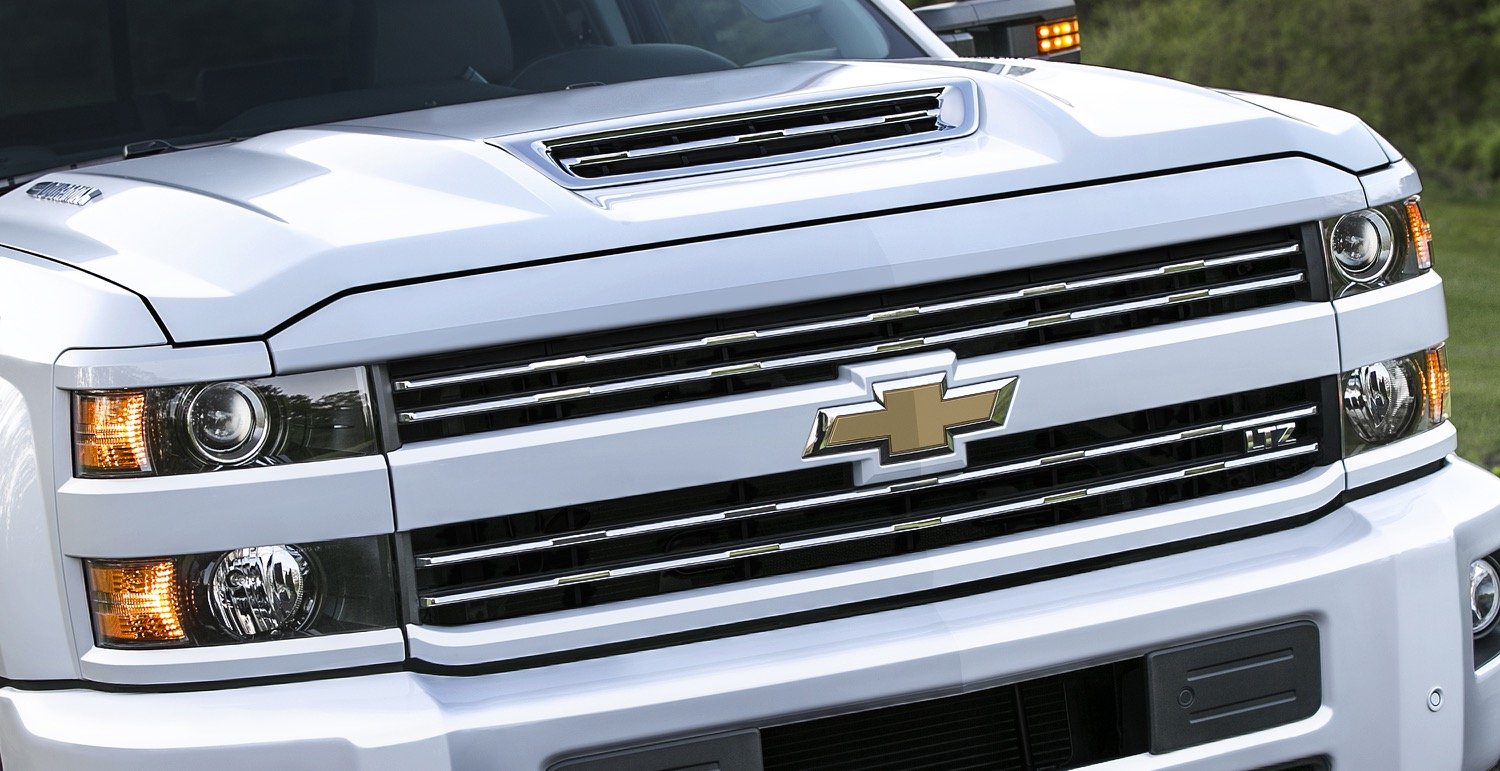 Chevrolet has announced that the 2017 Silverado HD trucks feature an all-new air induction system that drives cool, dry air into the engine for sustained performance and cooler engine temperatures during difficult driving conditions. The patented intake system underwent extensive testing based on the most challenging real-world driving conditions to ensure competence and performance no matter the weather.
Hood Scoop
The new air intake system is marked by a dramatic hood scoop. Essentially an inlet at the front of the hood, the scoop provides 60 percent of the air to the Duramax diesel engine.
Cooler Air
The air provided to the engine is very close to the outside ambient temperature and much cooler than the air under the hood. Cooler air helps the engine run better under load, especially in conditions where engine and transmission temperatures can rise quickly. Running cooler allows the Duramax diesel to maintain full power and vehicle speed for capable trailering in even the toughest conditions.
Ram-Air Effect
There's also a ram-air effect from the incoming air at highway speed that helps pack more air into the engine. The air filter housing also draws 40 percent additional air from a dry location in one of the front fenders. It blends with the cooler air from the hood inlet before funneling into the Duramax's combustion chambers. This assures the engine can breathe even if the hood is completely blocked.
"The 2017 Silverado HD was engineered to provide maximum utility for our customers in even the most extreme situations," said Eric Stanczak, chief engineer, Silverado HD. "While developing this all-new induction system, we considered our customers towing a maximum-weight trailer through the Eisenhower Tunnel on a hot, rainy summer day."
At more than 11,000 feet above sea level, the Eisenhower Tunnel is the highest vehicle tunnel in the world and one of the highest elevations for any roadway in North America.
Clean And Dry
Maximized engine performance requires more than cool air; the air must also be clean and dry. Accordingly, the functional hood scoop includes a unique air/water separator to ensure only combustion-enhancing dry air is drawn into the engine. The air charge enters an expansion chamber containing a sharp, 180-degree turn on its way to the air filter housing. That creates a velocity change that causes humidity or mist to form larger, heavier droplets that are flung centrifugally against the outside wall of the housing. The collected water drains through a valve, while the air charge continues on to the filter housing and into the engine.
Testing The Intake
Testing the effectiveness of the system was rooted in real-world driving conditions of every degree — from misty rains to monsoon-level downpours; from powdery snow to wind-driven ice pellets; from desert dust to arctic cold.
Challenges
Surprisingly, torrential downpours do not necessarily pose the biggest challenge to the hood scoop, according to Kevin Dunn, global vehicle performance for splash engineering:
"Big, heavy raindrops from a thunderstorm are relatively easy to eliminate from air. The more challenging issue comes from the mist-like spray generated by semitrucks on wet highways. Those very fine water droplets prove more challenging to separate from the air. The air intake is an elegant solution that works well with water droplets of all sizes. For customers, the results delivers maximum engine performance and even greater towing confidence."
2017 Chevrolet Silverado HD Pages