Mid-Engine Chevrolet Corvette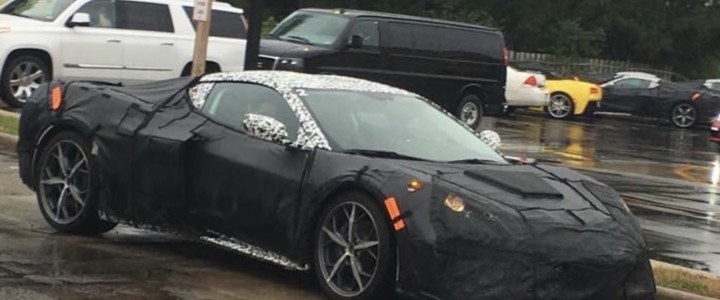 Mid-Engine Chevrolet Corvette
It is rumored that the next, eighth-generation Chevrolet Corvette will switch to a mid-engine layout.
Following is speculative and unconfirmed information about the mid-engined Chevrolet Corvette. This page is a continuous work-in-progress and will be updated on a regular basis as we await official details from General Motors and Chevrolet.
If you notice any inaccuracies about the information provided, or have edits to suggest, please let us know here.
Mid-Engine Chevrolet Corvette Photos
Overview
What: an all-new, mid-engined Chevrolet Corvette sports car that will represent the eighth generation of the Corvette nameplate, informally called C8 (for Corvette generation 8). The vehicle will epitomize a significant change for the Corvette by switching from a front-engine roadster to a mid-engine super car, thereby changing its appearance, personality and driving experience
When: we expect the mid-engine Corvette to launch in the 2020 or 2021 calendar year as a 2021 or 2022 model year vehicle
Why: a mid-engine Corvette will push the performance envelope of the Corvette even further while ensuring Chevy's leading position in the high-performance sports car space
Where: sold in all current markets where the Corvette is currently sold, including the United States, Canada, Mexico, Europe, Russia, and the CIS, the Middle East
Expectations
Following are our expectations about the future Chevrolet Corvette mid-engine:
Switching from a front mid-engine layout to a rear-mid engine layout, profoundly changing vehicle dynamics, driving experience, performance envelope and styling. The rear mid-engine configuration is used by various Lamborghini and Ferrari models along with the Porsche 911, Audi R8 and Ford GT, as it enables optimal engine placement for high-performance vehicles, facilitating perfect front-rear weight distribution and balance and optimal power delivery while keeping drivetrain components more compact.
Powered by a V-8 engine in Dual Overhead Cam (DOHC) configuration making around 700 horsepower mated to either a new dual-clutch automatic from Tremec (specifically the TR-9007 seven-speed) or the new GM 10-speed automatic transmission co-developed by Ford and GM
Rear-wheel-drive, with all-wheel-drive possible but not likely
Body Styles
We expect the upcoming mid-engine Corvette to be available as a two-door coupe and convertible with seating for two. Adopting a rear mid-engine powertrain layout will result in significant changes in styling compared to the first seven generations of the Corvette, all of which featured a front-engine, rear-drive layout featuring a long hood and a short rear deck. By comparison, a mid-engine Corvette would have a shorter hood and a longer rear deck, along the lines of the Ford GT, Audi R8, as well as various Lamborghini and Ferrari models.
We believe that switching to a rear-mid engine layout is to push the Corvette into a new, higher performance envelope. The move is necessary given the sixth-generation Camaro has become a very competent sports car that in many ways steps on the toes of the seventh-generation Corvette from a performance standpoint.
Price
We expect that the starting price of the mid-engine Corvette will be in the $70,000 range and go up from there depending on trim level and option selection, along with model preference.
Platform
We expect the mid-engined Corvette to ride on a new architecture called the GM Y2 platform. The architecture will be unique to the Corvette C8, though it could also be shared with a Cadillac super car in the future.
The model is reportedly assigned internal GM product code Y2BC.
Powertrain
According to a December 2017 leak, the mid-engine Corvette will likely be offered with the following three engines:
Naturally-aspirated 6.2-liter V-8 LT1, which makes a maximum of 460 horsepower and 465 pound-feet of torque in the C7 Corvette Stingray with the Z51 package
Twin-turbo 4.2-liter V-8 DOHC engine making in the vicinity of 600 horsepower and 600 pound-feet of torque
Twin-turbo 5.5-liter V-8 DOHC engine making in the vicinity of 700 horsepower and 700 pound-feet of torque
The engines will likely be manufactured at the GM Tonawanda powertrain plant.
The mid-engined Corvette will likely be offered with a choice of two transmissions – a seven-speed manual or a 10-speed automatic – driving the rear wheels.
Production
We expect the mid-engine Corvette to be assembled by GM USA at the GM Bowling Green factory in Kentucky.
Competitors
The future Chevrolet Corvette will have the following competitors:
Ford GT
Porsche 911
Audi R8
Discussion
Discuss the mid-engine Chevy Corvette in our Chevrolet forum.
News
Follow our coverage of Chevrolet Corvette news.
Mid-Engine Chevrolet Corvette Pages