Chevrolet Corvette C8 Z06
Chevrolet Corvette C8 Z06
The Chevrolet Corvette C8 Z06 was officially unveiled on October 26th, 2021 as a 2023 model year vehicle. The performance-oriented C8 Corvette features a high-revving V8 engine with a flat-plane crank, aggressive looks, light-weight components, and higher levels of performance aimed at all-out track capability.
Chevrolet Corvette C8 Z06 Quick Facts

| | |
| --- | --- |
| Assembly Location | GM Bowling Green Assembly Plant, Kentucky, USA |
| Body Style(s) | Coupe, Convertible |
| Layout | Mid-Engined, Longitudinal |
| Engine(s) | 5.5L LT6 V8 |
| Transmission(s) | 8-Speed Dual-Clutch |
| Drive Wheels | Rear-Wheel-Drive |
| Availability | U.S.A., Canada, Mexico |
| Predecessor | 2019 Chevrolet Corvette Z06 |
| Successor | 2024 Chevrolet Corvette Z06 |
While the "base" C8 Stingray is a very capable machine meant as an all-around performer, there is a lot more performance potential in the mid-engine Corvette platform. The Z06 aims to realize that performance with an offering focused on dominant track capability.
To that end, the C8 Z06 returns to a naturally-aspirated engine – a major departure from the supercharged V8 Small Block used by the C7 Z06. The switch is meant to bring the Z06 model back to its roots as a track-focused offering, a direction perfectly embodied by the C6 Z06 and its 505-horsepower 7.0L V8 LS7 engine. By comparison, the C7 Z06 strayed from that formula by using a supercharger, which sometimes didn't do it favors in repeat track runs.
Powertrain
The Corvette C8 Z06 is powered by the naturally-aspirated 5.5L V8 LT6 engine, and as reported by GM Authority, the high-revving engine has an official output rating of 670 horsepower and 470 pound-feet of torque. Notably, the motor features a Dual OverHead Cam (DOHC) configuration with 32 valves and a flat-plane crankshaft that enables it to quickly rev to a sky-high 8,600 rpm redline. Other highlights include an all-aluminum cylinder block, forged aluminum pistons, forged titanium connecting rods, an active split intake manifold with twin 87 mm throttle bodies and a racing-inspired dry-sump oiling system. The captivating exhaust note can be heard full-blast in the feature film that unveiled the new high-performance super coupe.
Shifting duties in the C8 Z06 are handled by the same eight-speed, dual-clutch automatic transmission as in the C8 Stingray, though the Z06 receives a shorter 5.56 final drive ratio. Coupled with the e-LSD and Z06-specific wheels, tires, and suspension, the power plant is capable of rocketing the mid-engined sports car from 0 to 60 in as little as 2.6 seconds.
Co-developed with TREMEC, the dual-clutch automatic delivers lightning-fast shifts and incredible power transfer. The transmission was designed to provide drivers with the best of both worlds: the spirited feel and direct connection associated with a manual as well as the premium driving comfort of an automatic. The double-paddle de-clutch feature allows the driver to disconnect the clutch by holding both paddles for more manual control, in addition to choosing a specific gear. This enables the driver to perform a free-rev, if and when desired.
Chassis
When it comes to suspension, the 2023 C8 Z06 retains the SLA-type front and rear suspension design of the Corvette Stingray, but uniquely calibrated for its higher performance capabilities, and is fitted with Magnetic Ride Control 4.0. Wider wheels measuring at 20 inches in the front and 21 inches the rear help to push the performance envelope of the C8 Z06, and they're wrapped in standard Michelin Pilot Sport 4S ZP tires that measure in at 275/30ZR20 up front and 345/25ZR21 in the rear. Braking in the "standard" Z06 is handled by a set of 14.6-inch-diameter front and 15-inch-diameter rear Brembo brake rotors, along with front six-piston and rear four-piston Brembo calipers.
The available Z07 Performance Package features larger, carbon ceramic 15.7-inch-diameter front rotors and 15.4-inch-diameter rear rotors, along with stickier Michelin Sport Cup 2 R ZP rubber, unique FE7 suspension with Z07-specific Magnetic Ride Control damper calibration, and available carbon fiber wheels that deliver a 41-pound reduction in unsprung mass. All Z07-equipped models also receive a full carbon fiber aerodynamics package with a larger front splitter, front-corner dive planes, a rear wing and an underbody strake. Altogether, the aero kit produces 734 pounds of downforce at 186 mph.
Performance
Current performance specs include the aforementioned 0 to 60 time of 2.6 seconds. Additionally, Z07-equipped cars can circle a 300-foot skidpad at 1.22 G, and cover the quarter-mile in 10.6 seconds. Moreover, General Motors claims that the Z06 is capable of top speeds in excess of 200 mph.
Similar to the Stingray, the Corvette C8 Z06 Driver Mode Selector tailors more than a dozen features of the Z06 to suit the driver's environment, including:
Launch control: Available in Track mode for maximum off-the-line acceleration
Active handling (StabiliTrak Electronic Stability Control): Z06 has performance traction management standard
Traction control: Weather mode tailors traction control and engine torque for driving in inclement conditions
Performance Traction Management: Available in Track mode and offers five settings of torque reduction and brake intervention for track driving
Electronic Limited Slip Differential (eLSD): Adjusts the rate at which the limited slip engages to balance between steering response and stability in different driving conditions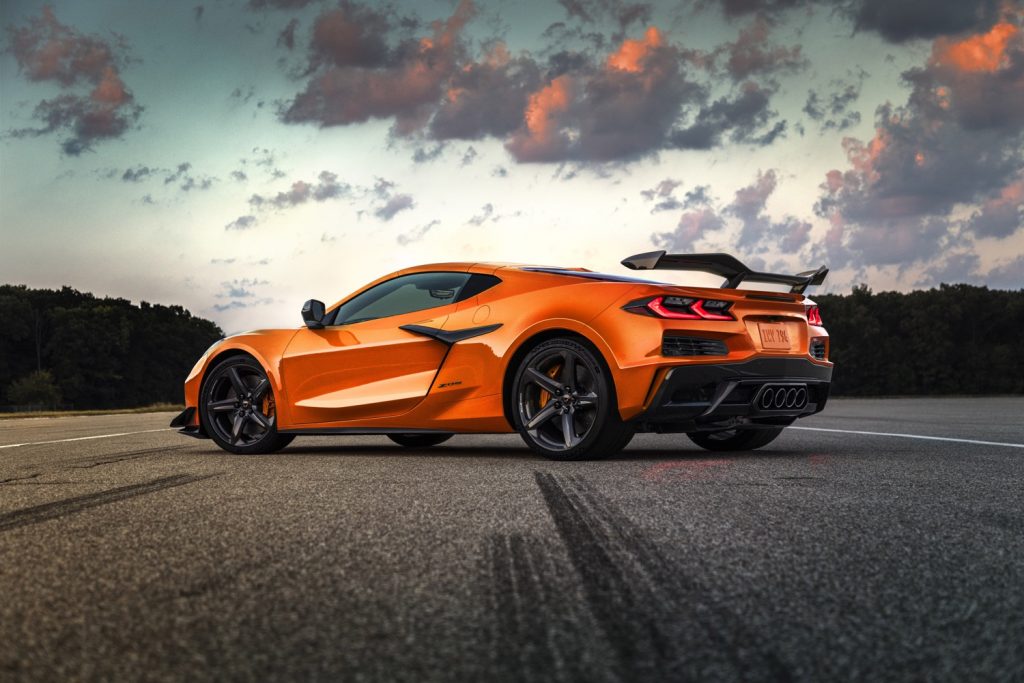 Exterior
Similar to the C7 Z06, the C8 Z06 is fitted with a wide-body design compared to the C8 Stingray – 3.6-inches wider, to be exact – along with revised aerodynamics. To that end, Chevy says the only exterior components shared between the Z06 and non-Z06 models are the doors, the roof, and the hatch.
Moreover, GM Authority was first to exclusively report that a relatively large, unique rear wing is part of an optional aero package. To that effect, the Corvette C8 Z06 offers increasing levels of aerodynamics packages, which are as follows:
The standard Z06 features a front splitter and a unique rear spoiler, which includes an installable fixed wickerbill – a small, vertical tab at the edge of the spoiler that significantly increases downforce, providing 365 pounds (165.6 kg) more at 186 mph (299.3 km/h).
The available carbon fiber aero package adds a larger front splitter, front-corner canards (dive planes), a pedestal-mounted rear wing and underbody aero strakes for the maximum track-capable downforce and maneuverability.
Additionally, the C8 Z06 features quad exhaust tips from the center of the vehicle. Units intended for select foreign markets will feature outboard exhaust tips in lieu of the center-mounted setup. Engineers also designed the exhaust tips in such a way that the exotic exhaust note reverberates up towards the driver in an effort to make a more raw and visceral driving experience.
Notably, the 2023 Chevrolet Corvette Z06 offers:
Twelve available exterior colors
Seven available wheel packages, including five finishes on the standard forged aluminum wheels and available carbon fiber wheels
Six available brake caliper colors
Body Styles
Like the C8 Stingray, the C8 Z06 is available in two body styles:
A two-door coupe with a removable hard top panel
A two-door convertible with a retractable hardtop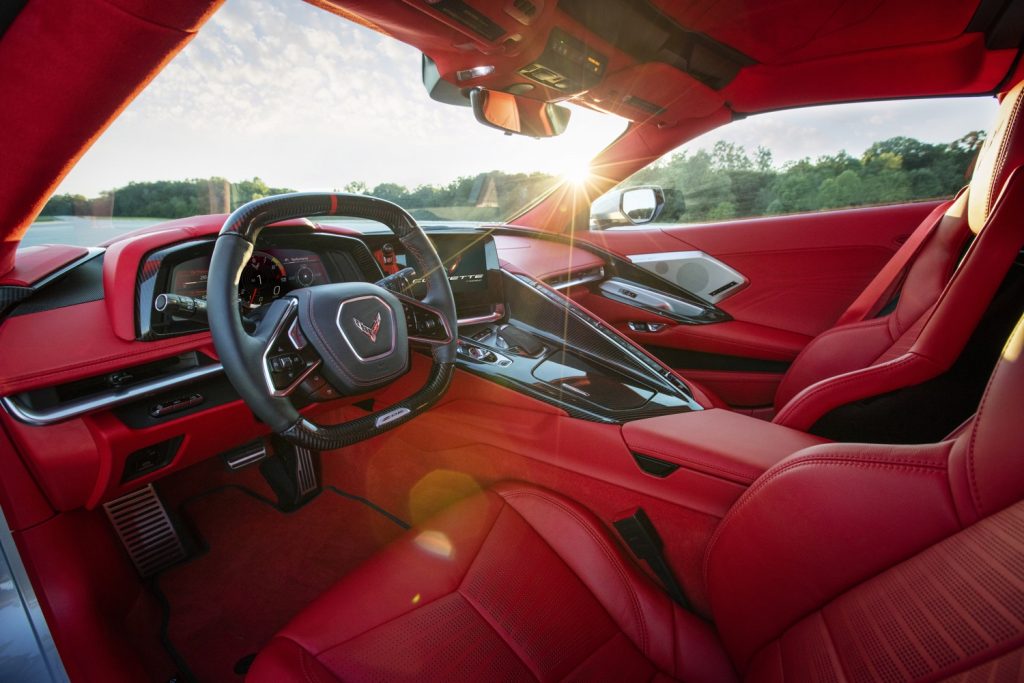 Interior
On the inside, the same general cockpit design is utilized, though it does indeed feature Z06 exclusive components which further "blends the two worlds of art and science with craft and quality."
Notably, the Z06 offers an available carbon fiber-wrapped steering wheel, carbon fiber dash/door trim, three different seat choices and six seat belt options. The expanded material offerings, new interior packages and features unique to Z06 enable owners to create their own bespoke American supercar. The Z06 also features hand-wrapped leather interior options, including an all-new interior fully trimmed in Adrenaline Red.
All told, interior personalization choices include:
Seven interior colors with the opportunity to expand it to thousands of combinations
Three seat choices and six seatbelt options
Two interior carbon fiber trim packages, plus the Stealth Aluminum trim option

Availability
Initially, the Corvette C8 Z06 was expected to arrive in the second half of the 2021 calendar year as a 2022 model year vehicle. However, the COVID-19 pandemic pushed that timeline back, and the C8 Z06 officially began production on September 19th, 2022.
Notably, the Z06 will be the first Corvette C8 variant to arrive after the "base" Stingray, followed closely by the hybrid Corvette C8 E-Ray.
Production
Like all other Corvette models, the C8 Z06 is assembled at the GM Bowling Green plant in Kentucky – home of the Corvette.
The LT6 motor is assembled at the adjacent Performance Build Center in Bowling Green, Kentucky.
Platform
The C8 Z06 is underpinned by the new mid-engine vehicle architecture that underpins all variants of the Corvette C8: the GM Y2 platform.
GM Global B serves as the vehicle's electrical system.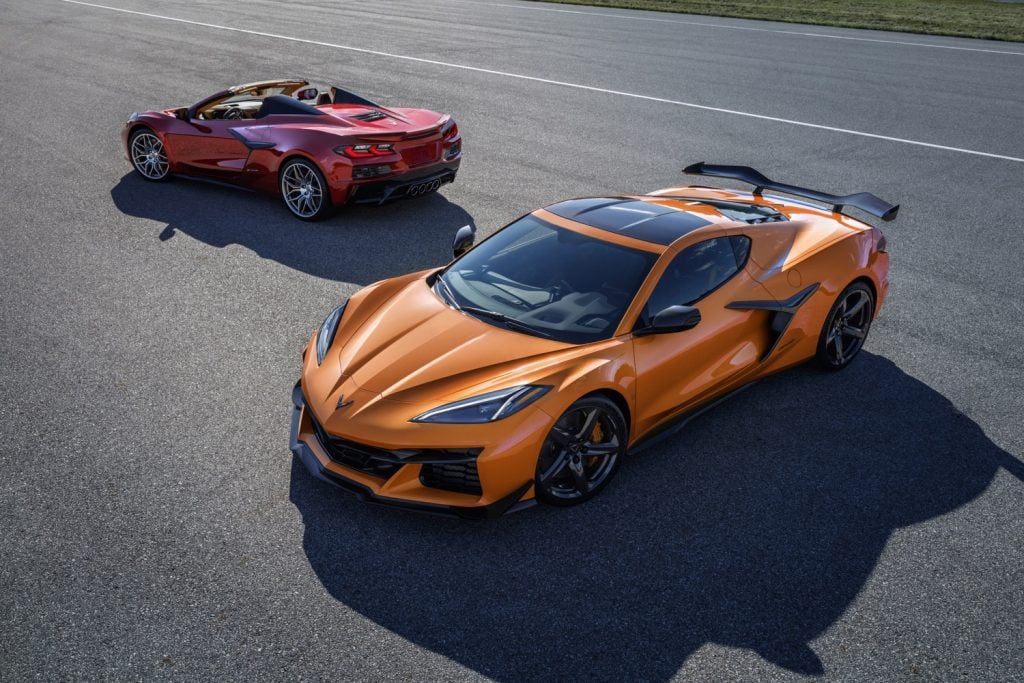 Pricing
The 2023 Z06 in 1LZ Coupe configuration boasts a starting MSRP of $106,395, while the 1LZ Convertible features a starting price of $113,895. Notably, both prices include the destination freight charge (DFC).
Specs
Coming soon.

Other Corvette C8 Variants
The Corvette C8 Z06 will be one of many model variants in the C8 range, which will consist of:
C8 Stingray – the base Corvette that a great all-round performer
C8 Z06 – a track-focused, all-motor missile
C8 E-Ray – a new model that hybridizes the Stingray, gives it a wide body treatment and takes the place of the Grand Sport
C8 Grand Sport – a lightweight model that uses the Z06 body with the motor from the Stingray

Model will not come to market, and will be indirectly represented by Corvette E-Ray

C8 ZR1 – the range-topping, non-hybrid flagship slotting beneath the Zora focused on touring and cruising
C8 Zora – the undisputed range-topping flagship with close to 1,000 horsepower and AWD capability
Gallery
Chevrolet Corvette C8 Z06 Photos
Discussion
Discuss the Chevrolet Corvette C8 Z06 in our Chevrolet forum.
More Chevy Corvette C8 Z06 news
26

High-revving, flat-plane goodness.

11

One of two V8s to make the list.