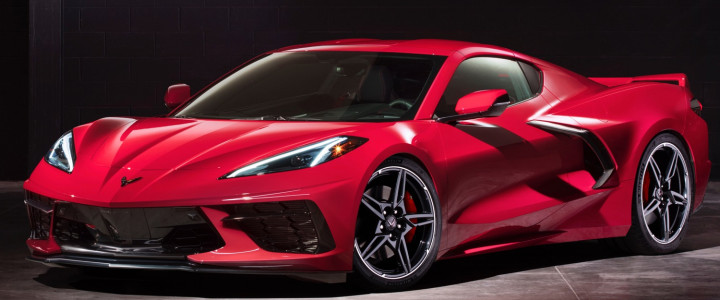 2020 Chevrolet Corvette
The 2020 Chevrolet Corvette represents a complete overhaul (re-engineering and redesign) of the sports car, representing the eighth generation of the Corvette nameplate.
The 2020 Corvette is Chevrolet's first-ever production mid-engine sports car and also the first time the Corvette had the engine behind the cabin since its inception in 1953. The new model delivers ultra-high levels of performance, craftsmanship, technology, and luxury.
"Corvette has always represented the pinnacle of innovation and boundary-pushing at GM. The traditional front-engine vehicle reached its limits of performance, necessitating the new layout," said GM President Mark Reuss. "In terms of comfort and fun, it still looks and feels like a Corvette, but drives better than any vehicle in Corvette history. Customers are going to be thrilled with our focus on details and performance across the board."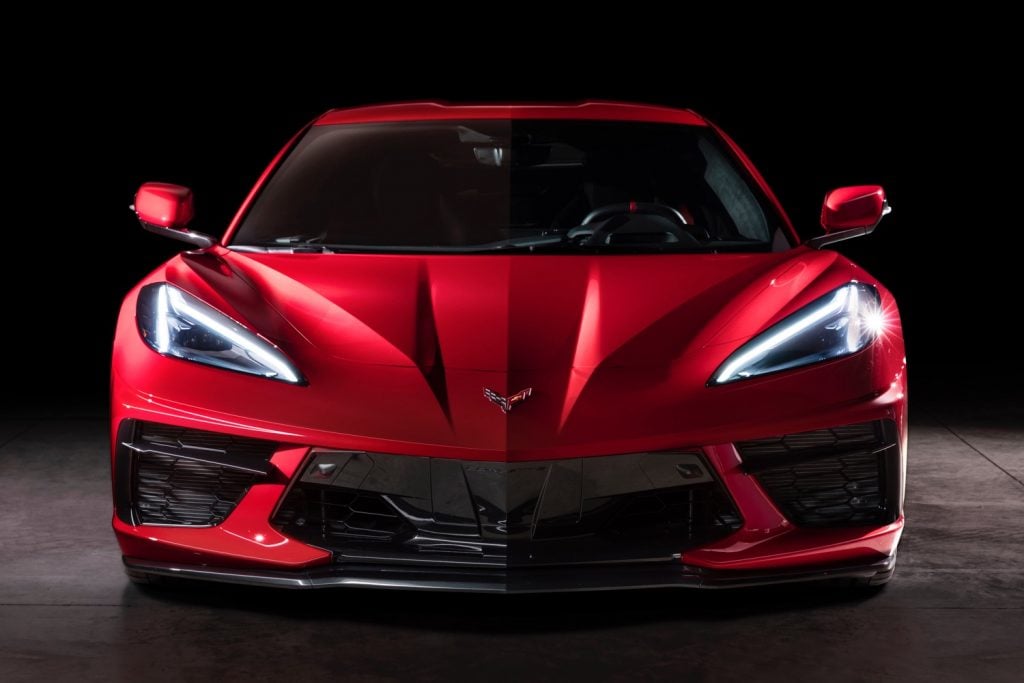 Body Styles
The all-new 2020 Chevy Corvette Stingray will be offered in two body styles:
Two-seat, two-door coupe with removable roof panel
Two-seat, two-door hardtop convertible
Note: The 2020 Corvette Stingray convertible is the first-ever Vette hardtop. All convertible models that precede it were equipped with soft tops. The hardtop also provides a quieter cabin, increased security, and a cleaner look when compared to the previous soft-top designs.
"Our goal from the beginning was to make sure customers didn't have to sacrifice any functionality, performance or comfort when choosing the hardtop convertible," said Josh Holder, Corvette program engineering manager. "We managed to keep the same design theme as the coupe, as well as the exceptional storage capacity and track capability."
Models
The 2020 Chevrolet Corvette is offered as a Stingray model, which is the base model in terms of performance. Other, more high-performance variants are expected to join the lineup later on in the model's lifecycle.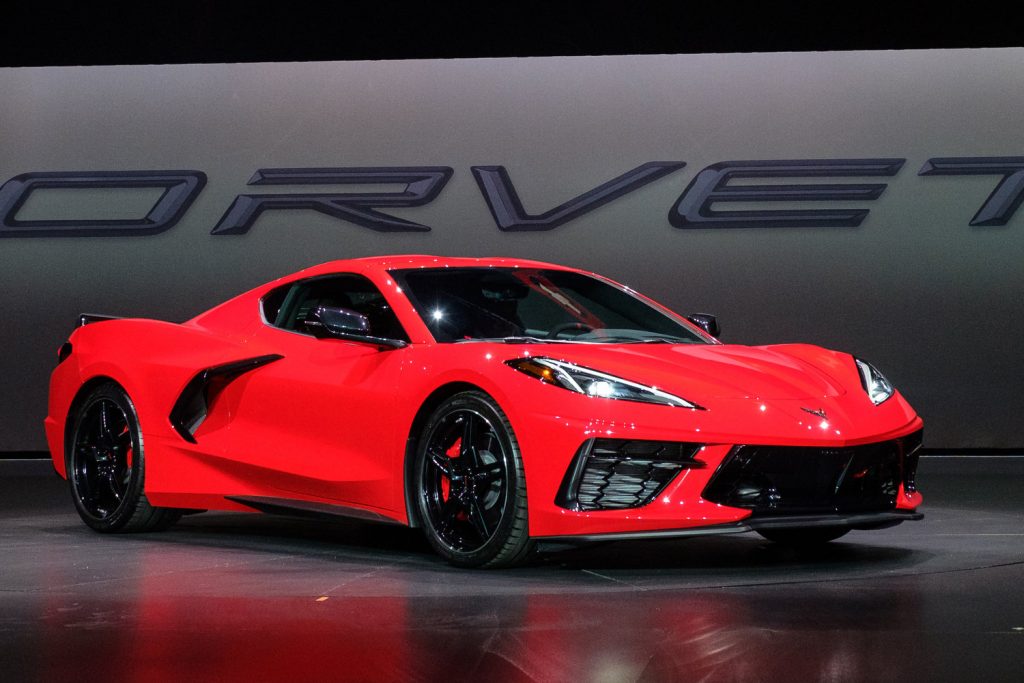 Exterior Design Highlights
Low-profile headlamps designed around all-new projectors.
Completely hidden door, hood and hatch releases that do not disrupt the sculpted design.
Large side air intakes for engine cooling and aerodynamic performance benefits.
A-pillar shape that communicates speed and aids visibility.
Large rear engine cover that showcases the engine with its seven air vents (on Coupe model).
Quad exhaust tips can be found on the vehicle's outboard ends.
Dual-element LED taillamps with animated turn signals.
Staying true to its aeronautical and racing roots, the 2020 Corvette Stingray's canopy-forward stance was inspired by F22s, F35s, as well as other modern fighter jets and Formula One racing vehicles. Classic Corvette signatures that were adapted to the new Stingray include a distinctive face, classic horizontal crease, aggressive front fenders, and familiar dual-element headlamps.
Convertible Features
Just like the coupe, the Stingray convertible's design was inspired by fighter jets. The tonneau cover features aerodynamically shaped nacelles influenced by the housing used for jet engines. The nacelles help reduce air recirculation into the cabin and provide a stunning exotic profile with the top up or down. The tonneau also provides a rear power-adjustable window and a vent for mid-engine cooling.
The two-piece top can be activated at speeds up to 30 mph and retract in as few as 16 seconds.
It is powered by six electric motors — a Corvette first — and uses encoders for precise control.
A body-colored roof is standard, while Carbon Flash metallic-painted nacelles and roof are optional.
The divider glass window in the middle of the vehicle can be power adjusted with the convertible top up or down. The glass has been optimized to reduce air recirculation and wind noise in the cabin for improved quietness. The roof system design, combined with the same rear spoiler used on the Stingray coupe's Z51 Performance Package, results in identical drag between both the coupe and convertible when the top is up.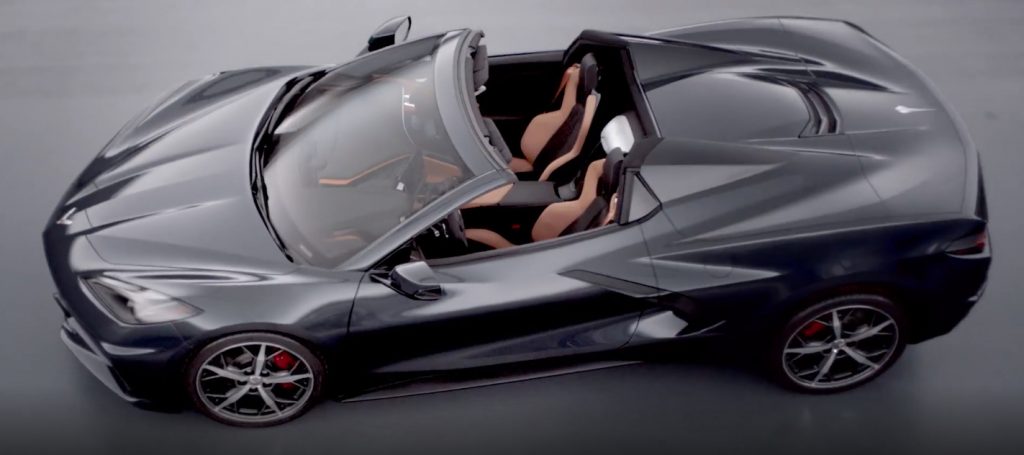 Interior Design Highlights
A cockpit that was migrated forward by 16.5 inches, enveloping the driver, and conveying the high performance and aeronautic theme.
Vertical climate controls and ultra-thin vents that minimize the height of the instrument panel, creating a low, spacious interior.
A new, squared-off, two-spoke, small-diameter steering wheel that enables an unobscured view of the 12-inch reconfigurable cluster display.
Premium hand-wrapped, cut-and-sew leather components with thick press stitching.
Generous use of real metal throughout.
Stainless steel speaker grilles with Bose Performance Series audio system.
Carbon fiber trim on the GT2 and Competition Sport Seats.
The choice of either real aluminum or real carbon fiber for console and door trim plates.
Personalization
The all-new 2020 Corvette Stingray Coupe and Convertible offer a slew of customization options that cater to your every taste. These include:
12 exterior colors:

Torch Red
Arctic White
Black
Blade Silver Metallic
Shadow Gray
Ceramic Matrix Gray
Long Beach Red
Elkhart Lake Blue
Sebring Orange
Rapid Blue (all new color)
Zeus Bronze (all new color)
Accelerate Yellow (all new color)
Six interior color themes: Jet Black, Sky Cool Gray, Adrenaline Red, Natural/ Natural Dipped, Two-Tone Blue and Morello Red.
Six seat belt colors: Black, Blue, Natural, Torch Red, Yellow, and Orange.
Two optional stitch packages: Yellow and Red. (Standard black interiors have Sky Cool Gray stitching.)
Three seat options: GT1 (a sporty style that emphasizes comfort while providing admirable support for performance driving), GT2 (a race-inspired look with added comfort for long trips courtesy of dual-density foam), and Competition Sport (designed for the serious track driver with aggressive bolsters and durable textile).
Technology
Corvette's next-generation infotainment system is faster and simpler, with a higher resolution display.
Chevy-first one-touch Bluetooth pairing with Near Field Communication.
Wireless charging.
Learn-as-you-go voice recognition.
Improved real-time traffic.
A new, 12-inch customizable instrument cluster tailored to all six driver modes.
Driver and passenger seat memory.
Heated steering wheel.
Tire fill alert warns the driver when the tire meets maximum pressure.
Two new Bose audio systems: a 10-speaker standard premium system and available 14-speaker Bose Performance Series system.
The industry-pioneering Performance Data Recorder, an advanced driving analysis tool upgraded with a high-definition resolution camera and a new, in-vehicle user interface.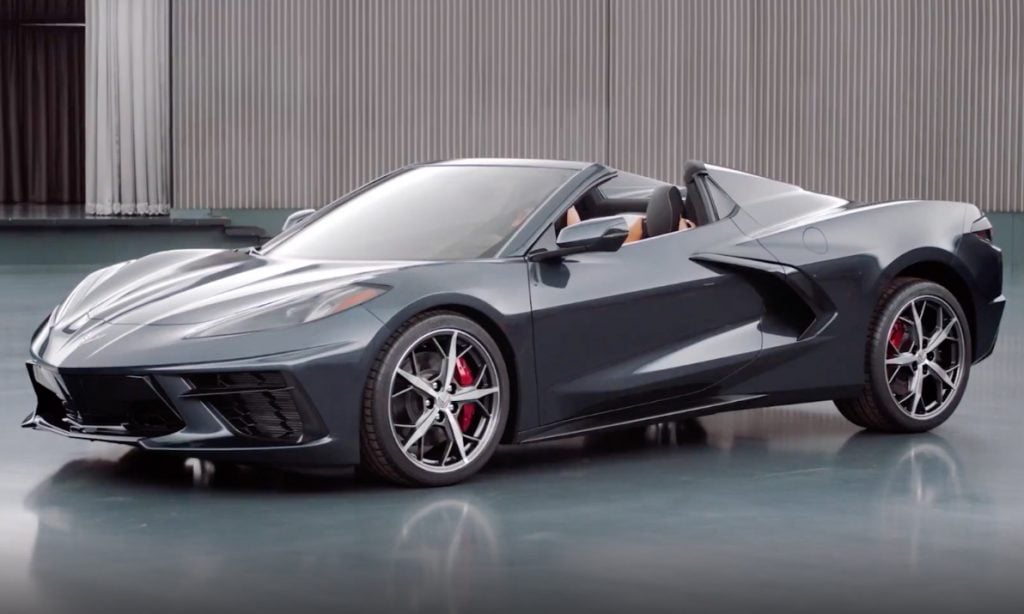 Performance
The new mid-engine layout provides a slew of benefits for the Corvette Stingray like better weight distribution and better responsiveness. It also offers a racecar-like view of the road all thanks to the lower positioning of the hood, steering wheel column, and instrument panel. What's more, the all-new 2020 Corvette Stingray boasts the fastest 0-60 time of any entry-level Vette ever – under three seconds when equipped with the Z51 Performance Package.
Powertrain
The 2020 Corvette Stingray is offered with one engine and transmission configuration in its rear mid-engine powertrain: the naturally-aspirated 6.2-liter V8 LT2 engine making 495 horsepower and 470 pound-feet of torque.
It's mated to an eight-speed dual-clutch automatic transmission driving the rear wheels. The transmission was co-developed with Tremec, a world-class supplier of automotive transaxles.
"Though now placed behind the driver, the LT2 gives the same visceral experience we all expect from Corvette," said Jordan Lee, GM's global chief engineer of Small Block engines. "The LT2 has been designed to deliver excellent low-end torque and high-end power to give thrilling pedal response at any RPM."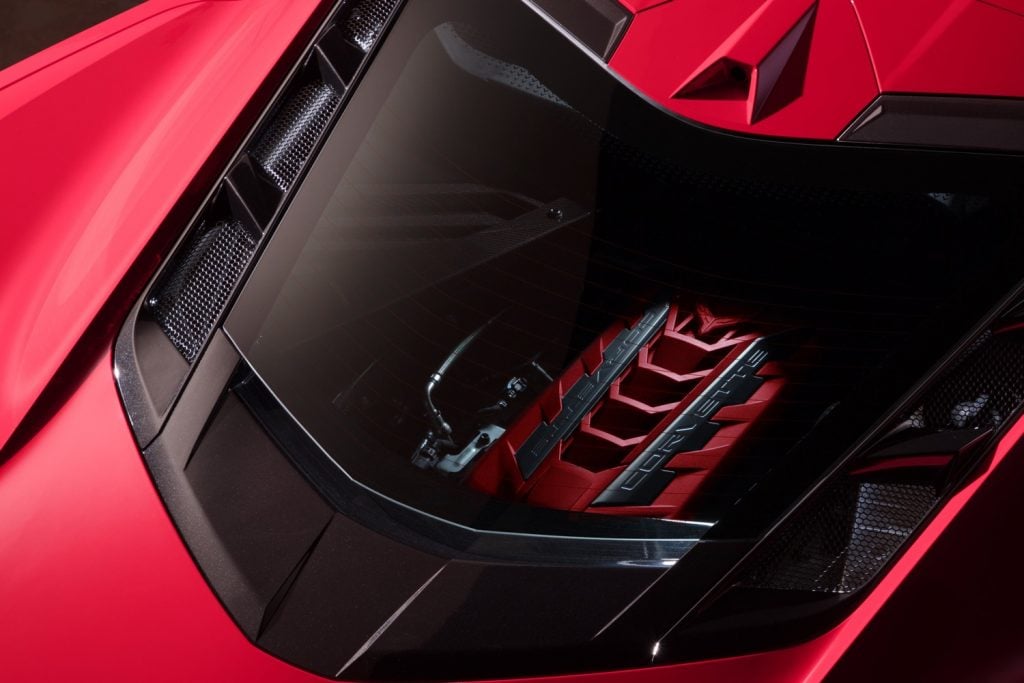 Engine
Jewel-like setting in the rear compartment, visible through the rear glass hatch (on Coupe model).
A brand-new block and vent system.
The centerline of the crankshaft sits an inch lower to the ground where it mates to the transaxle for better handling.
Low-profile oil pan that reduces mass.
Oil cooler capacity increased by 25 percent.
Standard edge Red valve covers.
Transmission
The next generation LT2 is paired with Chevrolet's first eight-speed dual-clutch transmission, which provides lightning-fast shifts and incredible power transfer. This transmission is uniquely designed with TREMEC to provide drivers with the best of both worlds: the spirited and direct connection associated with a manual and the premium driving comfort of an automatic. The double-paddle de-clutch feature also allows the driver to disconnect the clutch by holding both paddles for more manual control, in addition to choosing a specific gear.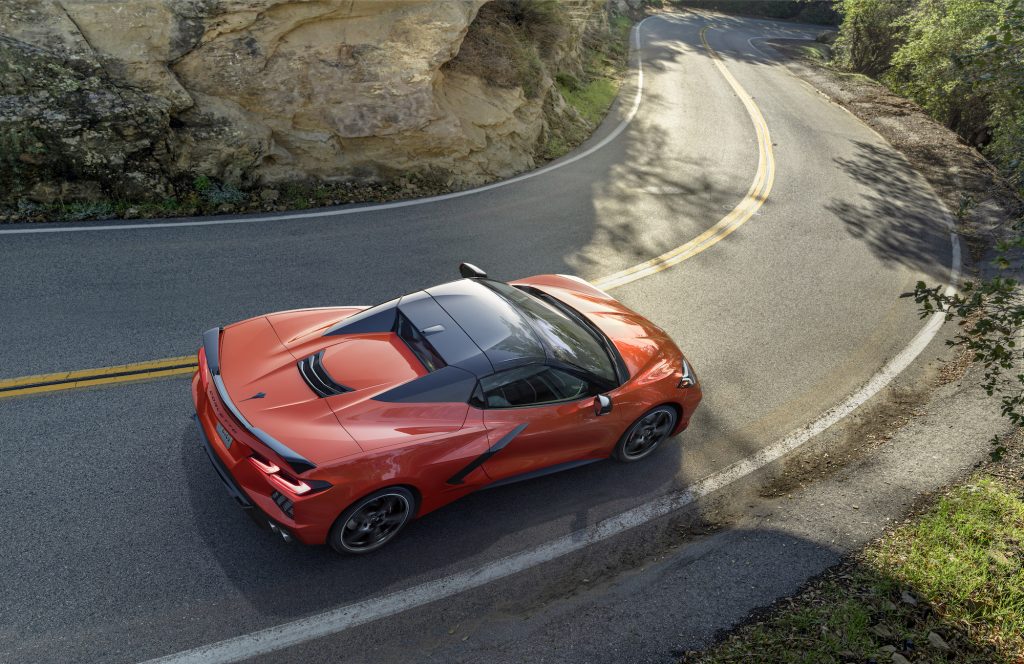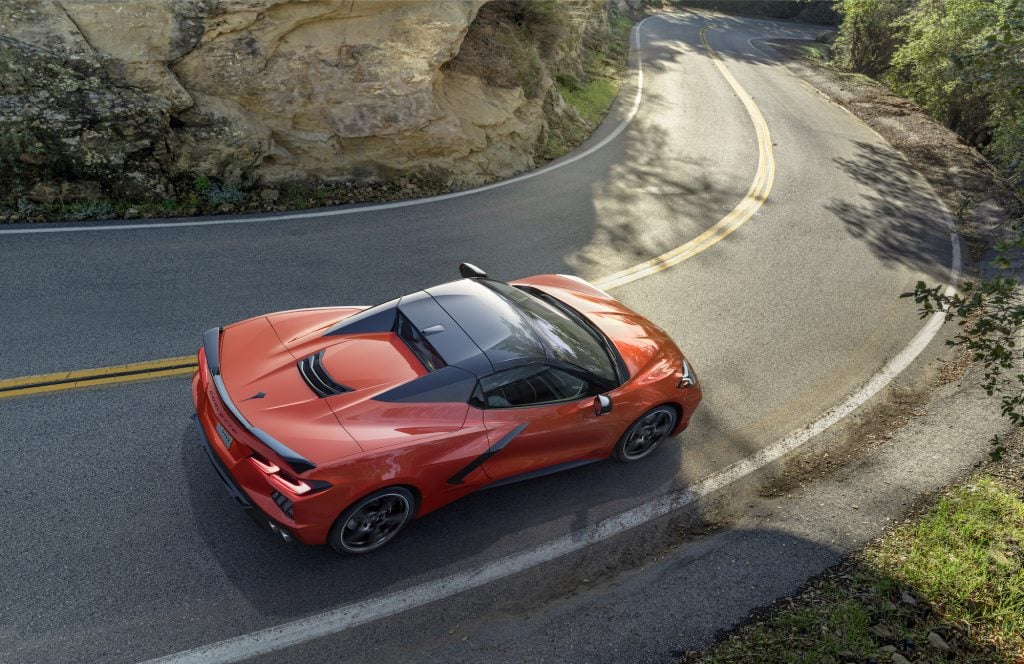 Ride And Handling Upgrades
Perhaps one of the most noteworthy enhancements in the front suspension lift that raises ground clearance by approximately 40mm at the front bumper in 2.8 seconds. Such helps protect against inconvenient bumps, potholes, steep driveways and other road disturbances. It can operate at speeds up to 24 mph and be programmed to work automatically through GPS to remember up to 1,000 locations.
Other upgrades include:
Steering ratio improved from 16.25:1 to 15.7:1.
New, more precise and tunable eBoost brakes.
The first sports car application of Michelin's all-season performance tire that can corner at nearly 1G.
Launch control aided by the rear weight distribution, enabling the new Stingray to get off the line quicker than any Corvette in history.
An electronic limited-slip differential integrated into the transaxle that modulates torque between the rear tires, enabling incredible vehicle stability.
A front splitter and open two-piece rear spoiler that add up to a combined 400 pounds of downforce while improving grip when cornering.
Available Magnetic Ride Control 4.0, which reads the road better and provides more precise data through suspension-mounted accelerometers.
Available Performance Traction Management.
Z51 Performance Package, which introduces a host of new technology to the 2020 Stingray:

Performance suspension with manually adjustable threaded spring seats.
Larger brake rotors with Z51 logo on calipers.
Enhanced cooling.
Specific axle ratio.
Front brake cooling inlets.
Performance exhaust.
Platform
The 2020 Chevrolet Corvette Stingray rides on an all-new mid-engine platform that's unique to the next generation of the Corvette. The platform is called Y2, and the vehicles are assigned program codes Y2AC for the Convertible and Y2BC for the Coupe.
Production
The 2020 Chevrolet Corvette is assembled exclusively by GM USA at the GM Bowling Green plant in Kentucky.
Price
The 2020 Chevrolet Corvette Stingray offers unprecedented performance at a starting price of $59,995 (including the $1,095 destination charge).
Availability
GM initially expected to begin selling the 2020 Chevy Corvette Stingray Coupe in December 2019 (in the United States). However, the UAW strike that started in September 2019 and lasted over a month delayed the model's launch until January 2020. The Convertible model will be available several months after. A right-hand-drive version of the convertible will be available in select international markets at a later date.
Debut
The 2020 Corvette Stingray Coupe made its debut on July 18th, 2019 in a massive aircraft hangar on the grounds of the old Marine Corps Air Station in Tustin, California.
The 2020 Corvette Stingray Convertible debuted at the Kennedy Space Center Visitor Complex in Florida on October 2nd, 2019.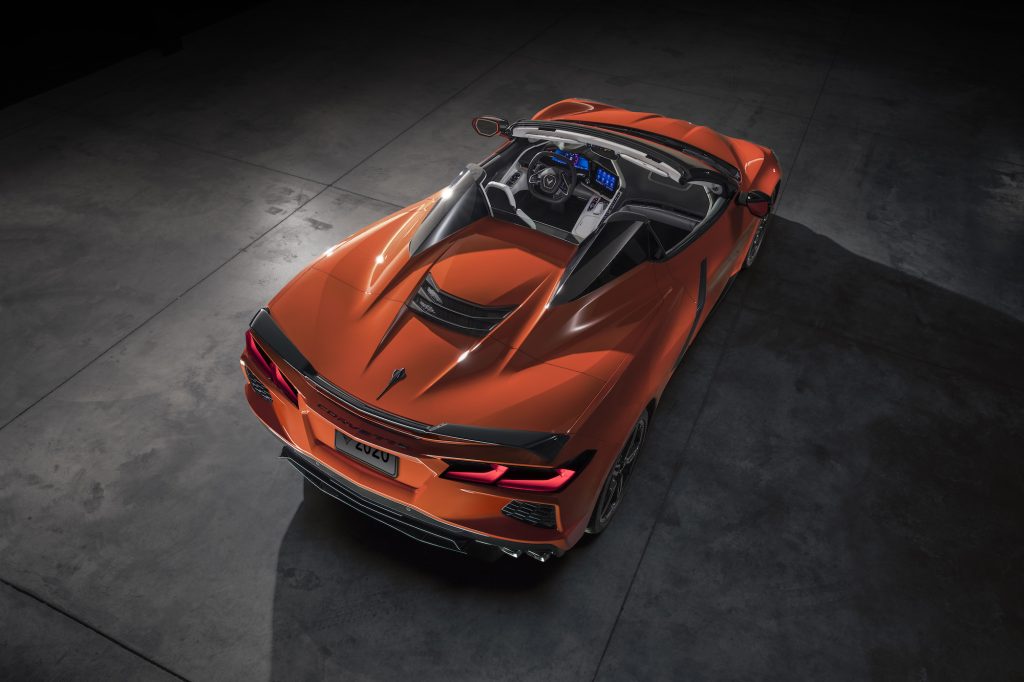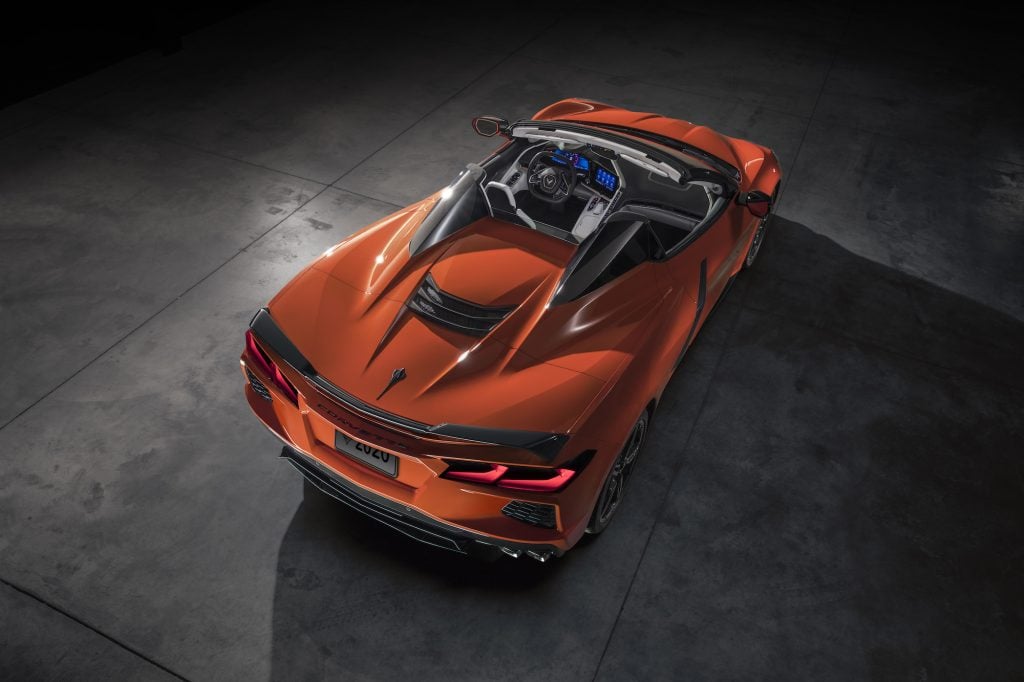 Beyond 2020
We expect that the current, eighth-generation Chevrolet Corvette will remain in production for at least the 2020, 2021, 2022, 2023, 2024, 2025, and 2026 model years. A next-gen, future Chevrolet Corvette will likely launch after the 2026 model year.
Specs
2020 Chevrolet Corvette Stingray Coupe Specs
2020 Chevrolet Corvette Stingray Convertible Specs
Discussion
Discuss the 2020 Chevrolet Corvette in our Chevrolet forum.
News
Follow our coverage of Chevy Corvette news.
2020 Chevrolet Corvette Pictures