Chevrolet Colorado ZR2 Bison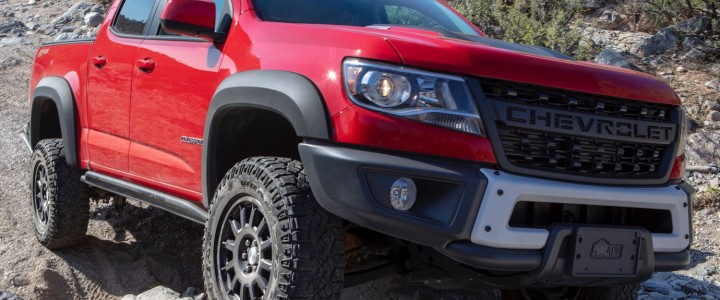 Chevrolet Colorado ZR2 Bison
The Chevrolet Colorado ZR2 Bison is an extreme off-road variant of the Chevrolet Colorado ZR2 off-road pickup truck that makes various improvements for off-roading, overlanding and exploration.
Features & Equipment
The Colorado ZR2 Bison includes the following features:
AEV Front Bumper
Fog lamps (T3U)
AEV rear bumper (VHU)
Wheel Moldings (B7O)
Front floor liners (CPX)
Rear floor liners (CPY)
AEV Embroidered Headrests
Fuel tank skid plate (PZ9)
Front skid plate (PZG)
Rear differential skid plate (PZL)
Transfer case skid plate (PZN)
17″ AEV aluminum wheel (RIG)
17″ AEV spare wheel (S4M)
The snorkel is not part of the Colorado ZR2 Bison package. Instead, it is available as a third-party accessory form AEV and is ideal for air filtration while driving on dusty trails. Notably, this feature is compatible with all Colorado models.
Body Styles
The Chevy Colorado ZR2 Bison is available as a midsize pickup truck with the following cab and bed configurations:
Extended Cab, Long Box
Crew Cab, Short Box
Powertrain
The Colorado ZR2 Bison is offered with the following powertrain:
| Engine | Transmission | Horsepower @ RPM | Torque @ RPM | Rear Axle |
| --- | --- | --- | --- | --- |
| 3.6L V-6 LGZ gasoline | 8-speed automatic M5T | 308 @ 6800 | 275 @ 4000 | 3.42 |
| 2.8L I-4 LWN diesel | 6-speed automatic MYB | 181 @ 3400 | 369 @ 2000 | 3.42 |
AEV Collaboration
The Colorado ZR2 Bison represents Chevy's first collaboration with American Expedition Vehicles (AEV), a premium off-road aftermarket manufacturer.
Production Of Concept
The Colorado ZR2 Bison is the production version of the Colorado ZR2 AEV.
Trim Level / Options Package
The 2019 Colorado ZR2 Bison is not a trim level. Instead, it is an options package available exclusively for the Colorado ZR2.
The ZR2 Bison package is assigned RPO Code ULV, available only on the Colorado ZR2.
Availability restrictions are as follows:
Requires:

(G7C) Red Hot
(G9K) Satin Steel Metallic
(GAN) Silver Ice Metallic
(GAZ) Summit White
(GBA) Black exterior color

Not available with:

(PDE) ZR2 Dusk Special Edition
(PDF) ZR2 Midnight Special Edition
(B38) Floor covering, full length Black vinyl
(B34) front carpeted floor mats
(B35) rear carpeted floor mats
(PDZ) Chrome Appearance Package, LPO
(PCI) Premium Interior Package, LPO
(VAV) All-weather floor mats, LPO
(RIA) All-weather floor liner, LPO

Upgradeable to (SAS) rear spare tire carrier, LPO
Platform
Like all second-generation units of the Chevy Colorado, the Colorado ZR2 Bison rides on the GMT 31XX platform shared with the following vehicles:
2015 and newer GMC Canyon
2013 and newer Chevrolet and Holden Colorado for international markets
2014 and newer Chevrolet Trailblazer, also known as the Holden Colorado 7 and Holden Trailblazer
Production
The Chevy Colorado ZR2 Bison is assembled at the GM Wentzville factory in Missouri by GM USA.
Availability
The Colorado ZR2 Bison went on sale in the December 2018 – January 2019 timeframe as a 2019 model year vehicle.
Beyond 2019
We expect that the current, second-generation Chevrolet Colorado will remain in production at least thru the 2022 model year, and that an all-new, future Chevy Colorado will launch for the 2023 model year. The Bison ZR2 will likely follow that production schedule.
Discussion
Discuss the Chevy Colorado ZR2 Bison in our Chevrolet forum.
News
Follow our coverage of:
Evidence
Prior to its official reveal, we had the following evidence of the Colorado ZR2 Bison's imminent arrival.
Chevrolet hinted at a Colorado ZR2 with more rugged capability in November 2017, when it showed off the Colorado ZR2 AEV concept.
The first concrete evidence of Chevy planning to bring a Colorado variant called "ZR2 Bison" to market came in early April 2018, when Chevy's parent company, General Motors, filed to trademark the term "ZR2 Bison" with the United States Patent and Trademark Office (USPTO).
Then, in May 2018, new spy photos showed a Chevrolet Colorado ZR2 with revised front and rear bumpers plus a snorkel undergoing testing.
It was also rumored that Chevrolet showed dealers a production version of the ZR2 Bison during its national dealer meeting in April 2018. According to meeting attendees, the production-intent version followed the ZR2 AEV Concept very closely, while lacking some of the concept's over-the-top elements, such as a bed rack system as well as the integrated air-compressor set-up. It should, however, be noted that such items could be ordered from AEV to make a vehicle close to the original Colorado ZR2 AEV concept shown at the 2017 SEMA show.
The link between the Bison name lies in the American Expedition Vehicles (AEV) logo – which includes an image of a bison. AEV was involved in conceptualizing and building the Colorado ZR2 AEV.