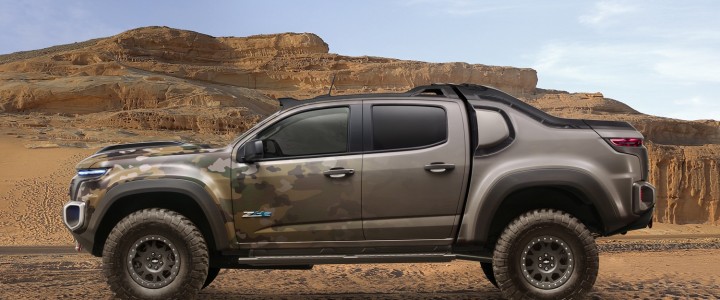 Chevrolet Colorado ZH2
The Chevrolet Colorado ZH2 is an off-road-capable, fuel-cell electric pickup truck developed for the armed forces. It is notable for being "the most extreme off-road-capable fuel-cell-powered electric vehicle ever from General Motors".
Basic Specifications
The Colorado ZH2 stands at more than 6½ feet tall and more than seven feet wide. It is built on a stretched midsize pickup chassis, presumably (but not confirmed) the same used in the second-generation Chevy Colorado.
Reinforced inside and out, the ZH2 rides on 37-inch tires and a specially-modified suspension that assists it the vehicle climb over and descend all manner of terrain.
Technologies
GM is leveraging a range of advanced technologies for multiple applications, including military.
The Colorado ZH2 features an Exportable Power Take-Off unit (EPTO) that allows the fuel cell to power activity away from the vehicle, such as in remote locations where electric power may otherwise be unavailable.
U.S. Army Testing
The U.S. Army will test the Colorado ZH2 in extreme field conditions in 2017 to determine the viability of hydrogen-powered vehicles on military missions. The Army will evaluate the ZH2 fuel cell for:
Near-silent operation enabling silent watch capability
Reduced acoustic and thermal signatures
High wheel torque at all speeds via electric drive
Low fuel consumption across operating range
Water by-product for field uses
Unveiling
The Colorado ZH2 was unveiled on October 3rd at the fall meeting of the Association of the United States Army (AUSA).
Development
The ZH2 is the result of a collaboration between GM and the U.S. Army Tank Automotive Research, Development and Engineering Center (TARDEC). The vehicle was developed from contract to concept in less than a year.
"The speed with which innovative ideas can be demonstrated and assessed is why relationships with industry are so important to the Army," said Paul Rogers, director of TARDEC. "Fuel cells have the potential to expand the capabilities of Army vehicles significantly through quiet operation, exportable power and solid torque performance, all advances that drove us to investigate this technology further."
GM and TARDEC have fuel cell development laboratories located 20 miles apart in southeast Michigan. Most of the Colorado ZH2 was assembled in GM's Advanced Vehicle Integration facility in Warren. Calibration testing at GM's Milford Proving Ground will continue into early 2017, when the vehicle will be turned over to the Army for a year of field testing.
"The Colorado ZH2 is a terrific example of GM's engineering and design skill in creating an off-road vehicle relevant to a range of potential users," said Charlie Freese, executive director of GM Global Fuel Cell Activities. "Over the next year, we expect to learn from the Army the limits of what a fuel cell propulsion system can do when really put to the test."
To note, the Colorado ZH2 contract is GM's second vehicle development initiative with a U.S military branch announced in 2016. In June, the U.S. Navy unveiled a GM fuel cell-powered Unmanned Undersea Vehicle (UUV) that is currently in pool testing before eventual deployment. The UUV leverages GM fuel cell technology common with the Colorado ZH2, demonstrating the flexibility to power a range of mobile and stationary devices.
GM is no stranger to the application of hydrogen fuel cells in vehicles. Thanks to Project Driveway — a 119-vehicle fleet driven by more than 5,000 people in a multi-year fuel cell experience program — the automaker has accumulated 3.1 million miles of hydrogen fuel cell testing.