2023 Chevrolet Colorado
We expect the 2023 Chevrolet Colorado to receive a complete overhaul (redesign and re-engineering), introducing the third generation of the Colorado nameplate.
2023 Chevrolet Colorado Quick Facts

| | |
| --- | --- |
| Assembly location | GM Wentzville Plant, Missouri, USA |
| Layout | Front-Engined, Longitudinal |
| Engine | Turbo 2.7L L3B I4" |
| Transmission | 10-Speed Auto |
| Drive wheels | Rear-Wheel or Four-Wheel Drive |
| Availability | U.S.A., Canada |
| Predecessor | 2022 Chevrolet Colorado |
| Successor | 2024 Chevrolet Colorado |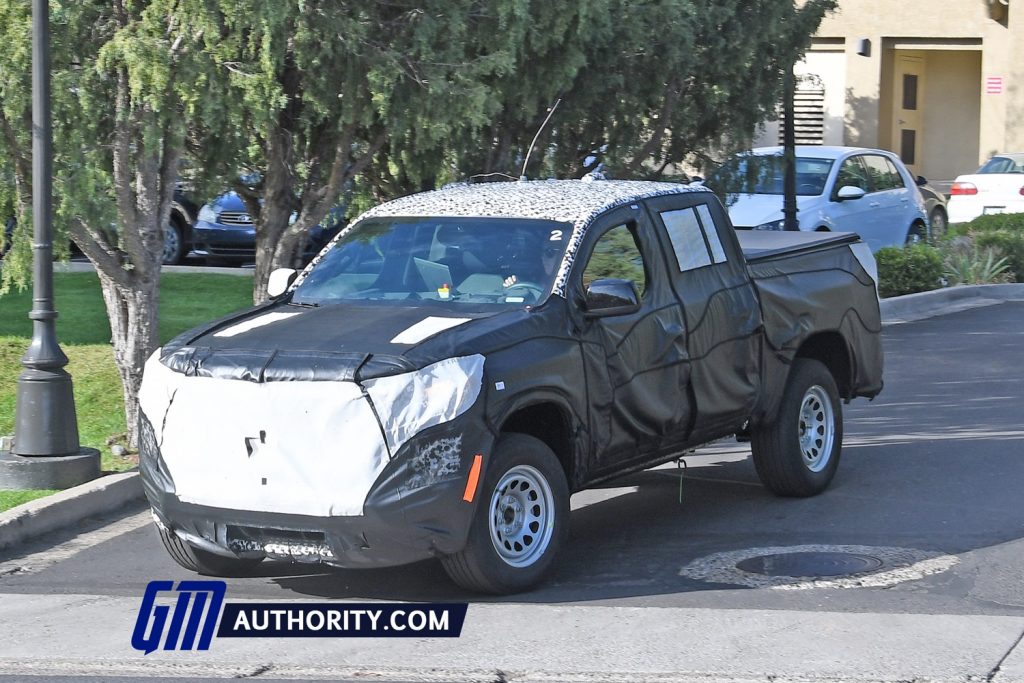 Expected Changes, Updates, New Features
Here are the changes we expect for the 2023 Colorado:
Completely new exterior
Completely new interior
Heavily revised (though not all-new) platform
All-new powertrain lineup
New active safety features, including Adaptive Cruise Control, Blind Zone Alert, etc.
See complete 2023 Chevrolet Colorado change log (coming soon).
The updates and changes described here are specific to the U.S. market and may be different for other markets.
Body Styles
We expect the 2023 Chevy Colorado to offered as a midsize pickup truck with the following cab and bed configurations:
Extended Cab, Long Box
Crew Cab, Short Box
Crew Cab, Long Box
Models & Trim Levels
We expect the 2023 Colorado to be offered the following trim levels:
Work Truck
LT
Z71 Package
RST
Premier
ZR2
Powertrain
We expect the 2023 Chevrolet Colorado to offer only one engine choices – the turbo-charged GM 2.7L L3B four-cylinder engine with TriPower technology. In the Silverado 1500, the engine makes 310 horsepower (231 kW) @ 5600 RPM and 348 pound-feet of torque (471 Nm) @ 1500 rpm. A 10-speed automatic transmission will be the only power choice.
In that regard, the 2023 Colorado is expected to discontinue the turbo-diesel Duramax engine choice and the six-cylinder engine choices. By comparison, the second-gen Colorado is offered with three engine choices:
| Engine | Transmission | Horsepower @ RPM | Torque @ RPM | Rear Axle |
| --- | --- | --- | --- | --- |
| 2.5L I-4 LCV gasoline | 6-speed automatic MYB | 200 @ 6300 | 191 @ 4400 | 4.10 |
| 3.6L V-6 LGZ gasoline | 8-speed automatic M5T | 308 @ 6800 | 275 @ 4000 | 3.42 |
| 2.8L I-4 LWN diesel | 6-speed automatic MYB | 181 @ 3400 | 369 @ 2000 | 3.42 |
Platform
The third-generation Chevrolet Colorado will ride on an updated version of the same GMT 31XX platform used by the second-gen model. The updated architecture will is known as 31XX-2 internally at GM. It will be shared with the 2023 and newer GMC Canyon.
Prior to November 2018, GM was planning on developing an all-new platform called 32XX for the third-generation Colorado (and Canyon). That architecture would have also underpinned a proposed Jeep Wrangler fighter from GM. However, the Wrangler competitor was cancelled as part of GM's ongoing restructuring and cost-optimization efforts.
Production
The 2023 Chevy Colorado will continue being assembled at the GM Wentzville factory in Missouri by GM USA. The GM Sao Jose Dos Campos plant in Brazil will produce the vehicle for the South American market.
Availability
We expect the 2023 Chevy Colorado to launch in the second half of the 2022 calendar year. A debut in the first half of the 2022 calendar year is likely.
Beyond 2023
We expect that the 2023 Chevrolet Colorado to represent the first model year of the third-gen Colorado. The vehicle is expected to live on at least through the 2027 model year. Plans for after that are currently unclear.
Gallery
Chevrolet Colorado Photos
Discussion
Discuss the 2023 Chevy Colorado in our Chevrolet forum.
Colorado/S10 News
15

Sales volume fell 53 percent.

7

Only the 3.6L V-6 LGZ gasoline and 2.8L I-4 LWN turbo-diesel are currently being built.
2023 Chevrolet Colorado Pages