2017 Chevrolet Colorado (International-Market)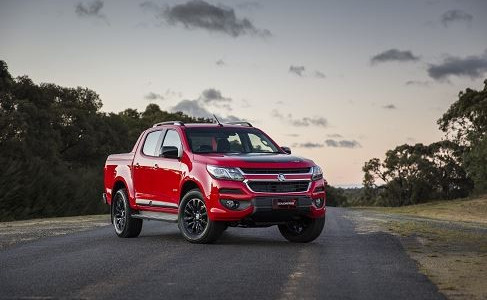 2017 Chevrolet Colorado (International-Market)
The Chevrolet Colorado mid-size pickup truck gets a midcycle enhancement, also known as a refresh, for the 2017 model year. The update includes higher levels of refinement, updated styling, interior materials, higher efficiency, and more technology.
This entry is about the Chevrolet Colorado sold in markets outside of the United States and Canada. Information about the Colorado sold Canada and the United States — which is shares the same GMT 31XX platform but is significantly different from this model — can be found at this link:
Exterior
The 2017 Chevy Colorado delivers an updated front fascia that has a more premium and upright appearance, featuring daytime running LEDs embedded into the headlights. The strong proportions are also seen at the rear with an even more clever bed.
Interior
For increased comfort and reduced NVH levels, engineers placed the cabin on new mounts that provide better isolation between the cabin and chassis. The new cabin mounts also reduce movement between the cabin and the chassis, providing more solid driving dynamics.
Inside the cabin, more premium materials and connectivity features are abundant. Chevrolet states the driver was in mind when designing the cockpit, resulting in a more user-friendly center stack and center console.
An eight-inch touchscreen features Apple CarPlay, Android Auto and the latest Chevrolet MyLink system.
Powertrain
Powering the updated midsizer is the updated XLD25 2.5-liter, four-cylinder turbocharged Duramax diesel engine. It can be paired to either a six-speed manual or a six-speed automatic transmission. Engineers ensured the engine runs quieter than ever, too, with new sound deadeners around the injectors.
Thanks to a Variable Geometry Turbocharger (VGT), the diesel-sipping four-banger makes more power, producing 132 kW (180 horsepower) at 3,600 rpm and 440 Nm (325 pound-feet) at a low 2,000 rpm.
Development
Development of the international-market 2017 Chevrolet Colorado took place at GM Brazil and at GM's Australian subsidiary, Holden.
Accessories
As previewed on the Chevrolet Colorado Xtreme concept, a host of accessories will be offered alongside the new truck to further enhance its global DNA. These include a black grill, real lamp cover, extended sports bar, rear black bumper or black door handles.
Platform
The 2017 Chevrolet Colorado rides on the GMT 31XX platform. The architecture is shared with the North American-market Chevrolet Colorado, though the latter is significantly different from this model.
Availability
Where
The international 2017 Chevrolet Colorado is available in select markets in the ASEAN and South America regions. It is also available in Australia as the Holden Colorado.
When
The international-market 2017 Chevrolet Colorado went on sale in the third and fourth quarters of calendar year 2016.
Other Names
The international-market 2017 Chevrolet Colorado is also marketed as:
Chevrolet S10 (South America)
Holden Colorado (Australia)