Chevrolet Conventional Medium Duty Trucks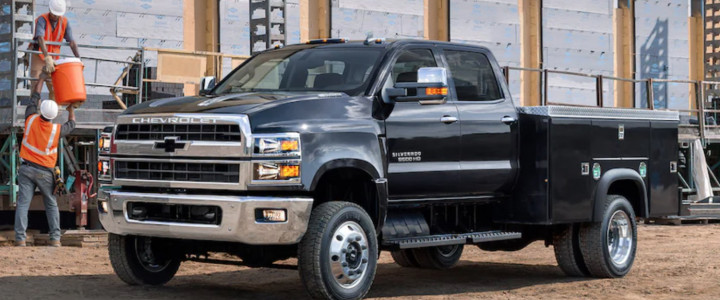 Chevrolet Conventional Medium Duty Trucks
Chevrolet has sold various iterations of a Conventional Medium Duty truck during its storied history. Currently, the brand offers three Silverado Medium Duty trucks – the 4500HD, 5500HD, and 6500HD – which it launched for the 2019 model year.
Chevrolet Silverado MD Quick Facts

| | |
| --- | --- |
| Assembly Location | Navistar Plant, Springfield, Ohio |
| Body Style(s) | Regular Cab or Crew Can |
| Layout | Front-Engined, Longitudinal |
| Engine(s) | 6.6L Duramax V8 |
| Transmission(s) | 10-Speed Auto |
| Drive Wheels | Rear-Wheel-Drive, Four-Wheel-Drive |
| Availability | U.S.A., Canada, Mexico |
| Predecessor | Chevrolet Kodiak |
| Successor | – |
Future Medium Duty Trucks
General Motors recently announced plans to offer a new Medium Duty Chevy truck utilizing an all-electric powertrain, as GM Authority reported. In addition to this new all-electric model, The General is also planning to offer a hydrogen Medium Duty Chevy Truck that uses its HydroTec fuel cell technology.
Current Medium Duty Trucks
To reiterate, Chevrolet currently offers conventional-style medium duty class 4, class 5 trucks, and class 6 trucks, called Silverado 4500HD, 5500HD, and 6500HD, respectively.
Developed in collaboration with Navistar, the trucks are launched for the 2019 model year with a Duramax Diesel engine and Allison transmission. They will likely be manufactured by Navistar.
See more on the the trucks here:

Discontinued Medium Duty Trucks
Chevrolet offered the Kodiak — a conventional-style medium duty truck from 1980 through 2009. The model was discontinued upon GM's bankruptcy in 2009.
Gallery
Chevrolet Conventional Medium Duty Truck Pictures
Discussion
Discuss the Chevrolet Conventional Medium Duty Trucks in our Chevrolet forum.
Medium Duty Trucks News
15

Three other colors were moved to the SEO list.

0
Chevrolet Conventional Medium Duty Trucks Pages