Chevrolet Project X Concept
Chevrolet Project X Concept
The Chevrolet Project X Concept is based on a 1957 Chevy 210 sedan, which is nearly identical to the more renowned Bel Air nameplate.
Project X has a bit of a storied past, as it was used by MotorTrend's Hot Rod brand as a test mule of sorts for about five decades before showing up at SEMA 2021 with an electrical powertrain. Notably, the electric motor replaced a supercharged LSX 376-B15 V8, and has an output of 340 horsepower and 330 pound-feet of torque.
Chevrolet Project X Quick Facts

| | |
| --- | --- |
| Introduction Year | 1965 (via Popular Hot Rodding Magazine) |
| Based On | 1957 Chevy 210 Sedan |
| Recent Powertrain(s) | LSX 376-B15 V8, Ultium Battery |
| Recent Drivetrain(s) | Richmond 5-Speed Manual, Ultium Drive |
| Drive Wheels | Rear-Wheel Drive |
| Last Seen | SEMA 2021 |
| Production Intent | None |
Backstory
The Tri-Five sedan known as Project X was originally purchased for $250 back in 1965, becoming an (eventual) asset of MotorTrend's Hot Rod brand. Project X was then used as a testbed for more than five decades as Hot Rod editors used it to test various parts and components. During this time, it saw quite a few different powertrains under its hood, including:
502-cubic inch Ramjet Big Block V8

502 horsepower and 568 pound-feet of torque

427-cubic inch ZL1 Limited Edition V8

425 horsepower and 450 pound-feet of torque

376-cubic inch LSX376-B-15 V8 with Weiand 6-71 Supercharger

Unknown horsepower and torque ratings
The LSX would be the last internal combustion engine to grace Project X, as Cagnazzi Racing would replace it with an electric Ulitium Drive unit powered by an Ultium Battery.
During its many transformations, Project X was eventually equipped with a modified C6 Corvette front suspension a four-link rear suspension created by GM Performance team, which utilizes QA1 coil-over shock components and Art Morrison control arms. The rear frame rails were narrowed 5 inches to accommodate the oversized tires. Other enhancements include a disc brake system with Wilwood 14-inch rotors and a custom front stabilizer bar was created for the car by Addco.
"Project X has always served the car community by pushing the envelope with groundbreaking technologies," said Douglas Glad, group content director, MotorTrend Group. "As the auto industry shifts rapidly toward electric vehicles, this Project X build is just the latest in its celebrated legacy of adapting hot rodding to the powerful technology of tomorrow."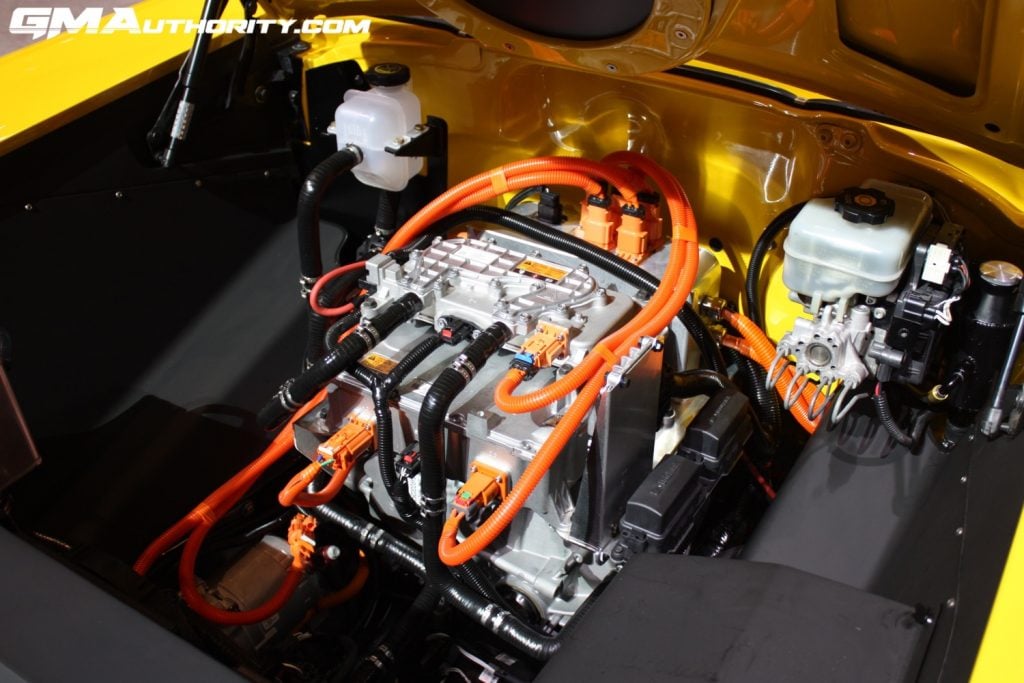 Project X Concept EV
In its current form, the Chevy Project X Concept is an EV with an estimated 340 horsepower and 330 lb-ft of torque. For reference, that's a bit less than the LSX376's 473 horsepower and 444 pound-feet of torque, which it makes without the assistance of forced induction (i.e. a turbocharger or supercharger).
The battery, which is being evaluated for potential use as a next-generation Chevrolet Performance product, has been developed around a modular concept that could allow customers to scale the pack capacity based on range, cost, packaging and weight considerations. In Project X, the 400-volt proof-of-concept lithium-ion battery stores 30 kilowatt-hours of electricity, providing enough range for weekend cruising.
As GM Authority reported previously, the electric motor that powers the Project X is actually the same electric motor that will feature in the 2023 Cadillac Lyriq. This motor, which is from GM's Ultium Drive family of next-gen EV motors, produces 340 horsepower and 330 pound-feet of torque. For reference, the 2023 Cadillac Lyriq Debut Edition that will go on sale early next year is also rated at 340 horsepower, but has slightly less torque at 325 pound-feet.
A quick-change differential allows the final-drive ratio to be adjusted based on how the car is being used. Fitting the differential with a shorter final-drive ratio provides quicker acceleration while using a taller gear relaxes performance and extends the range. Notably, the transmission is equipped with straight-cut gears, which give it a lively, race car-like sound.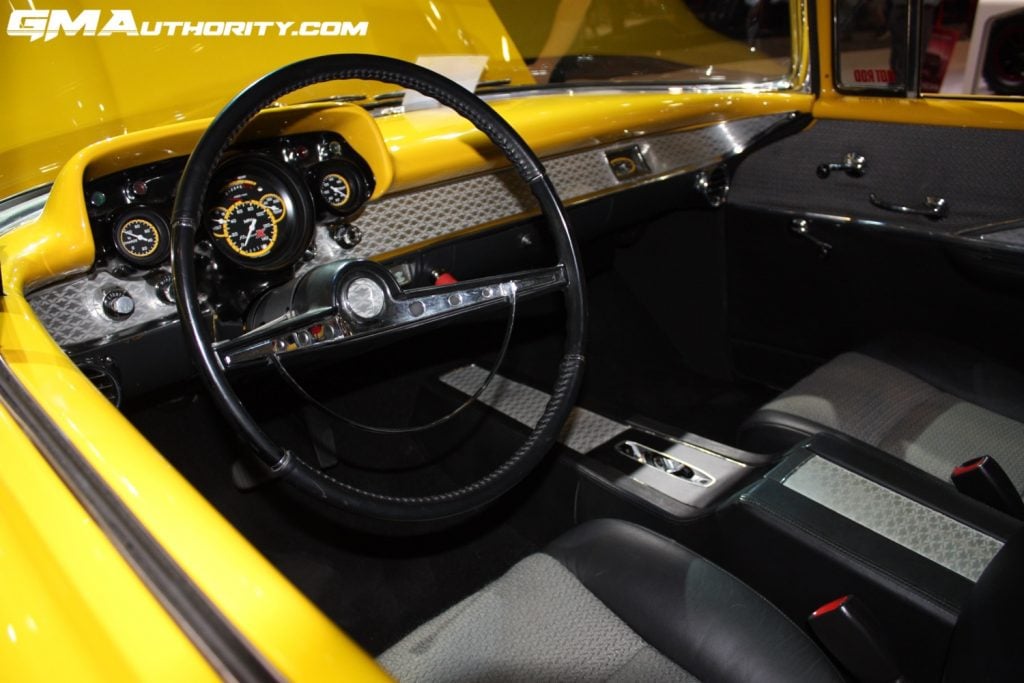 "The reinvention of Project X is a reminder that our vision for a world with zero emissions includes classics like the Tri-Five Chevys," said Prashant Ahire, eCrate regional chief engineer. "As General Motors rolls out its trailblazing EV technology, Chevrolet Performance plans to offer EV propulsion solutions for enthusiasts looking to modernize their project cars."
The Chevy Project X EV, which was built as part of a collaboration with auto media company Motor Trend, is a continuation of the eCrate idea, offering a more powerful electric motor and a next-generation battery pack that can be easily scaled up or down based on the application.
Notably, GM debuted its first-ever eCrate powertrain at last year's online-only SEMA360 show. The Chevy eCrate powertrain consists of a 60 kWh battery and the electric motor from a Chevy Bolt EV and is factory rated at 200 horsepower and 266 pound-feet of torque. The automaker installed the eCrate powertrain in a 1977 Chevy Blazer K5 for last year's SEMA Show, which it dubbed the Blazer-E.
Discussion
Discuss the Chevy Project X Concept in our Chevrolet forum.
Chevrolet Project X Concept Photos
Concept News
1

Featuring a unique body kit.

1

Featuring racing-specific equipment.