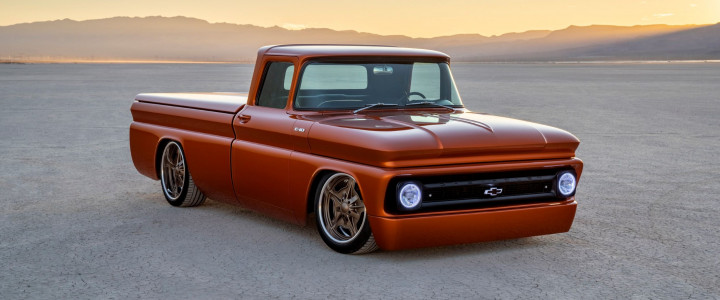 Chevrolet E-10 Concept
The Chevrolet E-10 Concept is a concept truck based on a 1962 Chevy C-10 pickup and features a concept version of the Electric Connect and Cruise eCrate powertrain. Impressively, the powertrain is comprised of two 'eCrate' motors, two 400-volt batteries which provide and output of 450 horsepower, giving the truck a 0 to 60 mph time of around 5 seconds.
"General Motors has the in-house talent required to create a concept like the E-10," said Jim Campbell, vice president of Performance and Motorsports. "With the innovative thinking and expertise our performance team, electrification team and many others at GM bring, this project went from concept to running vehicle in 18 weeks to demonstrate what the future of an eCrate propulsion system and hot rodding could look like."
The truck made its debut at the 2019 SEMA Show, and went on to be featured in the 2020 SEMA360 online exhibition, which was held in place of the in-person SEMA Show after it was canceled due to the COVID-19 pandemic.
Chevrolet E-10 Concept Quick Facts

| | |
| --- | --- |
| Introduction Year | 2019 |
| Based On | Chevy C-10 |
| Layout | Front-Engined, Longitudinal |
| Powertrain | |
| Transmission | |
| Drive Wheels | Rear-Wheel Drive |
| Last Seen | SEMA 2020 |
| Production Intent | None |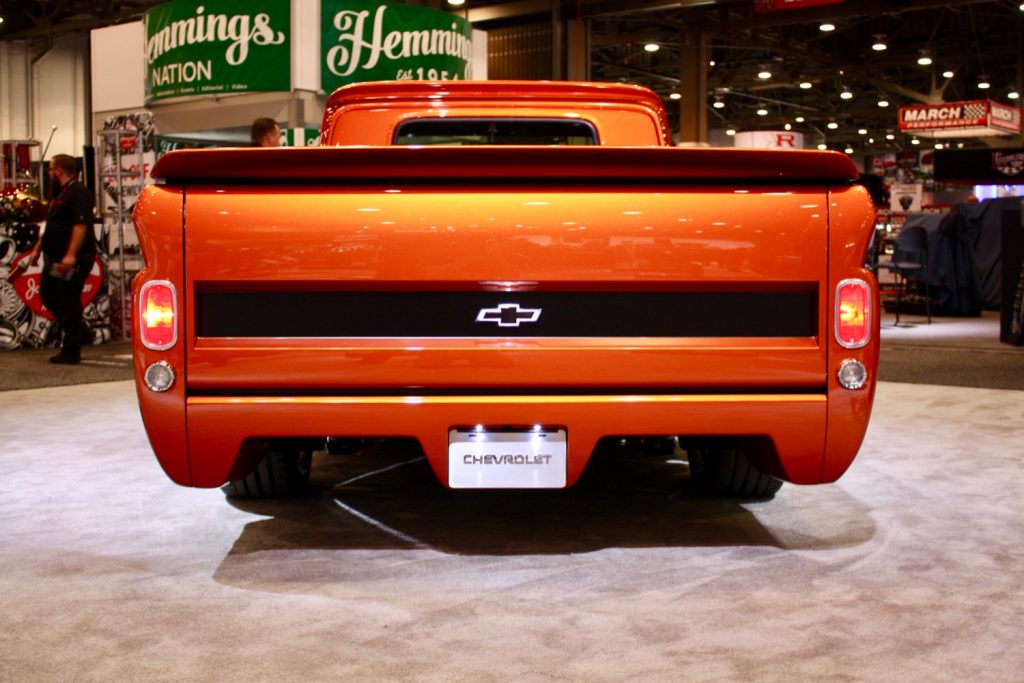 Mechanical Overview
As mentioned, the Chevrolet E-10 Concept utilizes a pair of independent eCrate motors that are powered by two production Bolt EV 400-volt battery packs and paired with a conventional SuperMatic 4L75-E 4-speed automatic transmission which sends power to the rear wheels. The motor stack is a unique assembly that houses a pair of high-efficiency motors. They're built into a modular housing that enables up to three motor assemblies to be stacked and linked together for greater power delivery, while the Bolt EV's modular battery packs enable range for long-distance driving.
The battery pack offers a total of 120 kWh – 60 per unit – and is mounted in the bed of the truck. To reiterate, the entire system is comprised of existing production EV components from the Chevrolet Bolt EV. Additionally, the independent setup of the two battery packs allows for simultaneous charging, more range and more power. In fact, the system more than doubles the available power in a production Bolt EV.
"We designed this system to deliver both power and range," said O'Blenes. "The exciting part is that we're just getting started. Just as we have done over the years with our performance crate engines, we will continue to refine and improve electric propulsion Connect & Cruise concept systems. Our goal is to provide greater power with greater range, suiting the different needs and priorities of all types of enthusiasts. In this case, we will use higher current and voltage-capable inverters, batteries and related components rather than carburetors and cylinder heads."
Its 5-second 0-60 time enables it to run the quarter-mile in about 13 seconds. To match its hot rod-level capabilities, the E-10 is fitted with a sound emulator complete with three speakers to simulate an induction sound in the front and two banks of a V8 engine in the back of the vehicle. The driver can select one of five modes on the emulator, including: LS7 Camaro Z28 track tuning, LS7 Camaro Z28 touring tuning, a V8 engine, a futuristic sound or silent – and the sounds will automatically adjust to the changing of the gears, mimicking an internal combustion engine.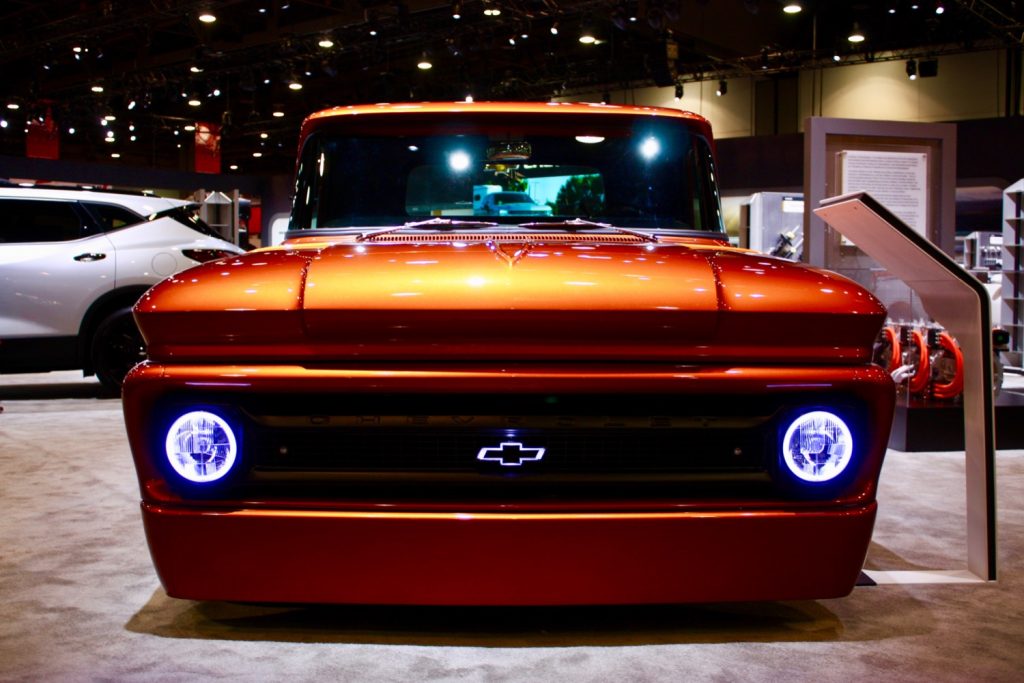 Design Highlights
Along with its zero-emissions performance, the E-10 Concept makes a design statement by blending vintage style with modern technologies. The truck's classic silhouette, with its pronounced hood and forward-leaning A-pillars, remains instantly recognizable, while contemporary enhancements include an illuminated Bowtie emblem in the grille, LED headlamps and taillamps, and a lowered stance accented with aftermarket wheels measuring in at 20-inches in diameter and 9-inches wide in the front and 22-inches by 10-inches in the rear.
The rear end is rather unique given the absence of mufflers, and features a sporty looking diffuser. The matte black tailgate trim cleanly accents the bold orange finish—a color that reminds us of the Daytona Sunrise Orange Metallic hue offered on the C7 Corvette.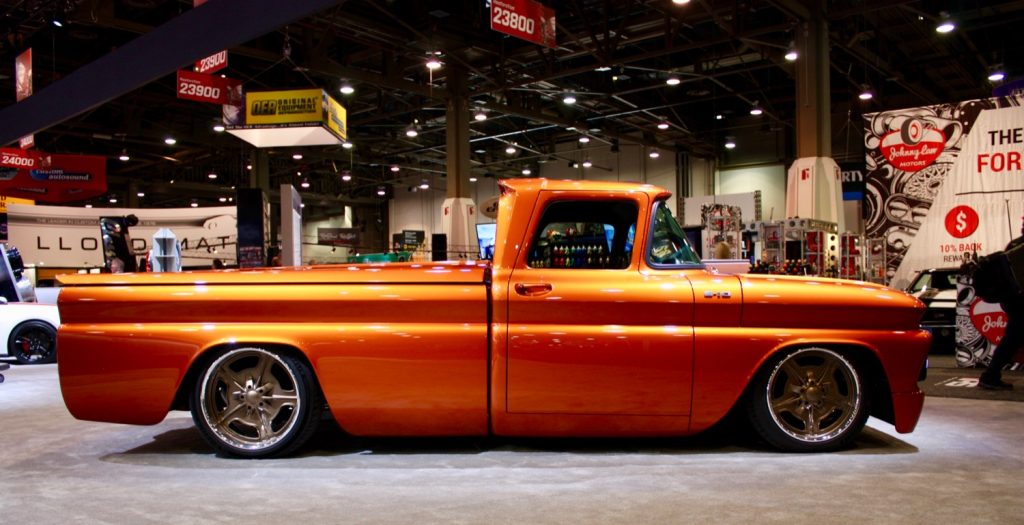 Inside, the original instrument panel is updated with digital displays for the electric propulsion system, and also features an illuminated bow tie in front of the passenger's seat.
The rest of the cabin is restored and features a period-correct three-spoke steering wheel and column shifter, black leather-trimmed seats with accented stitching, and chrome window cranks.
Discussion
Discuss the Chevy E-10 Concept in our Chevrolet forum.
Chevrolet E-10 Concept Photos
Concept News
1

Featuring a unique body kit.

1

Featuring racing-specific equipment.