2017 Chevrolet FNR-X Concept
2017 Chevrolet FNR-X Concept
The FNR-X is concept vehicle from GM's Chevrolet division.
Described as "an all-purpose sports concept", "the Chevrolet-FNR is one of Chevrolet's most forward-thinking concept cars, truly exemplifying the brand's passion for innovation and ingenuity," said Alan Batey, GM executive vice president and president of GM North America and Global Chevrolet. "The FNR-X builds on the design and technology showcased on the original FNR concept and embodies the belief at Chevrolet's core that anything is possible."
Roughly a year after its reveal, we have understood that the FNR-X concept served as a design preview for two Chevrolet vehicles – the all-new 2019 Blazer as well as the Chevrolet Menlo EV.
Exterior
Inspired by and exemplifying "the century-old brand's combination of performance and versatility to meet multipurpose mobility demands", the FNR-X's exterior retains retains Chevrolet's signature powerful, attractive design language via clear, masculine lines.
The concept features dynamic digital LED headlights and taillights, which fuse the brand's characteristic dual-element light design with the mortise and tenon joint used in traditional Chinese woodwork, delivering a high-tech, artistic feeling underpinned by the spirit of craftsmanship.
While the front doors are hinged at the front, the rear doors hinge at the rear. The latter can to be controlled remotely to ensure easy entry and exit.
The concept features intelligent adaptive control systems, active grille shutters and switchable wheel blades that adjust automatically during high-speed driving, reducing wind drag. The outstanding aerodynamic performance is further enhanced by front and rear spoilers and side skirts that move up and down in accordance with different driving modes.
Interior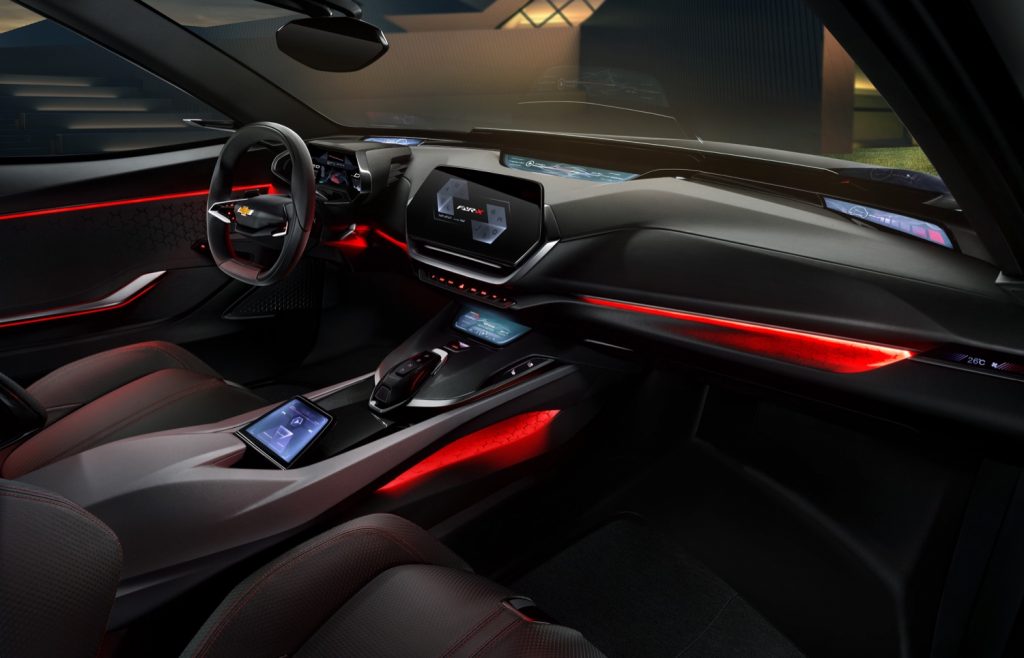 The FNR-X concept has a creative interior design that matches its exterior. The cabin's intelligent ambient lighting changes colors to match driving modes, making the cabin more user-friendly. Hexagonal textures with high-tech fabrics were inspired by graphene crystal structures – signifying the beginning of a new era for new energy.
The steering wheel and dashboard have a sporty integrated design, while seats ride on multipurpose rails and have fixed components to individualize storage space. Split-folding second-row seats maximize cargo capacity.
Technologies
The FNR-X features intelligent and connected mobility for individual users, incorporating an Organic Light Emitting Diode (OLED) dynamic display system, a unique intelligent speech interaction system and an ID-customizable information system.
With the all-terrain Advanced Driver Assist System (ADAS) as well as optical and acoustic recognition sensors all over its body, the FNR-X provides highly-autonomous driver assistance by selecting the best route based on its predictions for complex road conditions.
The concept also features a panoramic intelligent augmented reality head-up display offers a clear 270-degree posterior-lateral view to maximize safety and driving pleasure.
Powertrain
The Chevy FNR-X concept features a plug-in hybrid electric powertrain that can switch between the engine and electric motor, while offering two driving modes:
V, for Versatility and
S, for Sport
The FNR-X is also equipped with an adaptive suspension that adjusts ground clearance on demand and modifies the vehicle's handling profile.