2017 Chevrolet Camaro AutoX Concept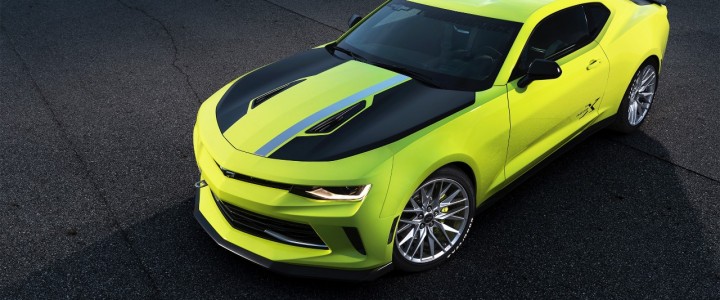 2017 Chevrolet Camaro AutoX Concept
The Camaro AutoX (Autocross) is an Autocross-inspired concept car introduced by Chevrolet at the 2016 Specialty Equipment Manufacturers Equipment Association (SEMA).
The concept is powered by the turbocharged 2.0L I-4 LTG engine, which serves as the base motor in the sixth-gen Camaro, and adds a performance suspension, brake system, air intake and exhaust system, thereby melding the Camaro's excellent power-to-weight ratio with more agile handling that's ideal for autocross enthusiasts.
"This concept pushes Camaro in a new direction, integrating new performance parts that make the most of the turbocharged Camaro's lightweight dynamics," said Jim Campbell, GM U.S. vice president of Performance Vehicles and Motorsports.
Aiming to improve roll stiffness and quicker turn-in performance, the concept features:
Chevrolet Performance suspension lowering kit that includes stiffer springs and specifically tuned dampers and lowers the ride height up to 0.75 inch (20mm)
A concept "plus performance" handling kit that includes larger stabilizer bars and stiffer suspension links
A concept strut tower brace that provides additional chassis stiffness
Chevrolet Accessories 20-inch aluminum wheels wrapped in Goodyear 285/35R20 performance tires
Chevrolet Performance front brake kit featuring six piston calipers and 370mm, two-piece slotted rotors
Concept cold-air intake system and a calibration upgrade to the ECU for optimized performance across the RPM range, with the turbocharger generating up to 20 pounds of boost
Six-speed manual transmission with a concept short-throw shifter for quicker gear shifts
Chevrolet Performance exhaust system with a polished 4-inch outlet delivers a throatier exhaust note and reduces back-pressure by roughly 14 percent
An Active Noise Cancellation calibration update is included for vehicles with the Bose stereo system
"It's a great engine for an autocross course because the strong torque production means you can hold a lower gear and just run through the cones without constant shifting," said Mark Dickens, director of Performance Variants and Parts. "And with the concept handling package providing amazing handling, this car is simply a blast to drive ― and a real surprise for some of the tuner drivers."
"Appearance is very important to the owners of vehicles like this, and the Camaro Turbo AutoX concept was designed to be both race- and show-worthy," said Adam Barry, Chevrolet designer. "The new Shock Yellow color on the concept reaches out to the new generation of enthusiasts and explores how the Gen 6 Camaro looks in brighter, bolder hues."
The Shock Yellow color is complemented with Pearl Nickel hood stripes and satin Carbon Flash Metallic accents on the hood vents, rockers and rear diffuser. The vented hood comes from the Camaro SS, while the rear diffuser and rockers were borrowed from a Chevrolet Accessories ground effects kit. The front splitter is also from the SS model, but is modified for the concept.
The Camaro AutoX concept also features:
Front tow hook
GoPro camera mount
Export side marker lamps
All-new, accessory rear spoiler, which is making its debut on the concept
Inside, the concept features a black, leather-trimmed interior that mixes style with track-ready functionality. There's also a suede-wrapped flat-bottom steering wheel and shift knob and boot, and a carbon-fiber instrument panel insert. A bolt-in harness bar mounts a five-point safety harness.
The Camaro Turbo AutoX concept was unveiled on October 31st, 2016 at the SEMA Show, where it shares the floor with approximately 20 additional Chevy cars and trucks.