2018 Chevrolet Camaro ZL1 1LE
2018 Chevrolet Camaro ZL1 1LE
The 2018 Camaro ZL1 introduces the 1LE extreme track package for even further improvements to track performance, becoming the most track-capable Camaro ever and establishing a new performance benchmark in the automotive industry.
2018 Chevrolet Camaro ZL1 1LE Quick Facts

| | |
| --- | --- |
| Assembly location | Lansing Grand River Plant, Michigan, USA |
| Layout | Front-Engined, Longitudinal |
| Engines | SC 6.2L LT4 V8" |
| Horsepower | 650 |
| Torque | 650 |
| Transmissions | Tremac 6-Speed Manual |
| Drive wheels | Rear-Wheel-Drive |
| Availability | U.S.A., Canada, Middle East, Russia |
| Predecessor | Fifth-Gen Camaro ZL1 (2012-2015) |
| Successor | – |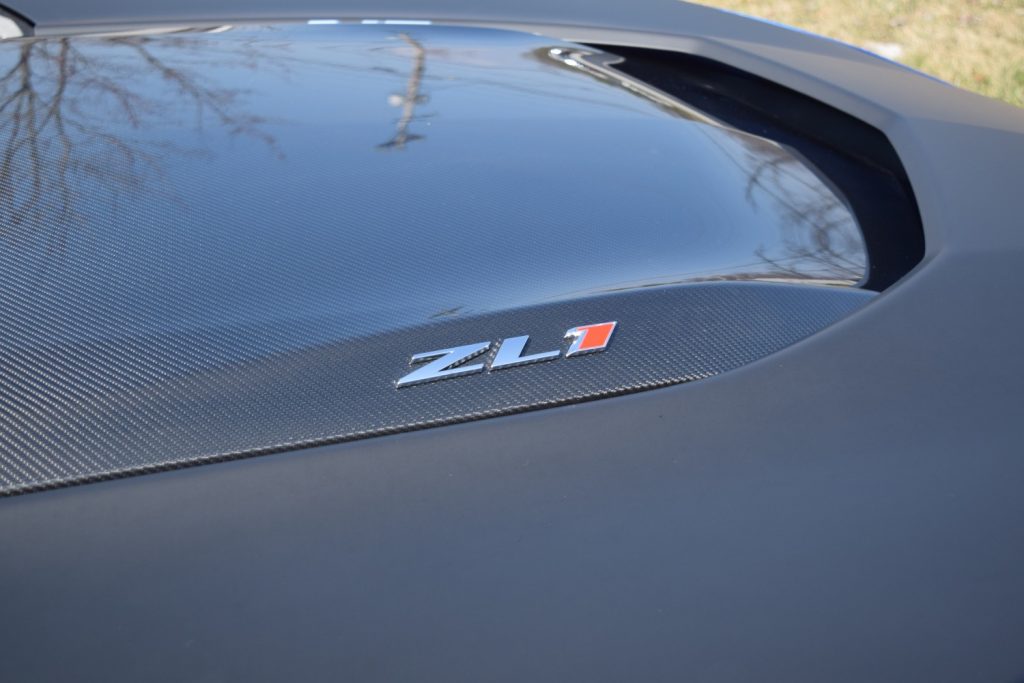 Overview
"The track-focused 1LE package offers progressive levels of performance across the Camaro lineup, from the V6 1LE to the SS 1LE," said Al Oppenheiser, Camaro chief engineer. "But with the new ZL1 1LE, the progression takes a quantum leap — this is the ultimate track-day Camaro."
Taking Chevrolet's track-focused 1LE formula to unprecedented levels by incorporating racing-based suspension and aerodynamics technologies and combining it with exclusive ultra high-performance summer-only tires from Goodyear, the Camaro 1LE ZL1 delivers an extreme track performance package. In essence, the improved track performance of the Camaro ZL1 1LE over the ZL1 is driven by four key elements: aerodynamics, adjustable suspension, wheels and tires, plus a lighter weight.
"The new Camaro ZL1 1LE offers the supreme track experience," said Mark Dickens, executive director, Chevrolet Performance Variants, Parts and Motorsports Engineering. "It's the pinnacle of Camaro performance and advances the 1LE's nearly 30-year legacy of uncompromising, track-tailored capability."
Notably, the Camaro Zl1 1LE is only available in the two-door hard-top coupe body style.
Unveiling
The 2018 Camaro ZL1 1LE was unveiled in Daytona, Florida on February 25, 2017, just one day ahead of the 59th running of the Daytona 500 at the Daytona International Speedway. The vehicle was announced by Camaro Chief Engineer Al Oppenheiser in conjunction with retired Nascar driver and Cadillac DPi-V driver Jeff Gordon.
Prior to its unveiling, it was widely yet incorrectly believed that the 2018 Camaro ZL1 1LE will be called 2018 Camaro Z/28.
Package-Specific Features
Aerodynamics
The Camaro ZL1 1LE is equipped with new aerodynamic features including a carbon fiber rear wing along with specific air deflectors and dive planes on the front fascia that produce grip-generating downforce to help the car stick harder and drive faster in turns.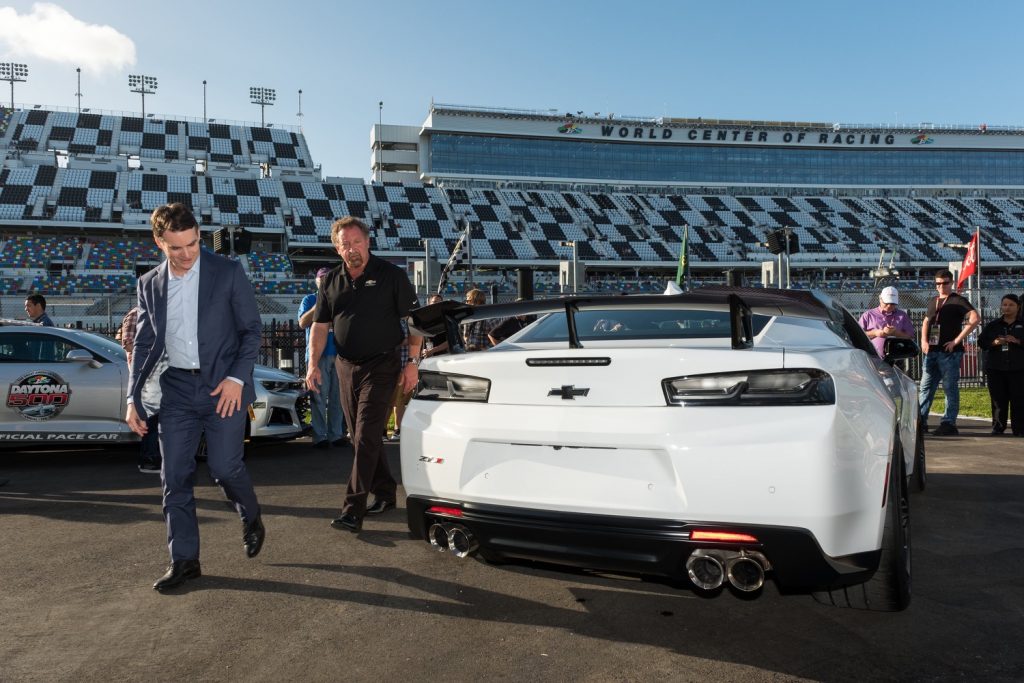 Adjustable DSSV Suspension
The Camaro ZL1 1LE is fitted with racing-derived, lightweight Multimatic DSSV (Dynamic Suspension Spool Valve) dampers front and rear for exceptional wheel and vehicle control.
The front-end ride height is adjustable with the front dampers, which are used with all-new, adjustable camber plates while the rear stabilizer bar also offers three-way adjustability. All of the components are designed for quick changes at the track for optimal performance and a quick return to street settings when the track day ends.
Unique Wheels And Tires
The Camaro ZL1 1LE features new, lightweight forged aluminum wheels that are an inch wider but an inch smaller in diameter, front and rear, than standard ZL1 wheels. They are wrapped with new Goodyear Eagle F1 Supercar 3R tires that deliver max lateral grip of 1.10g.
Developed exclusively for the Camaro ZL1 1LE, the 3R tires are designed to warm up faster to help maintain more consistent grip and speed, lap after lap. The overall footprint grows approximately 10 percent over the ZL1, but the wheel-and-tire package weighs about 1.5 pounds (3.3 kg) less per corner.
Weight Reduction
The lighter wheels and dampers, along with reduced thickness rear glass and a fixed-back rear seat, contribute to an approximately 60-pound (27 kg) lower curb weight than a standard ZL1 Coupe.
Other Performance Features
Like all iterations of the sixth-generation Camaro, the 2018 Camaro ZL1 1LE rides on GM's Alpha platform. Under the hood, the 2018 Camaro ZL1 1LE features the same supercharged 6.2L V-8 LT4 engine and six-speed manual transmission as the "regular" Camaro ZL1, however, the 1LE's 6-speed manual transmission features a shorter sixth-gear ratio of 0.675 versus the non-1LE's 0.536; all other gear ratios remain the same.
| Engine | Fuel | Transmission | Horsepower (HP) / Kilowatts (kW) @ RPM | Torque (lb-ft) / Newton-Meters (N-m) @ RPM | Axle Ratio |
| --- | --- | --- | --- | --- | --- |
| 6.2L LT4 V8 | Gasoline | Tremac 6-Speed Manual | 650 / 485 @ 6400 | 650 / 881 @ 3600 | 3.73 |
In preliminary testing, the new Camaro ZL1 1LE was 3 seconds faster than the standard ZL1 Coupe around General Motors' 2.9-mile, 18-turn Milford Road Course test track.
It's worth noting that a 10-speed automatic transmission option became available for the 2019 model year.
For stopping power, six-piston Brembo brakes in the front and four piston brakes at the rear. To clarify, this is the same braking system used on the ZL1 and SS 1LE models.
Standard Features
The above performance features are all standard on the ZL1 1LE model. Other notable standard features on the 2018 Camaro ZL1 1LE  include:
Dual-zone automatic climate control
Bose premium audio system
Heated/ventilated front seats
Heated steering wheel
Brembo brakes with red calipers featuring the 1LE logo
Availability
The 2018 Camaro ZL1 1LE went on sale in late 2017, and remains exclusive to the North American market.
Pricing
The 2018 Camaro ZL1 1LE had a base MSRP of $69,995, which includes the $995 destination freight charge.
Gallery
Discussion
Discuss the 2018 Chevrolet Camaro ZL1 1LE in our Chevrolet forum.
ZL1 1LE News
26

Power boost and sharper handling incoming?

6

We're liking these upgrades.