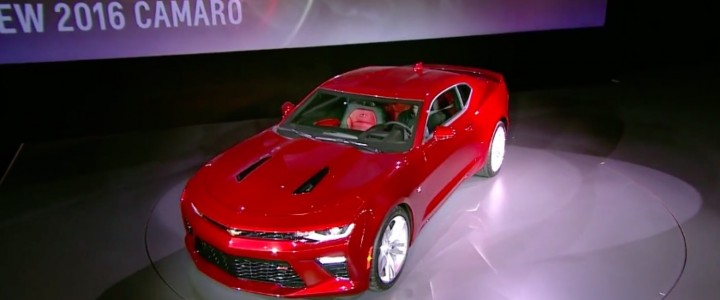 2016 Chevrolet Camaro
Chevrolet completely overhauls (redesigns and re-engineers) the Camaro sports car for the 2016 model year, delivering an all-new vehicle with improvements in performance, technology and refinement that have never before been seen on a Camaro.
"We expect it will set the new benchmark in the segment – and give a new generation of enthusiasts a reason to fall in love with Camaro", said Al Oppenheiser, Camaro chief engineer.
The 2016 Camaro is an all-new vehicle representing the sixth generation of the Camaro nameplate.
While the fifth-generation Camaro is a very capable vehicle, the sixth-generation, 2016 Camaro addresses the issues that have widely been recognized as the weak points of the fifth-generation model, which revolve around a hefty curb weight and somewhat lackluster interior quality, both of which detract from the overall driving experience.
What
A smaller, lighter, more nimble, and more technologically-advanced Camaro that is modern inside and out.
Why
A notable shift in consumer preference in the mainstream sports car vehicle segment is provoking segment contenders to make the cars more approachable by downsizing, increasing fuel economy, and improving the driving experience.
When
The 2016 Camaro was unveiled in May 2015. It will go on sale in late 2015 as a 2016 model year vehicle.
Focus Areas
To make the 2016 Camaro not only the best Camaro ever, but one of the best performance cars available, the team responsible for its development focused on three core pillars:
1. Performance
Vehicle mass has been reduced by 200 pounds or more, depending on the model, creating a more nimble, responsive driving experience
Most efficient Camaro ever, with a new 2.0L I4 LTG turbo SAE-certified at 275 horsepower (205 kW) and 295 pound-feet (400 Nm) of torque that delivers more than a GM-estimated 30 mpg on the highway, and 0-60 mph acceleration well under 6 seconds
Efficient performance in a new 3.6L V6 LGX featuring direct injection, continuously variable valve timing and, for the first time, Active Fuel Management (cylinder deactivation) on a six cylinder. The motor makes an SAE-certified 335 horsepower (250 kW) and 284 pound-feet of torque (385 Nm) for the highest specific output of any naturally aspirated V6 in the segment
The most powerful Camaro SS ever, with a new 6.2L LT1 direct-injected Small Block V8 rated at 455 horsepower (339 kW) and 455 pound-feet of torque (617 Nm)
Magnetic Ride Control active suspension available on Camaro SS for the first time
With improved handling and performance, the Camaro SS delivers better lap times than the fifth-generation's track-focused Camaro 1LE package
2. Technology
All-new Drive Mode Selector, which tailors up to eight vehicle attributes for four modes:

Snow/Ice
Tour
Sport
Track (SS models only)

Segment-exclusive, Interior Spectrum Lighting that offers 24 different ambient lighting effects on the dash, door panels, and center console
High-definition, configurable color displays, including available dual, 8-inch-diagonal screens
3. Design
More athletic-looking, sculptured exterior that complements the tighter, leaner architecture and offers all-new, modern lighting signatures, including light-emitting diode (LED) technology
Greater emphasis on customer personalization with wider range of choices, including 10 exterior colors, five interior color combinations, lighting options and a full complement of dealer-available accessories available at launch, including wheels, stripe packages and additional accessories
Aerodynamically-optimized design that is the result of 350 hours of wind tunnel testing, reducing drag on LT models and improving downforce on SS
All-new interior with shifter-focused center console, intuitive controls, flat-bottom steering wheel, and higher quality materials throughout
Unique control rings around the air vents used for temperature and fan speed adjustments, eliminating the need for conventional buttons
"Redesigning the Camaro is thrilling and challenging all at once, but the secret is to offer something more," said Mark Reuss, General Motors executive vice president of Product Development. "For Camaro enthusiasts, it retains iconic design cues and offers even more performance. For a new generation of buyers, the 2016 Camaro incorporates our most innovative engineering ideas with finely honed performance and leading design."
The exterior of the 2016 Camaro is more sculpted, more muscular, and slightly more compact than its predecessor. The new car has a significantly lower and wider appearance than before, even though it is within two inches of the exterior dimensions of the current Camaro.
2016 Chevy Camaro vs 2015 Chevy Camaro Dimensions Comparison

| Vehicle: | 2016 Camaro | 2015 Camaro |
| --- | --- | --- |
| Length (in /mm): | 188.3 / 4748 | 190.6 / 4841 |
| Width (in / mm): | 74.7 / 1897 | 75.5 / 1917 |
| Height (in / mm): | 53.1 / 1348 | 54.2 / 1376 |
| Wheelbase (in / mm): | 110.7 / 2811 | 112.3 / 2852 |
| Front track (in/mm): | 63 / 1601 (SS) | 63.6 / 1616 (SS) |
| Rear track (in/mm): | 62.9 / 1598 (SS) | 63.9 / 1622 (SS) |
"From every angle, you'll never mistake this for anything but a Camaro," said Tom Peters, design director. "We've taken that iconic design and amplified its proportions to reflect a more dynamic driving experience – like the T-shirt on a muscular physique."
The front of the Camaro is defined by a cross-car grille/headlamp aperture, a signature cue that dates to the first generation. The new, expressive execution gives the Camaro a stronger, more determined face. It also displays a new, nearly fastback profile that flows into the pronounced haunches of the rear fenders, enhancing the wider, more aggressive stance.
A more expressive take on the taillamps blends the horizontal aesthetic of the first generation with a dual-element theme and aggressive tapers for a contemporary appearance. SS models have a unique rear spoiler.
Standard lighting includes halogen projector beam headlamps and taillamps. RS and SS models add high-intensity discharge (HID) projector-beam headlamps and LED "signature lighting" daytime running lights – including a sweeping LED lightpipe integrated in the headlamp and an LED light pipe integrated into the front fascia. RS and SS models also feature LED lighting for the rear taillamps, including auxiliary LED light guides that mirror the shape of the front signature lighting.
All models share a more pronounced, sculpted roof panel that improves the structural rigidity of the roof for greater refinement. The roof is assembled using laser brazing, eliminating the need for "ditch channel" seams and cover trim, giving the car a sleeker appearance while saving half a kilogram compared to traditional spot welding.
There's also a new interpretation of the Camaro's iconic red, white and blue "banner" insignia, displayed on the front fenders.
Aerodynamics
In many cases, the exterior design not only communicates the performance capabilities of the new Camaro, but contributes to them. For example, the teams spent more than 350 hours testing the Camaro in the wind tunnel, meticulously tailoring the exterior to improve cooling and reduce aerodynamic lift and drag for better handling and enhanced efficiency.
Aerodynamic details include a subtle "air curtain" on the front fascia, which guides air around the wheels rather than into the wheelhouses, reducing drag. Also, the Camaro SS has a unique front fascia with integrated brake cooling ducts and a unique hood with functional air vents, which improve engine cooling and reduce front lift.
The 2016 Camaro features an all-new interior that is driver-focused and technology-rich.
The team responsible for the vehicle's cabin had a peculiar challenge: to create an interior that was completely new yet instantly recognizable. Take, for instance, the instrument panel. Its design is a departure from the fifth-generation model, but retains the Camaro's familiar dual-binnacle-style instrument cluster hood.
"Given the level of technology and performance, the interior had to be modern and driver focused." said Ryan Vaughan, interior design manager. "But although the interior is an all new design, it is still instinctively recognizable as a Camaro."
The instrument cluster features analog instruments to provide the driver with essential performance information, as well as an available eight-inch-diagonal high-definition center screen that can be configured to provide additional information including navigation, performance, and infotainment features.
Another eight-inch screen, integrated in the center of the instrument panel, serves as the interface for the enhanced, next-generation MyLink system.
The new center console and center stack are designed with high performance driving in mind. For example, the heating and cooling controls are integrated into rings surrounding the air ducts. Eliminating the associated buttons makes the cabin feel more spacious, and makes adjusting the temperature easy while allowing drivers to keep your eyes on the road.
An electronic parking brake replaces the previous mechanical parking brake handle, enabling the cup holders to be repositioned for improved range of motion when shifting in manual-transmission models.
An available, segment-first LED ambient lighting system, integrated in the dash, door panels and center console, offers 24 different colors, as well as fade and transition effects that spread across the interior. There's even a theatrical "car show" mode that cycles randomly through the entire color spectrum when the Camaro is parked.
The ambient lighting is one of eight attributes the driver can adjust using the Camaro's new Driver Mode Selector, which is accessed via a switch on the center console. The system enables the driver to tailor the look, sound and feel of 2016 Camaro to their preferences and driving conditions:
2016 Chevy Camaro Driver Mode Selector Settings

| Mode: | Snow/Ice | Tour | Sport | Track (SS only) |
| --- | --- | --- | --- | --- |
| Electronic throttle progression: | SNOW/ICE | NORMAL | NORMAL | TRACK |
| Automatic transmission shift map: | NORMAL | NORMAL | SPORT | TRACK |
| Automatic transmission Performance Algorithm Shift: | N/A | N/A | AVAIL. | AVAIL. |
| Engine sound management (if equipped with dual-mode exhaust): | STEALTH | TOUR | SPORT | TRACK |
| Electric power steering calibration: | TOUR | TOUR | SPORT | TRACK |
| StabiliTrak – Competitive Driving and Launch Control: | N/A | N/A | AVAIL. | AVAIL. |
| Magnetic Ride Control calibration (if equipped): | TOUR | TOUR | SPORT | TRACK |
| Ambient lighting (if equipped): | ICE BLUE | BLUE | RED | ORANGE |
Exterior Colors
The 2016 Camaro is available in ten exterior hues. Seven of these are standard colors and are therefore included in the price of the car, while the other three are extra-charge premium colors that add $395 to the vehicle's price.
Standard colors ($0):
Silver Ice Metallic
Summit White
Black
Nightfall Gray Metallic
Red Hot
Blue Velvet Metallic
Hyper Blue Metallic
Premium Colors ($395):
Bright Yellow
Garnet Red Tintcoat
Mosaic Black Metallic
Interior Colors
The 2016 Camaro is available with either a cloth or leather interior.
Cloth Interior Colors
Jet Black
Medium Ash Gray
Leather Interior Colors
Jet Black
Medium Ash Gray
Kalahari
Adrenaline Red (part of a $3,300 package)
Ceramic White (parto f a $3,300 package)
The 2016 Chevrolet Camaro is available as a two-door hard-top coupe or two-door soft-top convertible.
2016 Chevrolet Camaro Coupe
The 2016 Camaro Coupe brings the traditional coupe body style and benefits from a stiffer, lighter structure that helps reduce total vehicle weight by at least 200 pounds compared to the model it replaces.
The coupe features two frameless doors and seating for four in a 2+2 configuration. A moonroof is available on the 2016 Camaro coupe.
2016 Chevrolet Camaro Convertible
The 2016 Chevrolet Camaro offers the segment's most advanced top and is also the only convertible in the segment to offer:
Fully automatic operation with latches that automatically release and secure the top Capability of opening or closing at speeds up to 30 mph Remote opening with the key fob A hard tonneau cover that deploys automatically, providing a more refined, finished appearance when the top is lowered and stowed The electro-hydraulic power roof system features multilayer construction – including acoustic and thermal barriers – designed for a comfortable, quiet driving experience in all seasons. The top emulates the sleek silhouette of the Camaro coupe.
"The 2016 Camaro coupe will set the benchmark for the segment in terms of technology, performance and design," said Todd Christensen, Camaro marketing manager. "Adding the most sophisticated top in the segment brings another level of refinement – and driving enjoyment – to the Camaro convertible."
Like the Camaro coupe, the convertible benefits from a stiffer, lighter structure that helps reduce total vehicle weight by at least 200 pounds compared to the model it replaces. Consequently, the Camaro convertible retains the coupe's sharp chassis tuning and nimble reflexes.
"From the beginning, the Camaro's architecture was developed to incorporate a convertible with uncompromised driving dynamics," said Al Oppenheiser, Camaro chief engineer. "Customers will appreciate what they don't feel: quivers, cowl shake or an under-damped chassis typically found in a four-seat convertible."
The architecture also enables the Camaro convertible's sleek design, allowing the top to fold down completely beneath the belt line. The hard tonneau cover automatically covers the folded top, creating a finished appearance.
"With many convertibles, you have to affix a tonneau cover manually – if it's done at all," said Tom Peters, design director. "The Camaro convertible's automatically deploying hard tonneau not only makes it easier to enjoy convertible driving when the inspiration hits, it ensures the car always looks its best."
The 2016 Camaro uses a variant of GM's new rear-wheel-drive vehicle architecture known as Alpha. Also used on the first-generation Cadillac ATS and third-generation Cadillac CTS, the lightweight and capable Alpha platform enables the 2016 Camaro to shed 200 pounds (90 kg) or more in weight — depending on model and trim level — while remaining extremely capable and fun to drive.
Approximately 70 percent of the architecture's components are unique to Camaro. Through extensive computer-aided engineering, structural rigidity was increased by 28 percent, while the body-in-white mass was reduced by 133 pounds (60.5 kg).
In their quest to make the 2016 Camaro as lean as possible, engineers and designers evaluated every aspect of its architecture and supporting elements. At the time of its release, Alpha is the most mass-efficient architecture ever created by GM, and engineers were able to save grams and pounds across the board, thereby delivering a lower curb weight and a significantly-improved driving experience.
"The driving experience is significantly different," said Aaron Link, lead development engineer. "Immediately, you will notice how much lighter and more nimble the Camaro feels. That feeling increases when you drive the Camaro harder – it brakes more powerfully, dives into corners quicker, and accelerates faster than ever.
The all-new 2016 Camaro is offered with six different powertrain combinations, each designed to deliver improved performance and efficiency.
Engines
The 2016 Camaro offers the following three engines at launch:
All three engines feature direct injection and Variable Valve Timing, among other fuel-saving features such as Cylinder Deactivation/Active Fuel Management (AFM) on the 3.6L V6 LGX and 6.2L V8 LT1.
After the initial model year, the engines will likely be joined by at least one other, more powerful motor that will power even higher-performance variants such as the Camaro ZL1 or Camaro Z/28 variants. To speculate, we expect to see the super-charged 6.2-liter V8 LT4.
Transmissions
Each 2016 Camaro engine is available with a six-speed manual or eight-speed automatic transmission.
The 2.0L turbo and 3.6L V6 engines are offered with a six-speed manual transmission or the all-new Hydra-Matic 8L45 paddle-shift eight-speed automatic transmission. The 8L45 is based on the Hydra-Matic 8L90 eight-speed, but scaled for the performance envelope of the smaller engines and offering an estimated 5 percent efficiency improvement over a comparable six-speed automatic.
The LT1 engine is available with a standard six-speed manual transmission, with new Active Rev Match technology that "blips" the throttle for perfectly timed downshifts, or the Hydra-Matic 8L90 paddle-shift eight-speed automatic.
Engine Sound
Each engine has been carefully tuned for a distinctive performance sound.
All 2.0L turbo models feature active noise cancellation, which uses sound waves to cancel unwanted cabin noise. Models equipped with the available Bose audio system also feature engine sound enhancement, which amplifies the native sounds of the 2.0L turbo engine – and can be disabled based on the driver's preference.
Both the 3.6L V6 and 6.2L V8 feature mechanical sound enhancers – resonators that direct induction noise from the engine bay into the cabin. Both engines are available with a dual-mode exhaust, which features electronically-controlled valves that bypass the mufflers under acceleration, delivering improved performance and greater sound levels. With the dual-mode exhaust, drivers can personalize the exhaust sound, from a "stealth" mode to the most aggressive "track" mode.
2016 Chevy Camaro fuel economy is as follows:
Model
City fuel economy (MPG)
Highway fuel economy (MPG)
2016 Camaro I4 Turbo (Manual):Not Yet Released
2016 Camaro I4 Turbo (Manual):Not Yet Released
2016 Camaro V6 (Manual):
18
27
2016 Camaro V6 (Automatic):
Not Yet Released
2016 Camaro SS/V8 (Manual):
15
25
2016 Camaro SS/V8 (Automatic):
17
28
The 2016 Camaro competes in the mainstream sports car segment against the:
Hyundai Genesis Coupe
Dodge/SRT Barracuda (expected future product)
Riding on the all-new Alpha platform, the 2016 Camaro features a new, multi-link MacPherson strut front suspension with Camaro-specific geometry. The double-pivot design provides a more precise feeling of control, including more linear and communicative feel from the quick-ratio electric power steering system. At the rear, a new five-link independent suspension yields outstanding wheel control and reduces "squat" during acceleration.
In addition, the Magnetic Ride Control system is available on the Camaro SS for the first time. Previously limited to the Camaro ZL1, the active suspension reads road and driving conditions 1,000 times per second and automatically adjusts the damper settings to optimize ride comfort and control.
Standard on the Camaro SS, all 2016 Camaro models offer Brembo brakes that are optimized for the car's mass and performance capability. On Camaro LT, the available brakes include 12.6-inch (320 mm) front rotors with four-piston calipers and 12.4-inch (315 mm) rear rotors with single-piston sliding calipers. Camaro SS employs 13.6-inch (345 mm) front rotors with four-piston fixed calipers and 13.3-inch (338 mm) rear rotors with four-piston fixed calipers.
Goodyear tires are used on all models:
The LT features standard 18-inch wheels wrapped with Goodyear Eagle Sport all-season tires and available 20-inch wheels matched with Eagle F1 Asymmetric all-season run-flat tires.
Camaro SS features standard 20-inch aluminum wheels with Eagle F1 Asymmetric 3 run-flat tires.
The 2016 Camaro is roughly 200 pounds (90 kg) lighter (depending on model) than the outgoing Camaro, creating a more nimble and responsive driving experience.
Significant weight savings came from using an aluminum instrument panel frame instead of steel, which saved 9.2 pounds (4.2 kg).
In addition, the use of lightweight components, including aluminum front suspension links and steel rear suspension links with lightening holes, in the new five-link rear suspension system contributed to a 26-pound (12 kg) reduction in the overall suspension weight.
The lighter and stiffer 2016 Camaro is faster on the track than the outgoing fifth-generation model.
Only two parts carry over from the fifth-generation Camaro to the new sixth-generation:
The rear bowtie emblem
The SS badge
In addition, the sixth-gen Camaro has slightly smaller dimensions than the fifth-generation model.
2016 Chevy Camaro vs 2015 Chevy Camaro Dimensions Comparison

| Vehicle: | 2016 Camaro | 2015 Camaro |
| --- | --- | --- |
| Length (in /mm): | 188.3 / 4784 | 190.6 / 4841 |
| Width (in / mm): | 74.7 / 1897 | 75.5 / 1917 |
| Height (in / mm): | 53.1 / 1348 | 54.2 / 1376 |
| Wheelbase (in / mm): | 110.7 / 2811 | 112.3 / 2852 |
| Front track (in/mm): | 63 / 1601 (SS) | 63.6 / 1616 (SS) |
| Rear track (in/mm): | 62.9 / 1598 (SS) | 63.9 / 1622 (SS) |
The base model of the 2016 Camaro — the 1LT coupe — has a starting price of $26,695 while the 2LT Coupe starts at $30,795. That's for the 2.0L Turbo I4 LTG model. The 3.6L V6 LGX is a $1,495 option on both the 1LT and 2LT. The 1SS and 2SS trim levels with the 6.2 start at $37,295 and $42,295, respectively.
| 2016 Camaro Coupe Trim Level | Starting Price (MSRP in U.S.) |
| --- | --- |
| 1LT | $26,695 |
| 2LT | $30,795 |
| 1SS | $37,295 |
| 2SS | $42,295 |
2016 vs. 2015 Camaro Pricing vs. 2015 Camaro
Compared to the 2015 Camaro, the 2016 Camaro is less and more expensive, depending on the trim level.
Trim Level
2016 Chevrolet Camaro
2015 Chevrolet Camaro
+ / – 2016
Camaro Coupe
1LS
Model Not Available
$24,700
Not Applicable
2LS
Model Not Available
$26,140
Not Applicable
1LT
$26,695
$27,000
-$305
2LT
$30,795
$30,200
+$595
1SS
$37,295
$34,500
+$2795
2SS
$42,295
$38,300
+$3995
ZL1
Model Not Available
$56,500
Not Applicable
Z/28
Model Not Available
$73,300
Not Applicable
Camaro Convertible
1LT
Price Not Available
$32,200
Not Applicable
2LT
Price Not Available
$36,100
Not Applicable
1SS
Price Not Available
$40,500
Not Applicable
2SS
Price Not Available
$43,400
Not Applicable
ZL1
Model Not Available
$61,700
Not Applicable
About The Figures
Pricing figures represent starting Manufacturer Suggested Retail Prices (MSPR) for each trim level without additional options
MSRP obtained from Chevrolet for the United States market
MSRP does not include $875 destination charge per vehicle
Manufacturer incentives or rebates not included in MSRP
Pricing for the 2016 Camaro Convertible is expected to be announced in the first quarter of 2016.
Prior to developing the 2016 Camaro, the Camaro team met with many fifth-generation Camaro owners to discuss areas of improvement for the sixth-generation Camaro.
"We have had the incredible opportunity to meet literally thousands of Gen 5 Camaro owners who provided direct feedback on what they loved about their car and what they wanted for the next-gen Camaro," said Al Oppenheiser, Camaro chief engineer. "As a result, the 2016 Camaro builds on what made the current Camaro such a success with more power, more agile handling and more technology.
The 2016 Camaro was unveiled on May 16th, 2015 in Belle Isle, Detroit at a special event for Camaro enthusiasts and the media.
To note, the 2016 Camaro is one of five all-new or updated Chevrolet models due to debut during calendar year 2015. In early 2015, Chevy showed the following teaser image of the five vehicles in question. Located on the right, the silhouette of the 2016 Camaro is clearly visible, yet not very detailed.
The 2016 Camaro Coupe goes on sale in the October-November timeframe of 2015 in LT and SS trim levels and the 2016 Chevrolet Camaro Convertible goes on sale in early 2016.
Though not confirmed, we expect the 2016 Camaro to be a globally-available vehicle sold throughout the world in markets that haven't traditionally offered the vehicle.
In addition, higher-performance variants — such as the expected Camaro ZL1 and Camaro Z/28 — are likely to arrive later on in the model's lifecycle.
The 2016 Chevy Camaro team was comprised of 11 designers and engineers.
Engineering
Al Oppenheiser, Camaro chief engineer
Jim Karlavage, Camaro program engineering manager
Ben Williams, Camaro vehicle performance engineer
Bill Wise, Camaro performance engineer
Michael Tung, Camaro performance engineer
Aaron Link, Camaro lead development engineer
Design
Tom Peters, Camaro exterior design director
Kirk Bennion, Camaro exterior design manager
Tristan Murphy, Camaro interior designer
Ryan Vaughan, Camaro interior design manager
Hwasup Lee, Camaro exterior designer
With the lighter, stiffer architecture and more powerful engines, the sixth-gen Camaro SS "delivers better lap times than the fifth-generation's track-focused Camaro 1LE package", says Chevrolet.
We will update this page with official performance figures as they become available.
Following are preliminary specifications for the 2016 Camaro.
Overview
2016 Chevrolet Camaro Overview

| | |
| --- | --- |
| Body style / driveline: | four-passenger, front-engine, rear-drive coupe |
| Construction: | unitized body frame, one- and two-sided galvanized steel |
| EPA vehicle class: | coupe |
| Manufacturing location: | Lansing, Michigan, USA |
2016 Camaro Engines
2016 Chevrolet Camaro Preliminary Engine Specs
Engine:
2.0L Turbocharged I4 LTG
3.6L V6 LGX
6.2L V8 LT1
Displacement (cu in / cc):
122 / 1998
222 / 3640
376 / 6162
Bore & stroke (in / mm):
3.39 x 3.39 / 86 x 86
3.74 x 3.37 / 95 x 85.6
4.06 x 3.62 / 103.25 x 92
Block material:
cast aluminum w/ cast-in-place iron bore liners
cast aluminum w/ cast-in-place iron bore liners
cast aluminum w/ cast-in-place iron bore liners
Cylinder head material:
cast aluminum
Valvetrain:
DOHC, four valves per cylinder, continuously variable valve timing
DOHC, four valves per cylinder, continuously variable valve timing with Active Fuel Management
OHV, two valves per cylinder, Active Fuel Management
Fuel delivery:
direct high-pressure fuel injection
Compression ratio:
9.5:1
11.5:1
11.5:1
Horsepower (hp / kW @ rpm):
275 / 205 @ 5600*
335 / 250 @ 6800*
455 / 339 @ 6000*
Torque (lb-ft / Nm @ rpm):
295 / 400 @ 3000-4500*
284 / 385 @ 5300*
455 / 617 @ 4400*
*SAE Certified
2016 Camaro Transmissions
2016 Chevrolet Camaro Preliminary Transmission Specs
Transmission:
Tremec TR3160
6-speed manual 
(2.0T and 3.6L)
Tremec TR6060
 6-speed manual with Active Rev Match (6.2L)
Hydra-Matic 8L45 8-speed automatic (2.0L and 3.6L)
Hydra-Matic 8L90 8-speed automatic (6.2L)
Gear ratios (:1):
First:
4.40
2.66
4.62
4.56
Second:
2.59
1.78
3.04
2.97
Third:
1.80
1.30
2.07
2.08
Fourth:
1.34
1.00
1.66
1.69
Fifth:
1.00
0.74
1.26
1.27
Sixth:
0.75
0.50
1.00
1.00
Seventh:
–
–
0.85
0.85
Eighth:
–
–
0.66
0.65
Reverse:
3.99
2.90
3.93
3.82
Final drive ratio:
3.27
3.73
3.27 (2.0L) / 2.77 (3.6L)
2.77
2016 Camaro Chassis, Suspension, Brakes
2016 Chevrolet Camaro Preliminary Chassis, Suspension & Brake Specs

| | |
| --- | --- |
| Front: | MacPherson-type strut with dual lower ball joints, twin-tube struts and direct-acting stabilizer bar; Magnetic Ride Control with monotube inverted struts (available on SS) |
| Rear: | independent five-link with twin-tube shocks and direct-acting stabilizer bar; Magnetic Ride Control with monotube shocks (available on SS) |
| Steering type: | ZF rack-mounted electric, power-assisted and variable ratio |
| Brakes: | four-wheel disc with four-channel ABS/TCS and DRP |
2016 Camaro Exterior Dimensions
2016 Chevrolet Camaro Preliminary Exterior Dimension Specs
Wheelbase (in / mm):
110.7 / 2811
Overall length (in / mm):
188.3 / 4784
Overall width (in / mm):
74.7 / 1897
Overall height (in / mm):
53.1 / 1348
Front Track SS:
63 / 1601
Rear Track 2.0T & V6 (in / mm):
63.7 / 1617
Rear Track SS:
62.9 / 1598
2016 Camaro Interior Dimensions
2016 Chevrolet Camaro Preliminary Interior Dimensions Specs

| | |
| --- | --- |
| Headroom (in / mm): | 36.6 / 930 (front) |
| Legroom (in / mm): | 42.6 / 1083 (front) |