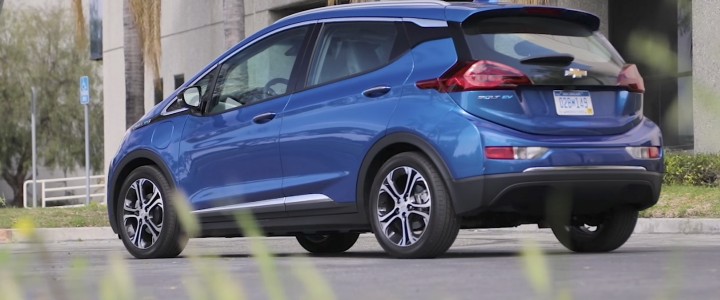 2019 Chevrolet Bolt EV
The Chevrolet Bolt EV receives a few changes and updates for the 2019 model year, representing the third model year of the first-generation Bolt EV.
Chevrolet Bolt EV Pictures
Changes, Updates, New Features
Following are the changes, updates and new features for the 2019 Chevrolet Bolt EV:
Exterior:
Deletion of two exterior colors:

Arctic Blue Metallic
Orange Burst Metallic

Addition of three new exterior colors:

Green Mist Metallic
Shock ($395 extra cost)
Slate Gray Metallic
Interior:
Improved seats for better comfort
Technology:
Addition of a new smartphone interface for vehicle entry, start and operation exclusively for fleet orders only; late availability
Addition of Tire Fill Alert
Newfound availability of Driver Confidence II Package on LT model. Previously, the package was only available on the Premier trim level. The package includes:
Mechanical
Improved suspension for better ride comfort (made mid-2018 model year)
See detailed 2019 Chevrolet Bolt EV changes, updates and new features here: 2019 Bolt EV change log.
The updates and changes described here are specific to the U.S. market and may be different for other markets.
Body Styles
The 2019 Chevy Bolt is offered as a subcompact five-door hatchback that Chevrolet characterizes as a crossover.
Platform
Like all first-generation units of the Chevrolet Bolt EV, the 2019 Bolt rides on a variant of the GM Gamma 2 platform called the GM BEV2 platform.
Powertrain & Range
The 2019 Bolt EV is powered a 60 kWh lithium ion battery pack mated to an electric drive motor. The system has not changed since the first or second model year of the first-generation Bolt EV.
2020 Cadillac XT6 Specs - Engine
| | |
| --- | --- |
| Displacement & Layout: | 3.6L V-6 DOHC |
| GM production code: | LGX |
| Bore & Stroke (in / mm): | 3.74 x 3.37 / 95 x 85.8 |
| Block Material: | Cast aluminum w/ cast-in-place iron bore liners |
| Cylinder Head Material: | Cast aluminum |
| Valvetrain: | Dual-overhead camshafts, four valves per cylinder, continuous variable valve timing |
| Fuel Delivery: | Direct, high-pressure fuel injection with electronic throttle control |
| Horsepower (hp / kW @ rpm): | 310 / 229 @ 6600 (est.) |
| Torque (lb.-ft. / Nm @ rpm): | 271 / 373 @ 5000 (est.) |
Range
On a full charge, the 2019 Bolt EV has an EPA-estimated electric driving range of:
238 miles combined
255 miles city
217 miles highway
Charging Times
The time to charge the 2019 Bolt EV can vary based on the type of charger and current:
120 Volt charger: 4 miles of range per hour (using standard cord)
240 Volt charger: 50 miles or range in less than 2 hours; full charge in 9.3 hours
SEO Combo DC Fast charger: up to 90 miles in 30 minutes
Production
The 2019 Chevy Bolt is assembled by GM USA at the GM Lake Orion plant in Michigan, USA. The battery and motor drive unit are made in Incheon, South Korea.
Availability
The 2019 Bolt launches in the third quarter of the 2018 calendar year.
Beyond 2019
The 2019 model year represents the third year of the first-generation Chevy Bolt EV. An all-new next Chevy Bolt EV is expected for the 2025 model year.
Discussion
Discuss the 2019 Chevrolet Bolt in our Chevrolet forum.
News
Follow our coverage of Chevy Bolt news.
Specifications
| | |
| --- | --- |
| Model: | Chevrolet Bolt EV |
| Platform: | GM BEV2 platform (a derivative of G2SC platform) |
| Body style / driveline: | front-wheel-drive, five-passenger, five-door all-electric CUV |
| Construction: | Steel and Aluminum |
| EPA vehicle class: | Small Wagon (EPA does not have a cross-over category) |
| Key competitors: | Nissan Leaf, BMW i3, Ford Focus Electric, Kia Soul EV, VW eGolf, Mercedes-Benz B-Class Electric |
| Manufacturing location: | GM Lake Orion Assembly in Orion Township – Michigan – USA |
| Battery manufacturing location: | Incheon, South Korea |
| Motor and drive unit manufacturing location: | Incheon, South Korea |
| | |
| --- | --- |
| Type: | rechargeable energy storage system comprising multiple linked modules |
| Volume/case: | 285L |
| Mass (lb / kg): | 960 / 435 |
| Battery chemistry: | lithium-ion |
| Thermal system: | liquid active thermal control |
| Cells: | 288 |
| Energy: | 60 kWh |
| Warranty: | 8 years / 100,000 miles |
| Electric driving range: | EPA-estimated 238 miles (255 city / 217 highway) |
| | |
| --- | --- |
| Type: | Single motor and gearset |
| Motor: | permanent magnetic drive motor |
| Power: | 200 hp/150 kW |
| Torque: (lb-ft / Nm): | 266 lb.ft./360 Nm |
| Final drive ratio (:1): | 7.05:1 |
| | |
| --- | --- |
| 120 V: | 4 miles / 6.4 km of range per hour (available with standard cord) |
| 240 V: | 50 miles of range in less than 2 hours, full charge in 9.3 hours |
| SAE Combo DC Fast Charge: | up to 90 miles in 30 minutes |
| | |
| --- | --- |
| Top speed (mph / kph): | 91 / 145 |
| 0-30 mph: | 2.9s (75% SoC) * |
| 0-60 mph: | Under 7 seconds |
Front:
Independent MacPherson strut-type front suspension with side load compensating and finely tuned springs, direct-acting solid stabilizer bar system and ride & handling oriented LCA bushings.
Rear:
Compound crank (torsion beam) type rear suspension with the closed section V-shaped profile axle; specifically tuned coil springs, performance balanced shock absorber,  angled A-bushing supporting understeer tendency on cornering maneuver and kinematically optimized torsion beam providing stable and best ride & handling performance.
Chassis control:
Four-channel ABS; Traction control system; StabiliTrak; Drag control
Steering type:
column-mounted electric power steering
Steering wheel turns, lock-to-lock:
2.91 revolutions
Steering ratio:
16.8 :1
Type:
power four-wheel disc with ABS; electro-hydraulic; partially regenerative; dynamic rear brake proportioning
Brake rotor diameter front  (mm / in):
276 / 11
Brake rotor diameter rear (mm / in):
264 / 10
Total swept area (front) (cu cm):
1398.9
Total swept area (rear) (cu cm):
1131.4
Wheel material:
cast aluminum
Tires:
Michelin Energy Saver A/S 215/50R17 all-season
| | |
| --- | --- |
| Wheelbase (in / mm): | 102.4 / 2600 |
| Overall length (in / mm): | 164.0 / 4166 |
| Overall width (in / mm): | 69.5 / 1765 |
| Track width front (in / mm): | 59 / 1501 |
| Track width rear (in / mm): | 59.1 / 1501 |
| Height (in / mm): | 62.8 / 1594 |
| Front overhang (in / mm): | 32.9 / 836 |
| Rear overhang (in / mm): | 28.7 / 730 |
| | |
| --- | --- |
| Seating capacity (front / rear): | 2 / 3 |
| Headroom (first row) (in. / mm): | 39.7 / 1009 |
| Headroom (second row) (in. / mm): | 37.9 / 962 |
| Shoulder room (first row) (in / mm): | 54.6 / 1387 |
| Shoulder room (second row) (in / mm): | 52.8 / 1340 |
| Hip room (first row) (in / mm): | 51.6 / 1310 |
| Hip room (second row) (in / mm): | 50.8 / 290 |
| Legroom (first row) (in / mm): | 41.6 / 1056 |
| Legroom (second row) (in / mm): | 36.5 / 927 |
| | |
| --- | --- |
| Curb weight (lb / kg); | 3580 / 1624 |
| EPA passenger volume (cu ft / L): | 94.4 / 2673 |
| Passenger volume (first row) (cu ft / L): | 52.2 / 1478 |
| Passenger volume (second row) (cu ft / L): | 42.2 / 1195 |
| Max cargo volume (cu ft / L): | 56.6 / 1603 |
| Cargo volume behind rear seat: | 16.9 / 478 |
| Heating cooling (qt / L): | Heating loop 1.8L |
| Battery pack cooling (qt / L): | 6.9L (RESS cooling loop total coolant volume) |
| Power electronics cooling (qt / L): | 3.9L (PE & DU cooling loop total coolant volume) |
| Drive unit fluid (qt / L): | 2.9L |
2019 Chevrolet Bolt EV Pages