Chevrolet Bolt EUV
The Bolt EUV is an upcoming battery electric vehicle (BEV) from General Motors' Chevrolet brand.
Naming
In April 2019, GM filed a trademark for the term "Bolt EUV", giving us our first hint at what this future Chevrolet EV will be called. We believe that EUV is an acronym for "Electric Utility Vehicle." The model will be closely related mechanically to the Bolt EV, and its introduction would create a sort of "family" of Chevrolet Bolt electric vehicles.
Spy Shots
In May 2019, 2019, we caught our very first spy shots of a prototype that we believe is the Chevrolet Bolt EUV.
Teasers
On August 26th, 2020, Chevrolet released the following teaser image of the Bolt EUV. In the same announcement, it stated that the vehicle will go into production in the summer of 2021.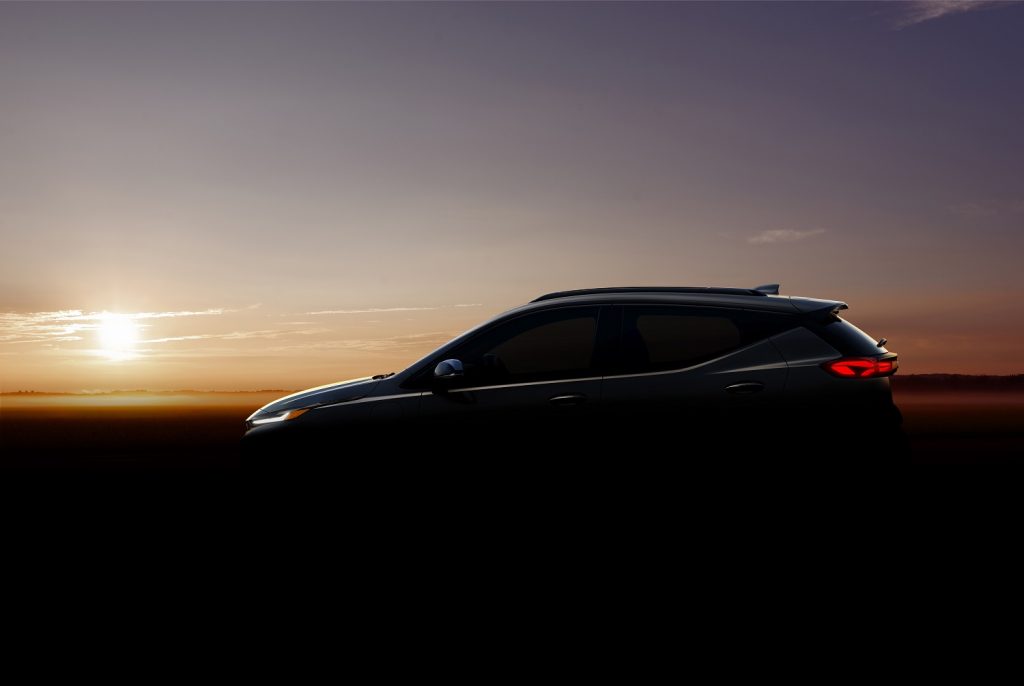 Body Style
The Chevrolet Bolt EUV is expected to be available as a compact five-door, crossover/hatchback. In that regard, it is expected to be a size class larger than the Bolt EV with more room for passengers and for cargo. Overall length is expected to increased about 8 inches from the Bolt EV.
The crossover body style means that it will have some ruggedized body characteristics, such as a slightly raised suspension and plastic cladding around the wheel wells and doors, plus roof rails.
Propulsion
The Chevrolet Bolt EUV is expected to feature the same battery electric powertrain as the Chevrolet Bolt EV. This means a 66 kWh lithium-ion battery pack and a front-mounted permanent magnet electric motor rated at 200 horsepower and 266 pound-feet of torque. Driving range is believed to be 259 miles.
Platform
The Bolt EUV will ride on the second generation of GM's Battery Electric Vehicle architecture, otherwise known as the BEVII platform.
The architecture is shared with the first-generation Chevrolet Bolt EV, with the Bolt EUV being the second vehicle based on the platform.
Production
On March 22nd, 2019, General Motors announced a $300 million investment into its Orion Assembly Plant in Lake Orion, Michigan to produce a future Chevrolet EV.
As such, the first-generation Chevrolet EUV is expected to be manufactured at following GM plants:
Pricing
Pricing for the Chevrolet Bolt EUV is currently unknown, but is expected to start in the mid-$30,000 range.
Availability
The Chevrolet Bolt EUV is expected to launch in the 2020 calendar year as a 2021 model year vehicle.
It is expected to be available in the following markets:
North America
South Korea
Middle East
Select South American markets
Currently, it's unclear whether or not the Bolt EUV will be available in China.
2021 Chevrolet Bolt EUV Photos
More Chevrolet Bolt EUV Resources
Follow these links for more Chevrolet Bolt EUV information: