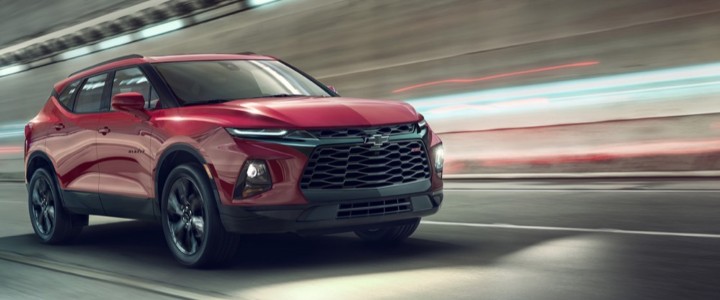 2019 Chevrolet Blazer
Chevrolet re-introduced the Blazer name for the 2019 model year as an all-new midsize crossover utility vehicle (CUV) with attention-grabbing design, seamlessly integrated customer-focused technologies and superb functionality.
"Chevrolet has been at the forefront of each of the major automotive industry trends by anticipating consumer demand and delivering innovative products like Bolt EV, Colorado and Trax," said Alan Batey, president of GM North America and head of Global Chevrolet. "The introduction of the all-new Blazer builds on that momentum and further strengthens the most comprehensive lineup of crossovers and SUVs on the market today."
Exterior
Chevy says that the 2019 Blazer is "the boldest, most progressive expression of the Chevrolet crossover design theme".
The crossover features a wide stance, tight proportions, a high beltline and dramatic sculpting, resulting in a toned, athletic appearance from all angles.
"The Blazer has attitude," said John Cafaro, executive director, Global Chevrolet Design. "It looks commanding on the road, while fulfilling the promise of versatility at the heart of every Chevy crossover and SUV."
Each 2019 Blazer model offers a unique look with distinct styling to suit different customers' tastes. The various Blazer models are differentiated by unique grille appearances, additional bright chrome on the Premier trim and a more sinister-looking, blacked-out appearance for the Blazer RS.
All models feature a powerful front end with a strong grille, athletic hood lines and low-placed HID headlamps. The design also features a distinctive lighting execution that separates the headlamps and LED daytime running lamps.
The 2019 Blazer's long, lean and sculpted body sides lead to a rear end that's highlighted by LED-illuminated Chevy-signature dual-element taillamps, dual exhaust outlets and an integrated tailgate spoiler. The new Blazer also offers a range of stylish wheels, starting with standard 18-inch aluminum units and expanding to available 21-inch wheels on the RS and Premier.
Interior
The cabin of the all-new 2019 Blazer echoes the exterior's bold and sporty theme with sporty good looks and functionality. The interior emphasizes space, craftsmanship and customer personalization. A wide range of interior styling choices for different models is achieved through several color and trim offerings. Sporty details include a padded knee area, round air vents and grab handles on the doors.
The new Blazer also offers a Chevrolet's-first Cargo Management System, which is standard on RS and Premier models. It features a rail system and cargo fence to help secure smaller items by dividing the cargo area.
Two rows of seating are standard. It's unclear whether the 2019 Blazer will offer a third row.
Technology & Connectivity
Intuitive controls and a host of convenience features help make the drive more comfortable while offering occupants seamless connectivity.
Features include:
Hitch Guidance: available on models with the 3.6L engine, Hitch Guidance aids in aligning the Blazer's hitch to a trailer by showing the center line on the rear-vision camera.
Hitch View: this optional feature complements Hitch Guidance by showing a top-down view, making it easier to hitch a trailer without a second person to assist.
Electronic-locking glove box: a first for a Chevy vehicle, it offers added storage security, and is roomy enough to fit a small handbag. The glove box is locked with the vehicle's Valet Mode, which is accessible through the Settings menu.
Automatic heated steering wheel and automatic heated/ventilated front seats: these available features work with Remote Start and/or automatic climate control to automatically adjust temperature to help maintain comfort.
Comfort-open windows: activated by the key fob, this feature allows all windows to roll down to help heat escape before occupants enter the vehicle.
Heated outboard rear seats: available on RS and standard on Premier models, this feature keeps rear-seat occupants warm.
Adaptive Cruise Control and Rear Camera Mirror: available on RS and Premier.
Hands-free power liftgate with Bowtie logo projection: standard on RS and Premier.
Wireless charging and six USB ports: available.
8-inch-diagonal color touchscreen running Chevrolet Infotainment 3 is standard, along with 4G LTE Wi-Fi with 1-month or 3GB data trial (whichever comes first), along with Apple CarPlay and Android Auto compatibility.
Safety
Without providing specifics, Chevy says that the 2019 Blazer offers a suite of available GM active safety features.
Powertrain
The 2019 Blazer offers two engines, both of which are mated to the new GM 9-speed automatic transmission. The standard engine is the 2.5L I-4 LCV rated at 193 horsepower (143 kW) and 188 pound-feet (255 Nm) of torque. The 3.6L V6 LGX is available. It offers 305 horsepower (227 kW) and 269 pound-feet (365 Nm) of torque.
Both direct-injected engines feature intelligent stop/start technology that seamlessly shuts off the engine when power is not needed, based on a variety of driving factors.
"The Chevrolet Blazer is more than just good looks," said Waqar Hashim, Blazer chief engineer. "Both the Ecotec 2.5L four-cylinder engine and 3.6L V-6 engine are paired to Chevrolet's nine-speed automatic transmission, providing drivers a great balance between performance and efficiency."
Traction Select is standard on all models. It allows the driver to make real-time adjustments to the vehicle's driving mode to account for varying road conditions. On all-wheel-drive models, Traction Select also allows the system to be completely disconnected from the rear axle, meaning drivers can opt to have their vehicle operate in FWD when AWD traction is not necessary.
RS and Premier models offer a more sophisticated twin-clutch AWD technology that helps optimize traction for every condition. It provides excellent performance in wet, snowy and icy conditions, while also providing enhanced stability in dry weather.
Platform
The 2019 Blazer is based on the regular-wheelbase GM C1 platform that's shared directly with the second-generation GMC Acadia and first-generation Cadillac XT5. The longer wheelbase version of the C1 platform underpins the second-gen Chevy Traverse and Buick Enclave. The longer variant of C1 is also expected to underpin the upcoming Cadillac XT6.
Models, Trim Levels & Pricing
We expect the 2019 Blazer to be available in the following trim levels:
L (1Lo)
LT:
RS (1RS)
Premier (0HD)
2019 Blazer price has yet to be announced, but we expect it to start in the vicinity of $27,000.
Availability
The 2019 Blazer will arrive at U.S. dealerships in early 2019. Additional details and pricing will be announced closer to the start of production.
Availability for markets outside the United States has not yet been announced.
Position In Lineup
The 2019 Blazer is a midsize crossover utility vehicle that slots between the compact Equinox and full-size Traverse in Chevrolet's crossover lineup.
Chevy Crossover Lineup

| Subcompact | Compact | Midsize | Full-Size |
| --- | --- | --- | --- |
| Trax/Tracker | Equinox | Blazer | Traverse |
According to Chevrolet, the all-new Blazer is "a contemporary midsize SUV " that "is rooted in attention-grabbing design with seamlessly integrated customer-focused technologies and superb functionality."
Reveal
The 2019 Blazer was revealed at an invite-only press event attended by GM Authority on June 21st, 2018 in Atlanta, Georgia, United States.
Manufacturing
Production of the 2019 Blazer will begin in late 2018 at GM Ramos Arizpe plant in the state of Coahuila, Mexico.
Initially, it was believed that the resurrected Blazer will be produced at one of the following two GM plants in the USA:
We believe that a GM China plant will produce the new Blazer for the Chinese market.
Key Competitors
We expect the 2019 Blazer to compete in the mainstream midsize crossover space with the following vehicles:
Ford Edge
Nissan Murano
Hyundai Santa-Fe Sport (renamed to Hyundai Santa-Fe for 2019 model year)
Kia Sorento
Honda Passport
Jeep Grand Cherokee
GM's own second-generation GMC Acadia
Toyota Venza (discontinued)
Design Influence
It is believed that the Chevrolet FNR-X concept (pictured below) was a harbinger of the exterior 2019 Blazer's exterior design.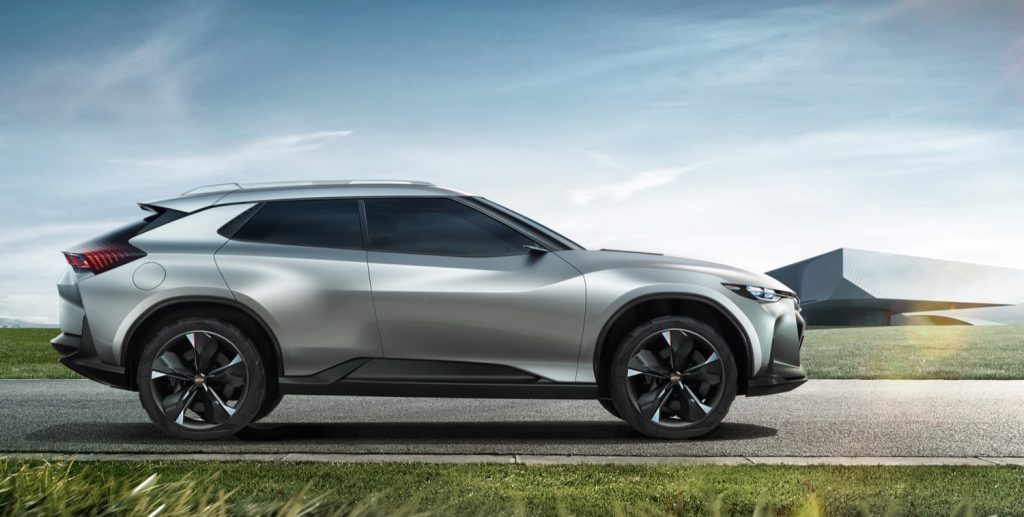 Pre-Release Expectations & Evidence
Prior to the official reveal of the 2019 Blazer, our expectations of the new Chevy Blazer were as follows:
All-new crossover (CUV) for sale in North America, South America, China, Africa, and other global markets
Mechanically similar, if not identical, to the 2017 GMC Acadia
Mid-size crossover dimensions similar to the 2017 GMC Acadia, including an overall vehicle length of about 194 inches
All-new exterior design in line with Chevrolet's latest design language
All-new interior with similar dimensions to the 2017 GMC Acadia, with two rows of seating for five passengers or an optional three rows of seating for seven passengers
Based on the short-wheelbase variant of GM's new C1 platform shared with the 2017 GMC Acadia and 2017 Cadillac XT5; the long-wheelbase version of this platform will underpin the 2018 Chevrolet Traverse and 2018 Buick Enclave
Transverse engine orientation, front-wheel drive with optional all-wheel drive
Light curb weight compared to other vehicles in its class thanks to the new C1XX architecture, contributing to great fuel economy and driving characteristics such as acceleration, braking, and handling
Powertrain:

All-new engine lineup consisting of either one of the following motors:
All engines will likely be mated to GM's 9T65 nine-speed automatic transmission; lower trim levels might feature the 6-speed automatic

Design is rumored to be inspired by the Chevrolet FNR-X concept with:

Either partial or complete LED lighting
All models will likely feature dual exhaust, with various types of treatment
Body line-mounted mirrors

The latest Chevrolet MyLink infotainment and GM active safety/driver assistance systems
Starting price of roughly $27,000
These expectations were based on the following information:
In November 2015, General Motors filed two trademark applications to register Blazer and Chevrolet Blazer with the United States Patent and Trademark Office (USPTO). The filings point to GM's interest in securing the name for use in a future product/vehicle.
In December 2016, a new Chevrolet crossover was photographed undergoing testing. The vehicle has a similar profile as the 2017 GMC Acadia with which it will be mechanically related, as is believed to be the new Blazer.
In April 2017, Autoline Daily reported that GM will relaunch the Blazer name on a midsize crossover
In August 2017, the new Blazer was caught undergoing testing in heavy camouflage
Renderings
Two years prior to the official announcement of the 2019 Blazer, GM Authority produced the following Blazer renderings.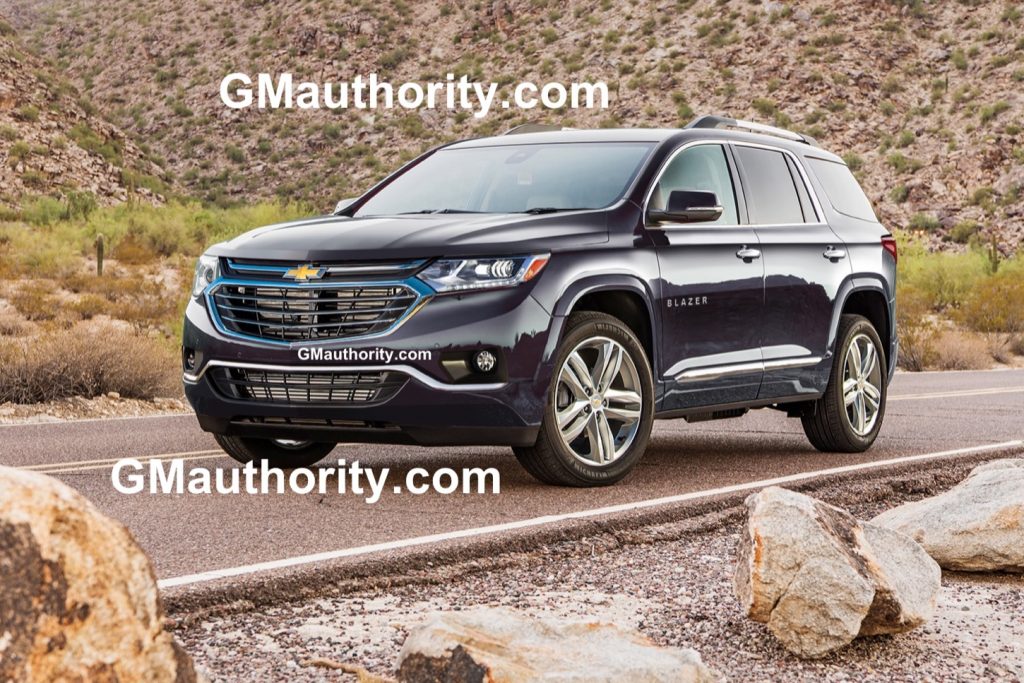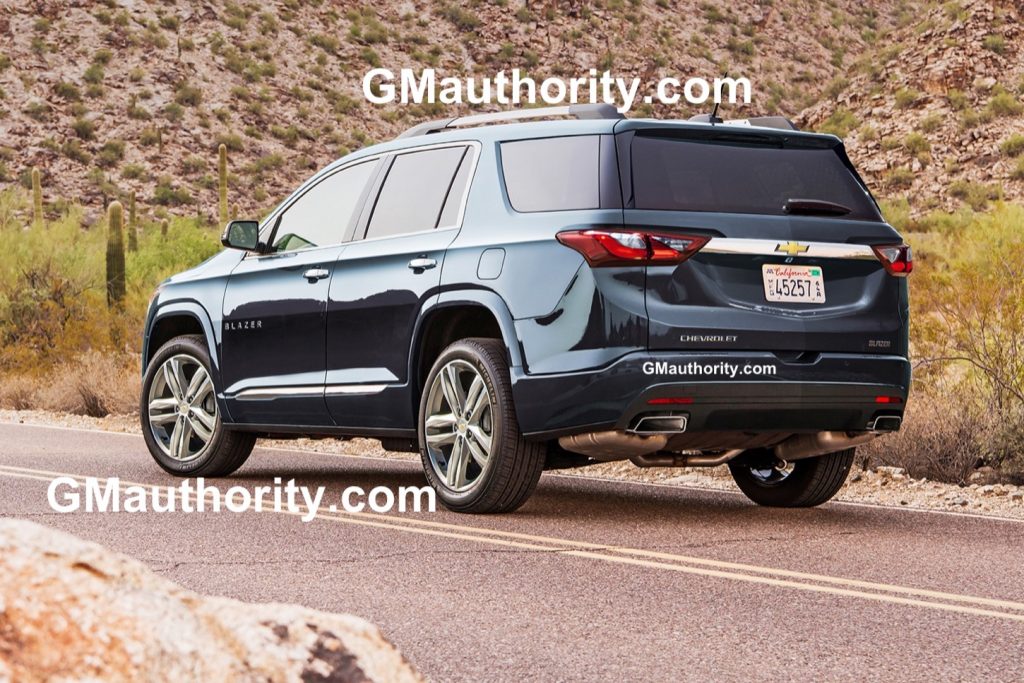 Naming
The reintroduction of the 2019 Blazer is the first time that the Blazer name will be used in over a decade, as GM discontinued the predecessor to this model in 2005.
Discussion
Discuss the 2019 Blazer in our Chevrolet forum.
News
Follow our coverage of Chevy Blazer news.
2019 Chevrolet Blazer Pages