Cadillac User Experience (CUE) Version 3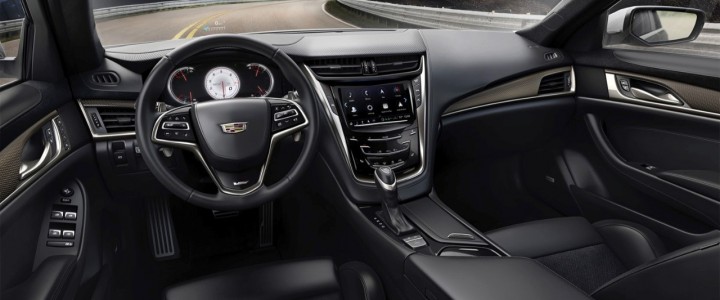 Cadillac User Experience (CUE) Version 3
The third version of Cadillac User Experience (née CUE) was announced on February 21st, 2017. The update represents the next-generation of the Cadillac User Experience system, offering a more personalized and more intuitive interface, along with several new features.
Versions & RPO Codes
Initially, Cadillac did not provide a version number for this update, saying that the system will be updated on a regular basis and therefore a version number is not relevant. However, GM Authority was later told by Cadillac that the version is referred to as Cadillac User Experience 3.
Versions of the system with this update can be identified by RPO codes IOS and IOT. The IOS system does not include embedded navigation, while the IOT system includes navigation.
Vehicle Availability
Cadillac User Experience version 3 (IOS, IOT) launched in the 2017 interim model year (2017i) Cadillac CTS, which arrived at dealerships during the first quarter of 2017.
The system then debuted in the 2018 Cadillac XTS and 2018 Cadillac ATS.
Cadillac's other product lines are scheduled to adopt the system in subsequent model years.
Features
While previous updates to the Cadillac User Experience systems focused on improving overall system response and speed, while one of the primary focuses of the new version of CUE is making the system more intuitive to use.
"Cadillac pioneered connectivity by bringing OnStar to market, and more recently we became the first luxury brand to enable Apple CarPlay and Android Auto across our product line," says Richard Brekus, Cadillac director of product strategy. "We have worked to improve overall system response in recent years, and now this next-generation user experience system delivers more improvements, focused mainly on intuitive control."
Cadillac says that Cadillac User Experience version 3 applies smartphone and app practices in the vehicle, providing customers with easier access to the most common features. In addition, the new system leverages the vehicle's OnStar 4G LTE connection to enable personalization, connected navigation, as well as downloadable and updatable applications via the CUE Collection app store.
Redesigned User Experience
The entire user experience, including icons and screens, have been redesigned for version 3.0. The shortcut screen moves from the top of the screen to the bottom, as does the clock, 4G LTE signal status indicator, cell phone signal status indicator and temperature indicator.
Summary Screen
One of the ways in which CUE version 3 is more intuitive to use is the Summary View, which shows all key applications – climate, audio, phone and navigation – on one screen.
Personalized Profiles
CUE version 3 introduces a feature called My Driver Preferences — personalized, cloud-based profiles that allow users to customize the infotainment system to match individual preferences and take that same customized experience with them into any new Cadillac user experience equipped vehicle.
Features such as vehicle and display setting, contact favorites, navigation route preferences and recent destinations can be customized and follow a user's profile.
Each driver can create an individual account and personalize their preferences for the Cadillac user experience. Vehicle owners can manage their My Driver Preferences in the vehicle or via their myCadillac Owner Center on the Cadillac website.
Integrated Smartphone-like Navigation
Cadillac user experience version 3.0 features an available all-new navigation app with an intuitive interface and access to destination information via available cloud-based services. This includes updated points of interest, live traffic information, fuel prices and parking information.
Through simple input methods, such as enhanced voice recognition and an improved on-screen search function, users have access to more relevant search results. Over time, this opt-in subscription-based system can learn a user's preferred routes and destinations, offering predictive suggestions based upon traffic and frequent destinations.
New vehicles with the Cadillac user experience system currently come standard with an available, opt-in 12-month connected navigation trial.
Active Connection
The built-in OnStar 4G LTE signal enables an active connection to the vehicle that, with customer consent, will allow Cadillac to remotely update features such as navigation and the newly launched Collection app store, after vehicle purchase.
Bluetooth Support
The new system supports use of two compatible phones concurrently via Bluetooth.
Previously-Available Features
The available 4G LTE Wi-Fi hotspot allows passengers to connect up to seven compatible mobile devices, smartphones, and tablets to the vehicle's high-speed wireless Internet connection.
Users can access Apple CarPlay and Android Auto advanced smartphone integration through the Home screen.
Every new Cadillac currently comes standard with an available 12-month OnStar Guidance plan subscription at no additional cost. Among other benefits, this connectivity plan features OnStar Smart Driver, an opt-in service designed to help owners maximize their vehicle's overall performance, reduce wear and tear, monitor fuel efficiency and improve their driving – all factors that add to the overall ownership experience.
Owners can manage their vehicles remotely with the industry-leading myCadillac app via their compatible smartphones.