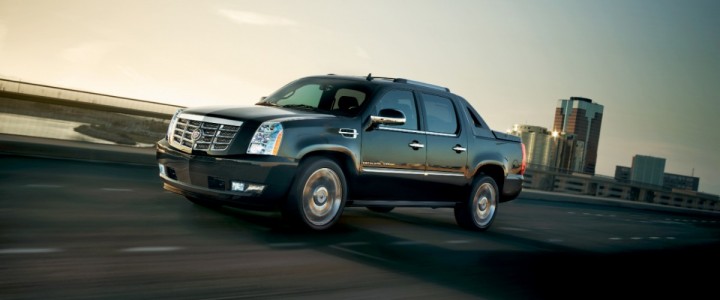 Cadillac Escalade EXT
The Escalade EXT is a pickup truck variant of the Cadillac Escalade full-size luxury SUV. The vehicle featured a unique "midgate" feature that enabled it to be part-pickup truck, and part-SUV. Cadillac officially referred to the model as a sport-utility truck (SUT).
The Escalade EXT was discontinued at the end of the second generation, with 2013 being the last model year of the vehicle.
Notable highlights of the 2013 Cadillac Escalade EXT included:
Standard, full-time four-wheel-drive (4WD)
Second-row bench seat
Dual-zone climate control
Industry-exclusive Midgate panel
The unique Midgate panel easily converted the Escalade EXT from a five-passenger SUV into a two-passenger pickup with eight feet of protected and secured storage. Located behind the rear seat, the Midgate could be folded into the cabin, enabling the cargo area to expand from five feet to eight feet, for a total of 101 cubic feet in secured volume. A lockable, standard tonneau cover protects items in the cargo bed, or can be removed entirely for added space. Folding the Midgate up increased cabin space.
Cadillac Escalade EXT Pages