2021 Cadillac Escalade
The 2021 Cadillac Escalade features a complete overhaul (re-engineering and redesign) of the flagship SUV, and represents the fifth generation of the Escalade nameplate. The all-new models features pioneering technologies that add new dimension to the iconic luxury SUV.
Featuring exclusive, first-to-market technology advances including a curved Organic Light Emitting Diode (OLED) screen, the first AKG automotive audio system and Cadillac's acclaimed Super Cruise driver assistance technology, Cadillac's flagship expands on its more than 20 years of segment-defining leadership.
"There is something special about driving an Escalade," said Steve Carlisle, Cadillac president. "It has the bold presence and exclusive technology to elevate the extraordinary and make every drive feel like an occasion."
Body Styles
The all-new 2021 Cadillac Escalade will still be offered as a full-size five-door SUV. An extended-length variant will still be available as the 2021 Escalade ESV.
Models & Trims
The 2021 Cadillac Escalade is offered as a retail or fleet model, with the Luxury being the base model.
2021 Escalade Retail & Fleet Models:
2WD (6C15706)
4WD (6K15706)
2021 Escalade Retail & Fleet Trims:
Luxury
Premium Luxury
Sport
Color Options
The all-new 2021 Cadillac Escalade offers a total of eight exterior colors, one of which is new. The Escalade also offers five interior color options and three different seat trims.
The 2021 Escalade color options include:
8 Exterior Colors:
Crystal White Tricoat
Satin Steel Metallic
Black Raven
Shadow Gray Metallic
Sandstone Metallic
Dark Moon Blue Metallic
Dark Mocha Metallic
Infrared Tintcoat
6 Interior Colors:
Jet Black
Parchment with Jet Black
Brandy with Very Dark Atmosphere
Whisper Beige with Jet Black
Whisper Beige with Gideon
Dark Auburn with Jet Black
Exterior
The 2021 Cadillac Escalade signature design evolves and strengthens, with added layers of craftsmanship and unique appearances for Sport and Luxury models.
"Escalade has always made a bold statement that says you've arrived," said Therese Pinazzo, exterior design manager. "We have updated that statement for a new era, adding layers of sophistication. The goal was to create a new Escalade that is unmistakable at a glance, and then rewards you with greater details on the second or even third read."
Escalade maintains Cadillac's signature vertical lighting element, but the new interpretation adds a sleek, horizontal headlamp to reinforce a broad, confident stance. The tall, vertical, rear light signature continues but adds deep three-dimensional layers and finishes with detailed etching. Twenty-two-inch wheels are standard and strengthen Escalade's bold appearance.
The added layers of detail extend to unique trim elements and grille textures. Escalade will offer Cadillac's Sport trim for the first time, featuring a black mesh grille and black trim across the exterior. Luxury and Premium Luxury models showcase a bright Galvano finish, while Platinum models top the range, with unique interior and exterior details.
Interior
Escalade's new interior design is heavily influenced by Cadillac's Escala concept vehicle – a design that also debuted an OLED display — and breaks new ground with the first-ever Gideon Whisper Beige trim combination. This high-performance, high-fashion available interior is centered on a custom-woven fabric that adds a new level of style and ambience to the Escalade's cabin.
"The expectations and desires of Escalade customers are factors everyone in the Cadillac design studio unequivocally understands," said Phil Kucera, interior design manager. "This allowed us to reach greater levels of depth and detail than Escalade has ever had before."
The new curved OLED display is the centerpiece of the interior, enabling designers to integrate and customize the entire environment, rather than simply inserting a standard rectangular screen into a conventional instrument panel. The result is a completely fresh, integrated cabin look that seamlessly blends the technology with handcrafted details.
A mix of electronic controls and physical switches offer intuitive operation of vehicle features. The OLED display includes touch-screen control for the center display, while the interior also includes a full-feature rotary dial controller and steering wheel controls. Additional touches include stainless-steel speaker grilles, intricate piping on the door panels and ambient lighting with a wide range of color choices.
The interior is further distinguished by no less than eight color and trim choices, which include unique seat designs, with custom perforation and quilting patterns.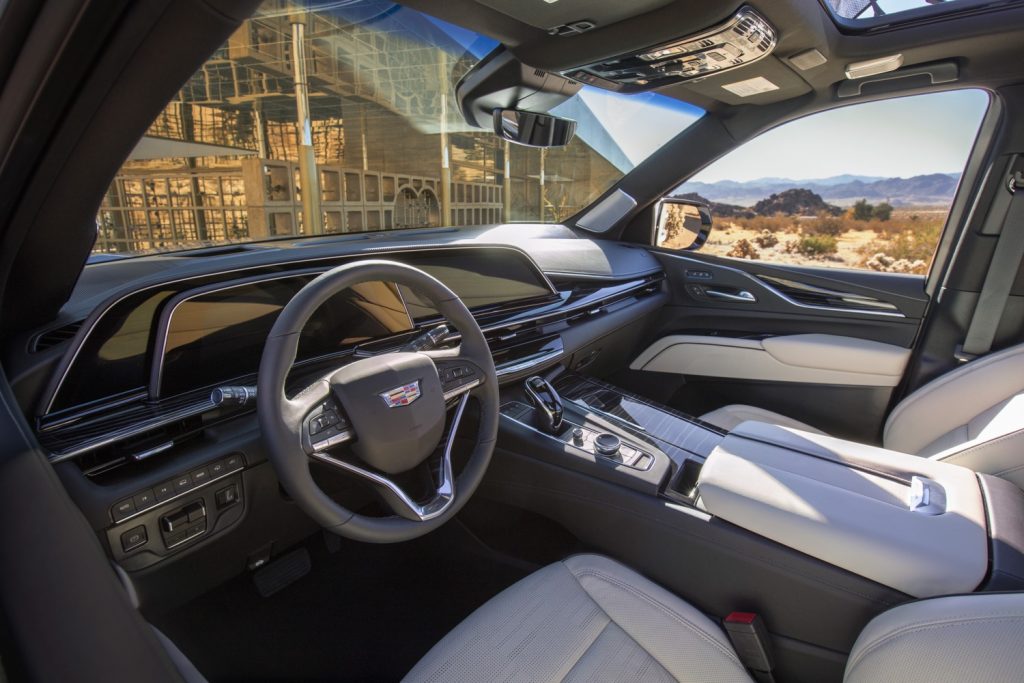 Technology
The Escalade incorporates several advanced, vision-oriented features, including:
Augmented Reality-enabled navigation – uses live street views with directional overlays and more to enhance driving directions.
Surround Vision – a standard feature that employs four exterior cameras to provide a 2-megapixel bird's-eye view of the scene around the vehicle.
Trailering Integration Package – offers up to nine camera views (including rear camera guidelines) to support easier hitching. The package also includes an integrated trailer brake controller and a trailering app that offers trailer profiles, tire pressure and temperature monitoring, and an Extended Side Blind Zone Alert.
Rear Camera Mirror – an available feature that streams a rear-facing camera view on the conventional inside mirror screen.
Night Vision – an available feature that uses infrared technology to enhance forward visibility, including detection of pedestrians and large animals, projected on the center cluster display.
New rear-seat entertainment – features a pair of 12.6-inch-diagonal independent touch displays with navigation as well as streaming capability to play games, music and videos through HDMI and USB inputs. The screens can also mirror Android smartphones. Additionally, destination "suggestions" can be "sent" by rear passengers to the front navigation screen, for the driver to accept or decline.
Industry-First Curved OLED Display
The 2021 Cadillac Escalade features an industry-first curved OLED display offers more than 38 inches of total diagonal display area, with twice the pixel density of a 4K television. The technology delivers bold imagery, perfect blacks and the largest color range of any automotive display in production today.
The system includes three screens: a 7.2-inch-diagonal touch control panel driver information center to the driver's left, a 14.2-inch-diagonal cluster display behind the steering wheel and a 16.9-inch-diagonal Infotainment screen to the driver's right. The OLED is paper-thin, and its curvature positions the displays for optimal visibility.
The vivid color and visual quality of OLED technology also eliminates the need for the common "hood" shrouding many typical in-vehicle screens, creating a brighter and less cluttered environment.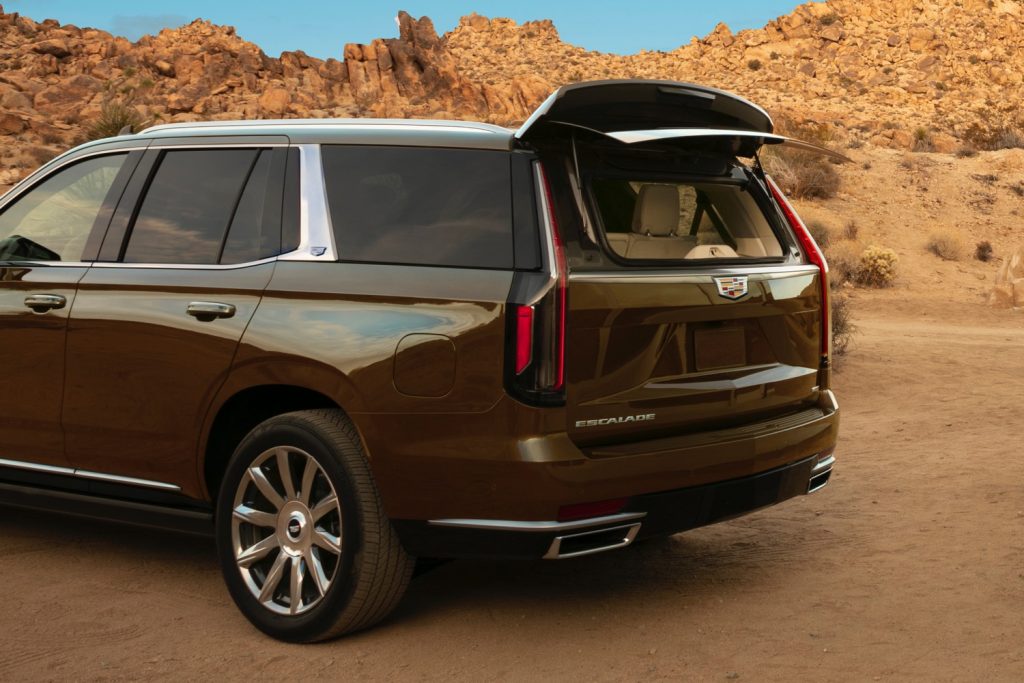 Powertrain
The 2021 Cadillac Escalade is available with the following engine choices:
6.2-Liter Ecotec3 L87 V8 (Gasoline) – Features variable valve-timing and direct injection, and produces an SAE-certified 420 horsepower / 313 kilowatts @ 5600 RPM with 460 pound-feet / 623 newton meters of torque @ 4100 RPM.
3.0-Liter Duramax LM2 I6 (Diesel) – Features dual-overhead cams and direct injection, and produces a GM-estimated 277 horsepower / 207 kilowatts @ 3750 RPM with 460 pound-feet / 623 newton meters of torque @ 1500 RPM.
The both engines are paired with the GM Hydra-Matic 10L80 10-speed automatic and a 3.23 final drive ratio.
Ride And Handling Upgrades
The all-new Escalade features enhanced driving dynamics thanks to a new independent rear suspension and available Magnetic Ride Control, Air Ride Adaptive Suspension and Electronic Limited Slip Differential (eLSD).
Here's a breakdown of each of the aforementioned highlights:
All-New Independent Rear Suspension – fundamentally transforms the driving dynamics of the Escalade, allowing each rear wheel to handle road conditions separately to dramatically enhance ride quality, steering responsiveness and overall driver control.
Magnetic Ride Control – the world's fastest reacting suspension technology, continues for Escalade. It uses sensors to continually "read" the road and alter the damping rate of the shocks almost instantly. It reacts much faster than computer-controlled shock absorbers to reduce vertical body motion, body roll and vibrations that can often resonate in a large SUV.
New Air Ride Adaptive Suspension – a new system that combines with Magnetic Ride Control. The Air Suspension delivers automatic load-leveling and ride-height adjustments continuously at all four wheels. In highway driving, the system automatically lowers the ride height to improve aerodynamics; and a driver-selectable setting lowers the suspension 2 inches (51 mm) to aid passenger entry and exit when the vehicle is parked. Drivers can also raise the body for additional ground clearance when driving off-road.
Electronic Limited-Slip Differential (eLSD) – offers more precise traction and power engagement for the rear wheels. Its infinitely variable clutch engagement delivers torque to the wheel with the most traction, including cornering and wet weather conditions.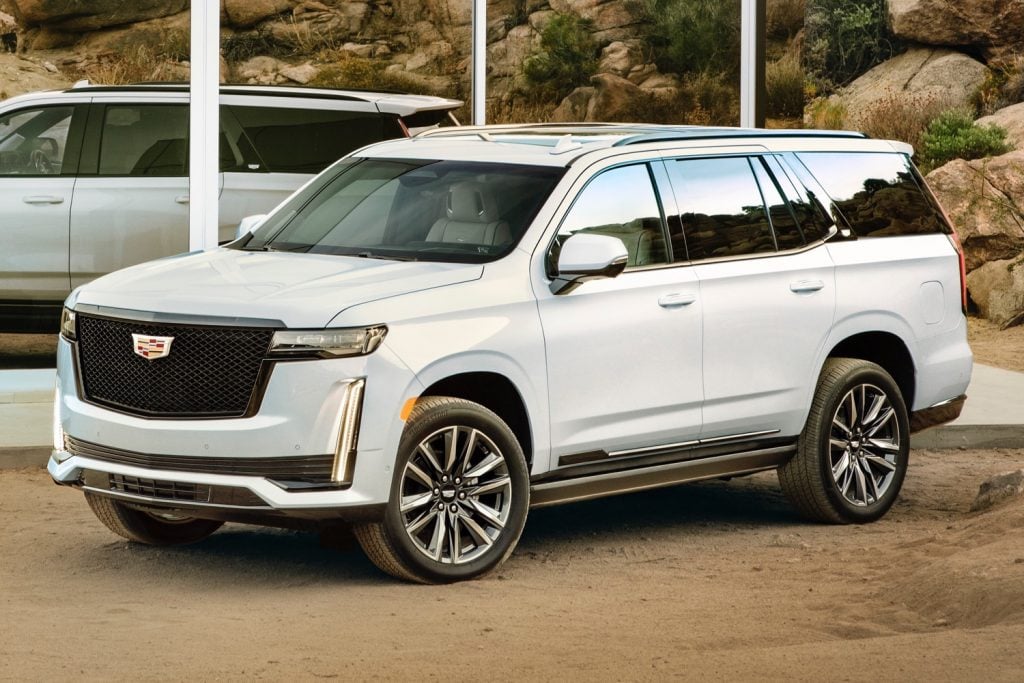 Platform
The 2021 Cadillac Escalade rides on the all-new T1 platform, otherwise known as GMT-T1 or T1XX. The T1 is a General Motors vehicle architecture designed for pickup trucks and body-on-frame SUVs. It is the same chassis the underpins the fourth-generation 2019 Chevrolet Silverado and fifth-gen 2021 GMC Yukon.
Production
The 2021 Cadillac Escalade will be assembled by GM USA at the GM Arlington plant in Arlington, Texas, USA.
Price
Pricing on the 2021 Cadillac Escalade will be announced closer to the official launch later this year.
Availability
Cadillac has confirmed that the 2021 Escalade will go on sale midway through the 2020 calendar year.
Debut
The 2021 Escalade made its debut on February 4th, 2020 during a special event in Hollywood, California.
Specs
2021 Cadillac Escalade Specs
Discussion
Discuss the 2021 Cadillac Escalade in our Cadillac forum.
News
Follow our coverage of Cadillac Escalade news.
Sales
See running Cadillac Escalade sales numbers.
2021 Cadillac Escalade Pictures
2021 Cadillac Escalade Pages