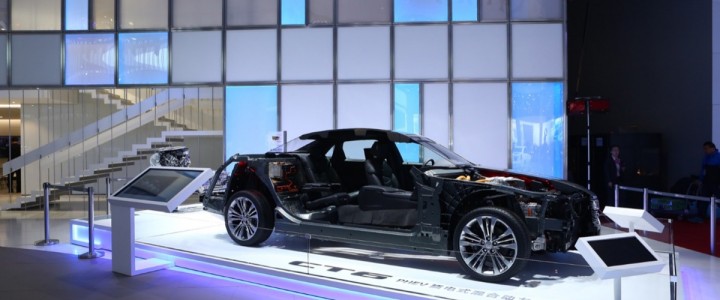 2016 Cadillac CT6 PHEV
Cadillac has announced plans to add a Plug-In Hybrid Electric Vehicle (PHEV) propulsion system to the CT6 Sedan.
The new electrified powertrain is expected to more than double the fuel economy of the conventional powertrain offerings.
"The first-ever CT6 is a technological showcase throughout, making it an ideal platform for Cadillac to offer its first plug-in hybrid," says Cadillac President Johan de Nysschen. "In the CT6, Cadillac presents a new formula for prestige luxury. The advanced Plug-In Hybrid system is a key addition, providing a combination of exceptional fuel economy, crisp acceleration and strong electric-driving range."
CT6 PHEV will deliver an estimated combined city/highway fuel consumption of approximately 2.0L/100km.
The CT6 PHEV takes advantage of the advanced lightweight structure of the CT6 to create a unique formula for the prestige sedan. The Plug-In Hybrid system is designed to deliver two primary functions:
Provide over 60 km (37 miles) of all-electric driving for most daily commutes (depending on speed and driver behavior), and
Maximize fuel efficiency by providing blended power from the engine and battery at higher speeds and higher loads, even when energy is stored in the battery
Engine
Under the hood is a 2.0L turbo 4-cylinder engine with spark-ignited direct injection and variable valve technology.
Battery Pack
An 18.4 kWh lithium-ion battery pack is located in the rear of the vehicle between the rear seat and the trunk. The battery system is comprised of 192 prismatic pouch cells, which utilize the latest generation chemistry that will be used in other GM vehicles.
With industry-leading quality levels of less than two problems per million battery cells produced, more than 20 million battery cells have been made for more than 73,000 GM plug-ins on the road today.
The CT6 PHEV battery system will use GM's proven active thermal control system, which maintains electric range over the battery system's life.
Charging the battery system will be possible using a 220V charger.
Electric Variable Transmission
All-electric launch performance is one of the key purchase considerations for PHEV and EV owners. As such, the Cadillac CT6 PHEV combines an all-new rear wheel Electric Variable Transmission (EVT) with exclusively-designed motors to provide smooth, spirited acceleration.
The two-motor EVT also uses three traditional planetary gears and is mated to a 2.0L turbo 4-cylinder engine with spark-ignited direct injection and variable valve technology. The use of a two-motor system provides smooth and seamless power through the entire driving range.
The combined system is capable of producing total system power of 250 kW (335 horsepower) and 586 Nm (432 pound-feet) of torque.
Regenerative Braking
The CT6 PHEV will feature iBooster and ESP-hev regenerative blended braking to provide maximum energy recuperation combined with reduced stopping distance and improved fuel economy over traditional regenerative braking systems.
The iBooster and ESP-hev technology balances the use of the CT6 electric motors to act as generators to slow down the vehicle and capture as much kinetic energy as possible during low demand scenarios, while blending the traditional hydraulic brakes with the motors in high demand scenarios.
As expected from a driver's car like the CT6, the system provides improved brake pedal feel and enables increased opportunity for engine stop-start operation.
Operating Modes and Regen On Demand
CT6 PHEV drivers enables drivers to select between three distinct operating modes: Normal, Sport and Hold.
Normal: designed for everyday commuting. Provides ideal balance of comfort, performance and maximized EV range and fuel economy.
Sport: provides more aggressive pedal mapping for improved off-the-line feel and a stiffer steering response.
Hold: allows owners to select when the CT6 PHEV uses its engine, reserving the remaining battery charge for later use. This feature helps enhance efficiency because owners who mix city and highway driving can save the battery charge for city travel, where the CT6 EV mode operates most efficiently.
Regen On Demand
The CT6 PHEV also features Regen-on-Demand, which allows the driver to temporarily regenerate energy from vehicle momentum into electricity and store in the battery pack for later use.
Regen on Demand supports a more engaging driving experience by slowing the vehicle when entering a turn to better position it on the exit, much like downshifting with a manual transmission. Regen on Demand is engaged via steering-wheel paddles adapted from traditional performance cars.
The CT6 PHEV was unveiled in April 2015 in Shanghai, China.
Cadillac has not announced details about when or in which markets the CT6 PHEV will be available.
We will update this section when we know more.
The Cadillac CT6 PHEV order guide is currently unavailable. We will update it as we know more.
Information for this section is currently unavailable. We will update it as we know more.
| Model: | 2016 Cadillac CT6 PHEV |
| --- | --- |
| Body style / driveline: | 5-passenger large luxury performance PHEV sedan |
| Driveline: | RWD |
| Engine: | 2.0-liter turbo 4-cyilnder |
| Transmission: | 2 motor rear drive electric variable |
| Total System Power: | 250 kW (335 hp) / 586 Nm (432 lb.-ft.) of torque |
| Brakes: | iBooster / ESPhev fully blended regenerative |
| Wheelbase (in / mm): | 122.4 / 3,109 |
| Length (in / mm): | 204 / 5,184 |
| Width (in / mm): | 74 / 1,879 |
| Height (in / mm): | 57.9 / 1,472 |
| Curb weight (lb / kg): | 4,600 / 2,086 |