2022 Cadillac CT5-V Blackwing
2022 Cadillac CT5-V Blackwing
The 2022 Cadillac CT5-V Blackwing represents the first model year for the new-generation super sedan. The model is expected to hit dealer lots during the summer of 2021. Availability is expected to be very tight, and every single reservation for the first 250 units sold out in mere minutes on February 1st, 2021.
The hype and excitement are understandable, as the next-gen super sedan offers nearly 700 horsepower along with a standard 6-speed manual transmission.
Cadillac CT5-V Blackwing Quick Facts

| | |
| --- | --- |
| Model years: | 2022 – Present |
| Assembly Location: | Lansing Grand River Plant, Michigan, USA |
| Layout: | Front-Engined, Longitudinal |
| Engine: | Supercharged 6.2L V-8 LT4 |
| Horsepower: | 668 |
| Torque: | 659 |
| Transmission: | 6-Speed Manual, GM Hydra-Matic 10-Speed Auto" |
| Driven Wheels: | Rear-Wheel-Drive |
| Availability: | USA, Canada, Middle East |
| Predecessor: | – |
| Successor: | – |
Positioning
From a positioning standpoint, the CT5-V Blackwing is a direct successor to the first-generation ATS-V Sedan. From a mechanical standpoint, the CT5-V Blackwing will be closer related to the third-generation CTS-V Sedan.
Exterior
Cadillac designers aimed to achieve an artful balance between form and function for both the Cadillac CT4-V Blackwing and CT5-V Blackwing models. As such, the design elements of the new V-Series Blackwing sedans support and complement their track-capable performance, while advancing the V-Series' motorsports-inspired heritage of styling and enhanced refinement. More specifically, the larger proportions of the CT5-V lends itself to a more aggressive and assertive presence.
"As the ultimate performance versions of our V-Series lineup, the prime directive for their designs was to maintain authenticity and integrity, while also raising the bar," said Andrew Smith, executive director, Global Cadillac Design. "Everything new and unique on these vehicles was only included if it served a functional purpose, while simultaneously creating a powerful signature look."
Cadillac claims that wind-tunnel testing and extensive racetrack validation refined the designs to optimize the balance of form and function. Development started with extensive Computational Fluid Dynamics simulations, along with wind-tunnel testing on reduced-scale and full-size models featuring clay, foam and 3D-printed prototype components. Additionally, full-scale testing was also conducted at GM's upgraded full-scale, rolling-road wind tunnel.
The refinements made during the testing resulted in a tailored, unique exterior package consisting of:
New primary mesh grille design that improves airflow over the previous generation. The mesh pattern is refined to include secondary reeds that influence backdraft angles, directing airflow to the main radiators, cooler and airflow ducts
Larger secondary grilles that direct airflow to the auxiliary charge coolers, while the smaller front lower grilles reduce pressure while channeling airflow into brake-cooling ducts
Front splitter that reduces lift to help keep the car planted when cornering at higher speeds
Rear spoiler that balances the effect of the front splitter to help maintain rear-wheel traction at higher speeds
Mid-body panels that improve underbody aerodynamics
Underwing – the underbody panels are designed with airflow-channeling strakes dubbed "the underwing" that support the cars' aero-efficiency and track capability
Rocker extensions and a rear valence diffuser that continue the grounded look established by the front splitter
The CT5-V Blackwing also incorporates air deflectors for the front wheels. These deflectors are designed to decrease drag but can be removed to maximize cooling airflow to the brakes.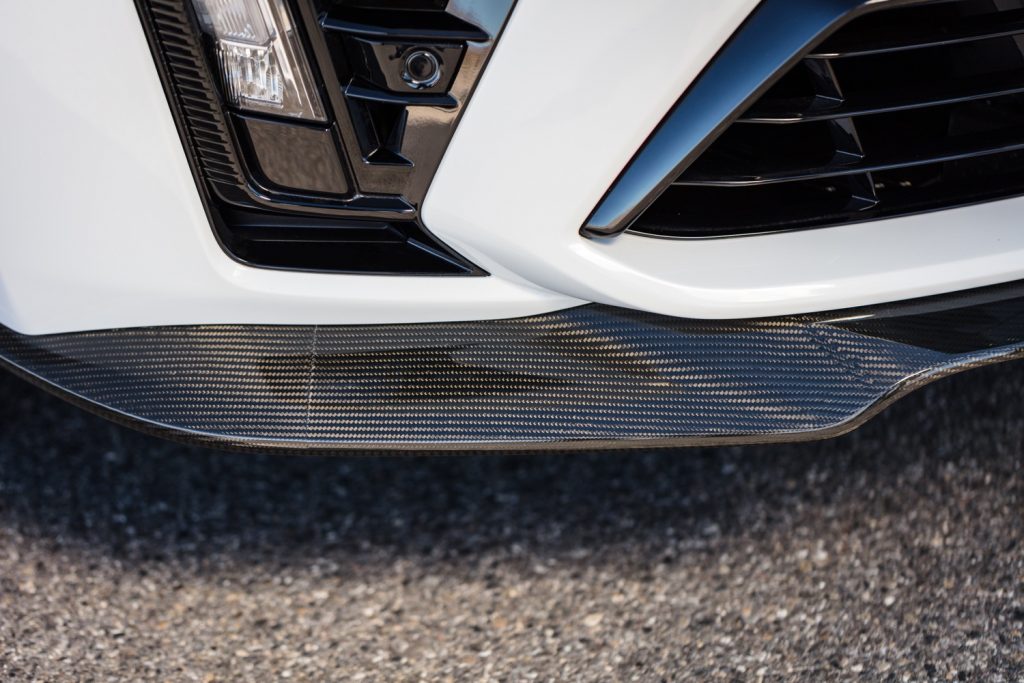 The 2022 Cadillac CT5-V Blackwing also offers two optional carbon-fiber packages, dubbed Carbon Fiber 1 Package (CF1 Pkg) and Carbon Fiber 2 Package (CF2 Pkg). Here's a look at the components included in each, along with pricing info:
Carbon Fiber 1 Package – $4,100
Front splitter
Front wheel well deflectors
Rear extra aero spoiler
Carbon Fiber 2 Package – $5,230
Grille header
Rocker moldings
Rocker extensions
Rear valance diffuser
Requires Carbon Fiber 1 Package
The 2022 Cadillac CT5-V Blackwing also offers ten exterior color options as shown in the gallery below.
Interior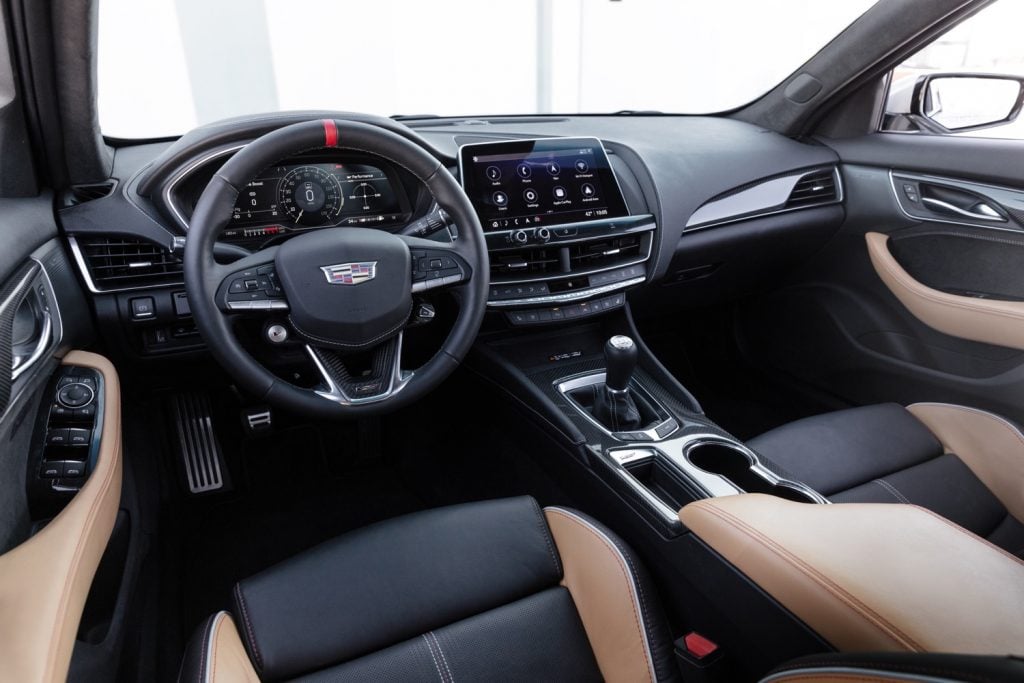 On the inside, every unique V-Series Blackwing element, from the available carbon fiber-accented seats to track-specific layouts for the driver information center, was developed for its contribution to driver control.
The 2022 Cadillac CT5-V features available high-performance seats and a high-performance steering wheel contribute function to the equation, while elements such as an available sueded microfiber headliner and Opus leather trim amplify the cars' aura of handcrafted sophistication and technical precision. There are three levels of premium interiors – Base, Mid-level and Up-level – each with unique trim, appointments and technologies.
Additionally, there are two seat options available: front buckets and high-performance front buckets. Both versions represent the next step in seat design for Cadillac V-Series, with greater comfort and added features. They're designed to provide exceptional lateral support during spirited driving, while also offering a high degree of adjustability to accommodate varying driver and passenger sizes.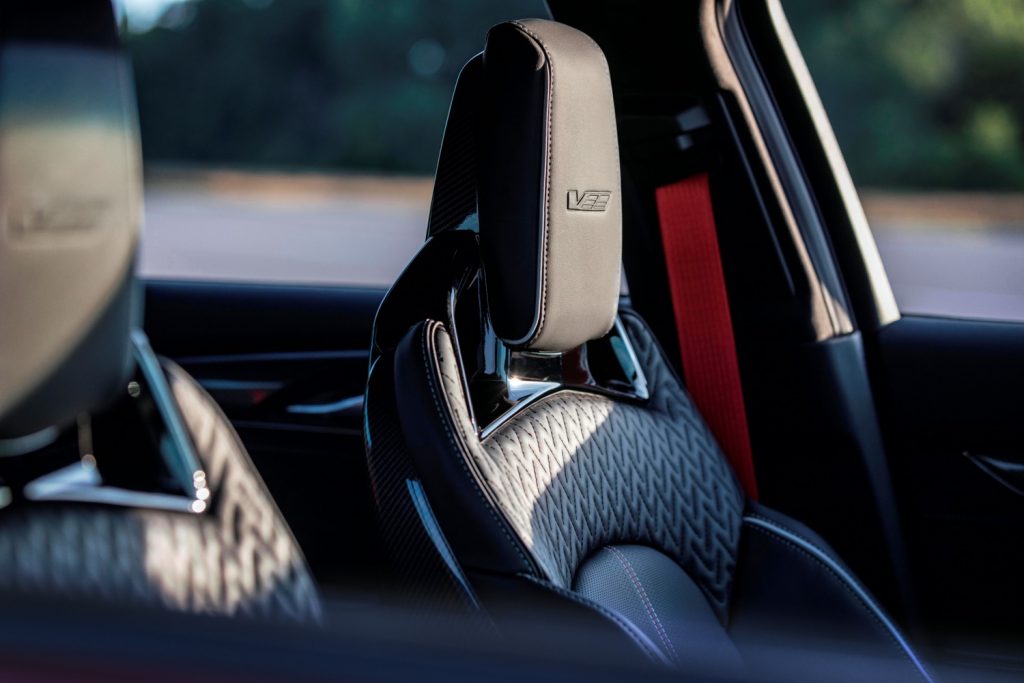 The base seats are heated and offer driver's memory settings with up to 18 power adjustments. The upgraded high-performance seat features a slim headrest design to comfortably accommodate helmets when at the track, along with the crafted V-Series logos and bolster ergonomics for more comfortable manual shifting.
Additional available seat features, depending on the trim, include ventilation, lumbar massage and custom perforations, quilting or sueded microfiber trim. On the CT5-V Blackwing, the high-performance semi-aniline leather front seats include a lightweight carbon fiber seatback.
Complementing the up-level seats is a thick, 14.5-inch-diameter (370 mm) high-performance steering wheel that is standard on the mid-and-upper tier CT4-V Blackwing trims and all of the CT5-V Blackwing trims. It features carbon fiber trim and additional fingertip controls, including a quick-access V-Mode button and Performance Traction Management switch. It also includes magnesium shift paddles when the vehicle is equipped with the available 10-speed automatic transmission.
Notably, the wheel will come with a serialized number plate that corresponds with each vehicle's unique VIN sequence.
In-Vehicle Technology
The 2022 Cadillac CT5-V Blackwing features quite an array of standard technological features, including wireless Apple CarPlay and Android Auto capability along with Surround Vision with recording, a head-up display with three display personas, and more.
The CT5-V Blackwing is also equipped with a standard 15-speaker AKG premium audio system, which features brushed aluminum grilles with laser etching, and Neodymium magnets to reduce weight while still producing a premium sound experience.
Another noteworthy highlight is the new configurable instrument cluster with a 12-inch-diagonal HD display. The cluster includes unique V-Series Blackwing graphics, and customizable performance settings such as a Track screen with performance timers for 0-60 mile per hour sprints, quarter-mile acceleration, lap times and more. The second-generation Performance Data Recorder is also available, and provides drivers with improved recording capabilities and new levels of driving analysis.
Safety
Of course, with great performance comes great responsibility, and the CT5-V Blackwing offers the latest drive safety features in an effort to inspire driver confidence. The Driver Awareness Plus Package is a standard feature for the 2022 model year, and includes the following:
Following Distance Indicator
Lane Keep Assist w/ Lane Departure Warning
IntelliBeam headlights
The Advanced Security Package is also standard, and includes the following:
Locking steering column
Door lock and latching system shield
Self-powered Theft-Deterrent Alarm System
Vehicle inclination sensor
Vehicle interior movement sensor
Locking fuel door
Locking wheel lugs
A Parking Package is available, and includes the following features:
Air Ionizer
Rear Camera Mirror
Rear Pedestrian Alert
Hands-Free Decklid Release

Automatic Parking Assist with braking when 10-speed automatic transmission is also ordered
A Driver Assist Package is also available, however, it can only be added to models equipped with the available 10-speed automatic transmission and includes the following:
Adaptive Cruise Control
Enhanced Automatic Emergency Braking
Reverse Automatic Braking
Powertrain
As mentioned, the Cadillac CT5-V Blackwing super sedan is powered by a supercharged 6.2-liter small block V8; the LT4. This same engine has been used in GM's most capable machinery, including the Chevy Corvette C7 Z06, Camaro ZL1 and ZL1 1LE, and the auto-only third-generation Cadillac CTS-V. See the table below for a detailed look at the powertrain offerings for the CT5-V Blackwing.
2022 Cadillac CT5-V Blackwing Powertrain

| Engine | Fuel | Aspiration | Driven Wheels | Transmission | Power (hp / kW @ RPM) | Torque (lb-ft / Nm @ RPM) | Axle Ratio |
| --- | --- | --- | --- | --- | --- | --- | --- |
| 6.2L LT4 V8 | Gasoline | Supercharged | Rear-Wheel Drive | 6-Speed Manual (MJK) or 10-Speed Auto (MHX) | 668 / 498 @ 6400 | 659 / 893 @ 3600 | 3.73 (manual trans) or 2.85 (auto trans) |
The above power ratings are Cadillac estimates, and the peak power RPM is a GM Authority estimate.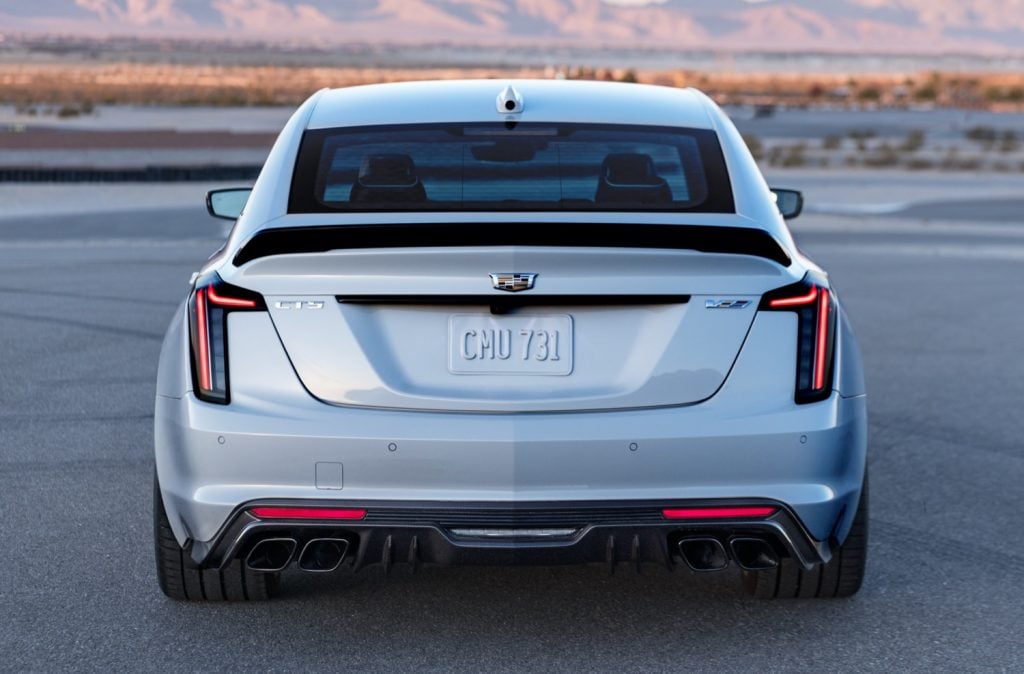 Suspension
The Cadillac CT5-V Blackwing combines the fourth generation of Magnetic Ride Control (MR 4.0), with improvements to the front and rear suspension systems. Stiffer spring rates, unique hollow stabilizer bars, higher-rate bushings and more enable a driving experience that isolates the driver from road imperfections, while also providing a precise, engaging connection with the road.
MR 4.0 highlights include:
Optimization for both everyday driving and aggressive track performance
New accelerometers and an inertial measurement unit that transmit and process changes in road conditions four times faster than the previous generation system
Secondary temperature maps that enable engineers to compensate for changes in damper fluid temperature for more consistent performance, even during performance driving
Inertial measurement unit that provides more precise measurements of body motion relative to the wheel for more accurate readings under heavy braking, hard cornering and other driving conditions
Improved magnetic flux control that creates a more consistent and accurate transition between rebound and compression
Improvements to transient body control that allow the vehicle to remain more level while transitioning between corners
In the front, the MacPherson strut suspension includes an all-new 100-percent elastomer bushing on the CT4-V Blackwing and a retuned hydro bushing on the CT5-V Blackwing, both of which improve ride response. Additionally, the handling link has cross-axis ball joints for improved lateral control and quicker steering response.
In the rear, the CT5-V Blackwing makes use of a five-link independent rear suspension with the following enhancements:
Lateral link features stiffer bushings for faster response and increased cornering agility
Toe link has cross-axis ball joints for increased stability and driver confidence
Rear knuckles have increased stiffness for improved braking and better control during cornering
Rear cradle mounts have been stiffened for optimum balance between road comfort and track performance
Of course, all of the suspension components were designed around the award-winning Alpha II rear-wheel drive architecture. Other refinements include unique structural enhancements including shock tower braces, an underside shear plate and thicker rear cross members to improve chassis rigidity. Along with the unique suspension elements, the stiffer structure enhances steering response, handling and the everyday driving experience.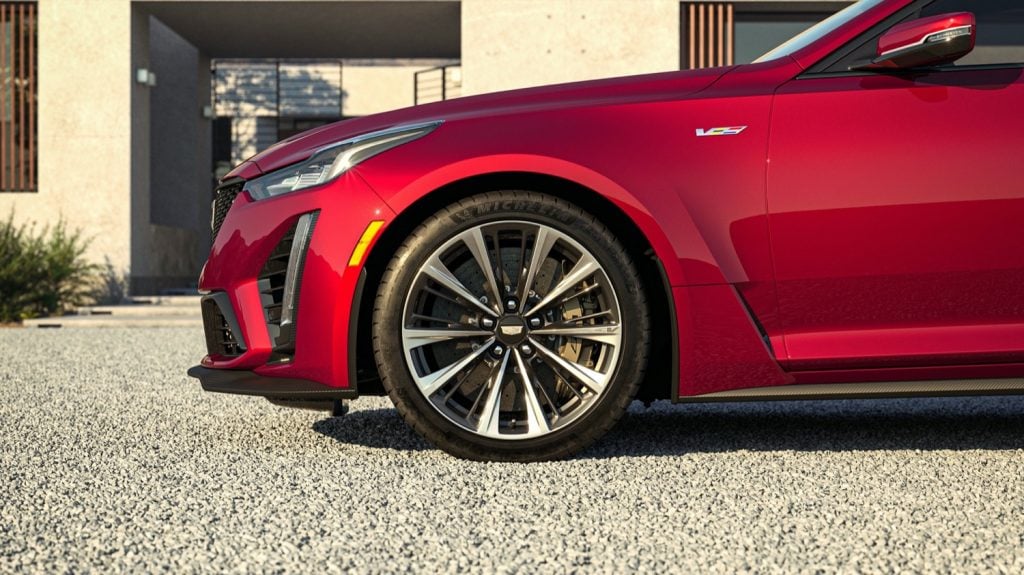 Brakes
Cadillac CT5-V Blackwing models feature advanced high-performance braking systems that have been extensively track and road-tested. The exclusive V-Series Blackwing wheel designs enable an even larger rotor over the previous CTS-V, making the CT5-V Blackwing braking system the largest factory-installed brakes in Cadillac history. Additionally, an available carbon-ceramic brake package for the CT5-V Blackwing, featuring cross-drilled rotors, deliver several benefits including weight savings, durability and heat management.
Highlights include:
CT5-V Blackwing: 15.67 x 1.42-inch (398 X 36 mm) front rotors and 14.7 x 1.1-inch (373.5 x 28 mm) rear rotors
Staggered Brembo six-piston front calipers and four-piston rear calipers
An available lightweight carbon-ceramic brake package significantly improves heat management, as well as greater resistance to wear under extreme conditions on the racetrack, while also reducing unsprung mass and rotating mass:

53-pound (24 kg) reduction in unsprung weight
62-pound (28 kg) reduction in rotating mass

High-performance copper-free brake linings comply with California law and deliver superior fade resistance with an excellent pedal feel on and off the track
Brake systems are integrated to each vehicles' selectable drive modes, including brake pedal feel. Brake pedal feel can also be assigned within My-Mode and V-Mode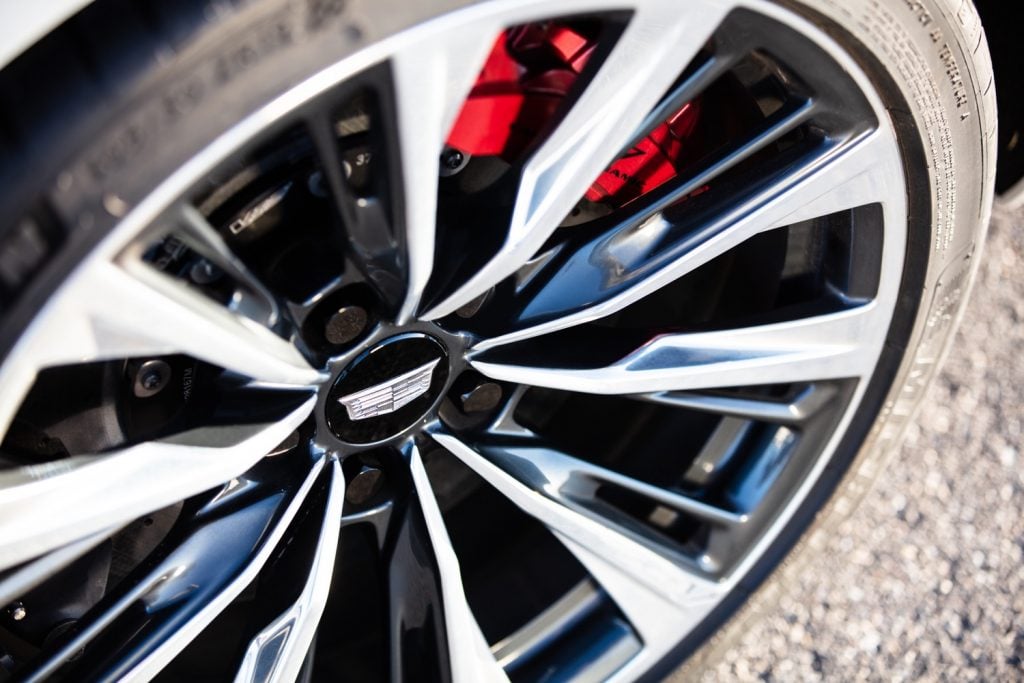 Wheels, Tires, & Suspension
The 2022 Cadillac CT5-V Blackwing offers eight different wheel sets. This does not include the highly-anticipated magnesium wheels, as the vehicle brochure states that this option will not be available for the 2022 model year.
Wheel specs and images coming soon.
Performance Figures
The CT5-V Blackwing super sedan is said to have a top speed of over 200 miles per hour and the ability to sprint from 0 to 60 in 3.7 seconds. More details coming soon.
Availability
The only confirmed market so far is the U.S. We expect availability to extend to Canada, Mexico, the Middle East, and possibly Russia.
Specs
Coming soon.
Sales
See Cadillac CT5 sales numbers for all markets, including the United States, Canada, Middle East, Russia, and South Korea.
Notes:
Cadillac CT5 sales are comprised of all CT5 variants, including CT5, CT5-V, and CT5-V Blackwing.
Information for market (country) specified.
Sales information compiled from various sources by GM Authority and Motrolix.
Gallery
Discussion
Discuss the 2022 Cadillac CT5-V in our Cadillac forum.
Cadillac CT5-V Blackwing News
3

Plus, low-interest financing is available on 2023 and 2024 models.

7

Celebrating 2 decades of the V-Series performance.
2022 Cadillac CT5-V Blackwing Pages